With Halloween coming up I wanted to share some party food ideas that I thought looked great. Bring some of these treats to your party and watch everyone's eyes light up with spooky glee.
These food items are easy to make and will make a huge splash that will have people wondering, "who brought that item?" You can't go wrong with these ideas!
17 Halloween Party Food Ideas
To view the full recipe for any of these food ideas, please click the links under the images.
Giant Edible Eyeball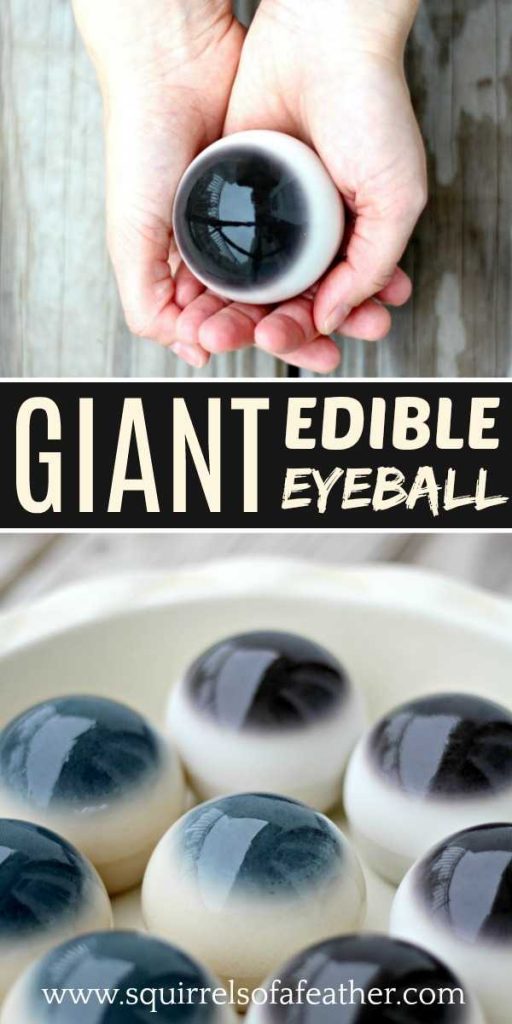 These Halloween eyeballs taste like a sweet, luxuriously rich coconut pudding! If you don't like coconut, you can also substitute almond milk, but you will need to play with the sugar ratios and taste test while you are heating everything up.
From: Squirrels of a Feather
Fanta Jack O'Lantern Floats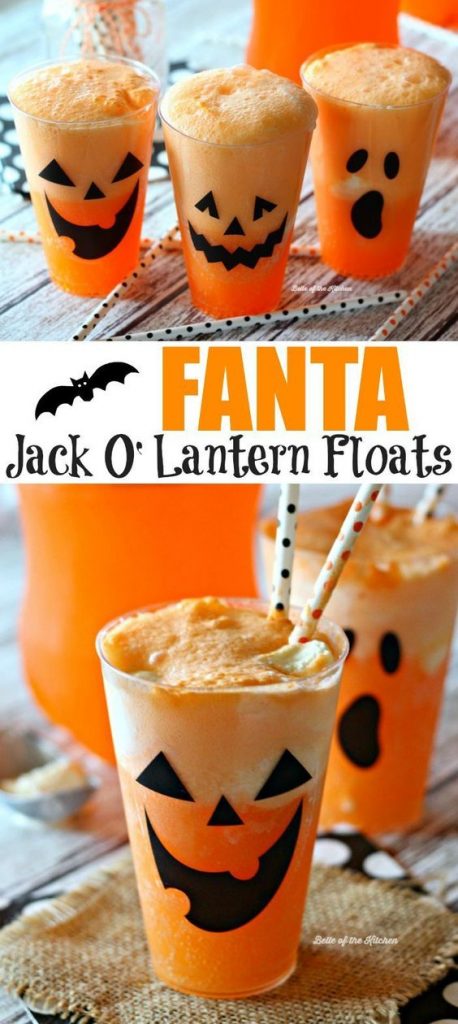 These Fanta Jack O'Lantern Floats are a sweet and spooky twist on a classic! Made with Fanta Orange soda and vanilla ice cream, they're the perfect, easy treat to impress kids and adults alike this Halloween! #SpookySnacks #CollectiveBias
From: Belle of the kitchen
Snow White Poison Apples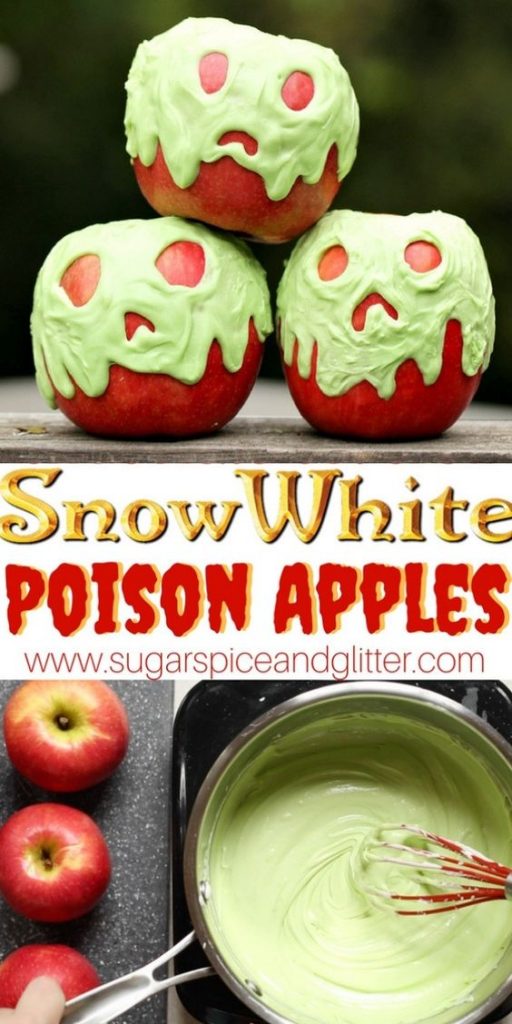 I've been wanting to make Poison Candy Apples for years and finally I got around to making two different versions of this Disney-inspired Halloween recipe! And, just in case you're a bit intimidated, I made two step-by-step videos to show just how easy these Snow White Apples are to whip up.
From: sugar spice and glitter
Veggie Skull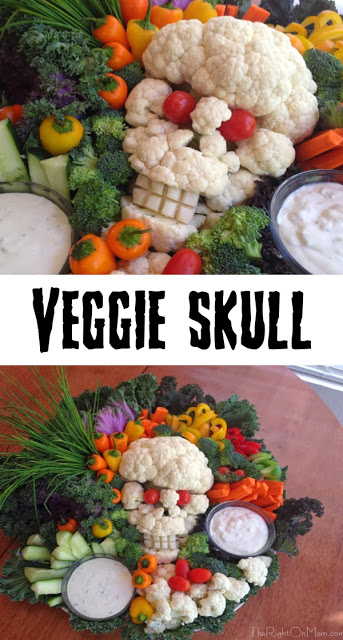 I suggest using a large head of cauliflower for the head and then, you must get crafty with a knife and extra pieces and chunks of cauliflower, securing them with round toothpicks. I really had to play around with my face. I used 3 small heads of cauliflower, total, but there was some left over to eat in the tray as well.
From: the right on mom
Marshmallow Eyeballs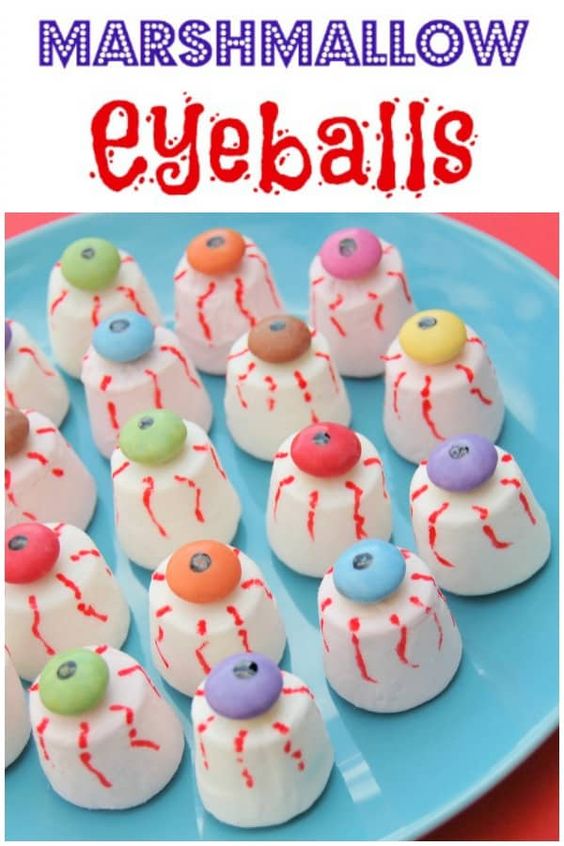 First up are some yogurt eyeballs, made from natural yogurt, so not so unhealthy after all! I used a silicone mould from Lakeland for this project, but they seem to have discontinued them, so the bottom half of a cake pop mould like this one would work just as well.
From: eats amazing
Simple Strawberry Ghost Pops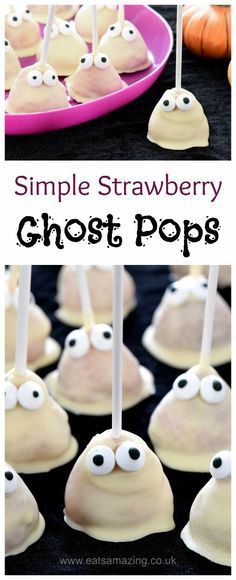 Working quickly, place the strawberry flat-side down onto the prepared baking sheet. Add two candy eyes to the stop of the chocolate covered strawberry to turn it into a ghost. If the chocolate has already set, you can dip the backs of the candy eyes into the melted chocolate to use as 'glue' to attach them.
From: eats amazing
Lollipop Witches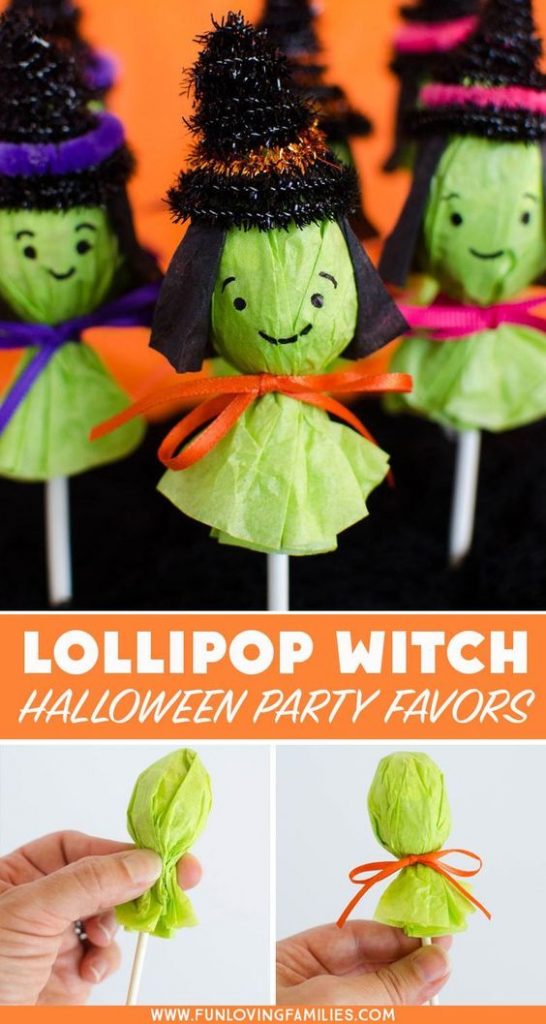 These adorable lollipop witches are fun and simple DIY Halloween party favors and are perfect if you're looking for Halloween classroom party ideas. The kids will love them, and they aren't too difficult to put together.
From: fun loving families
Monster Eye Ball Rice Krispie Bites

Whether you like your Halloween treats to be "creepy" or "cute", these Monster Eye Ball Rice Krispie Bites are for you.  And did we mention how easy they are to make?  What about how yummy they taste?  Grab a box of Rice Krispie Cereal and the kids and make up a batch of these fun, colorful and delicious Halloween snacks.
From: two sisters crafting
Puking Pumpkins

Just about any dip can be served this way, and it's always a hit! I made this last year with guacamole, but you can also serve it with a cold spinach dip, a 7 layer taco dip or even a thick ranch dip with veggies and potato chips.
From: listolic
Brownie Cupcakes for Halloween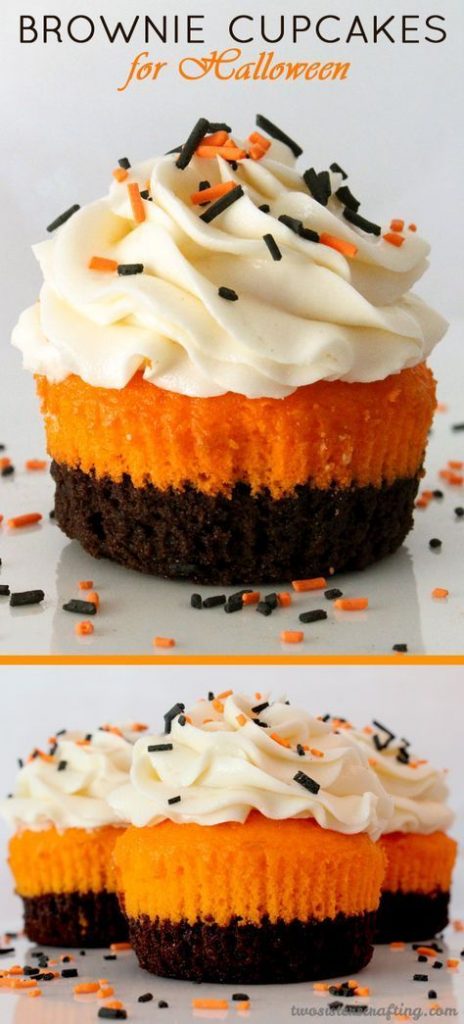 I am sure no one will be surprised to hear that we LOVE Pinterest. There are so many creative and talented people out there, and we love seeing their creations. I am sure part of it is that we love trying new things and are always looking for fun things to bake. The great desserts on Pinterest inspire us on a daily basis. We saw this fun brownie/pound cake and came up with the idea for these Brownie Cupcakes for Halloween. They turned out so cute and are the perfect dessert for a Halloween party, potluck or other fun get together.
From: two sisters crafting
Spider Web Taco Dip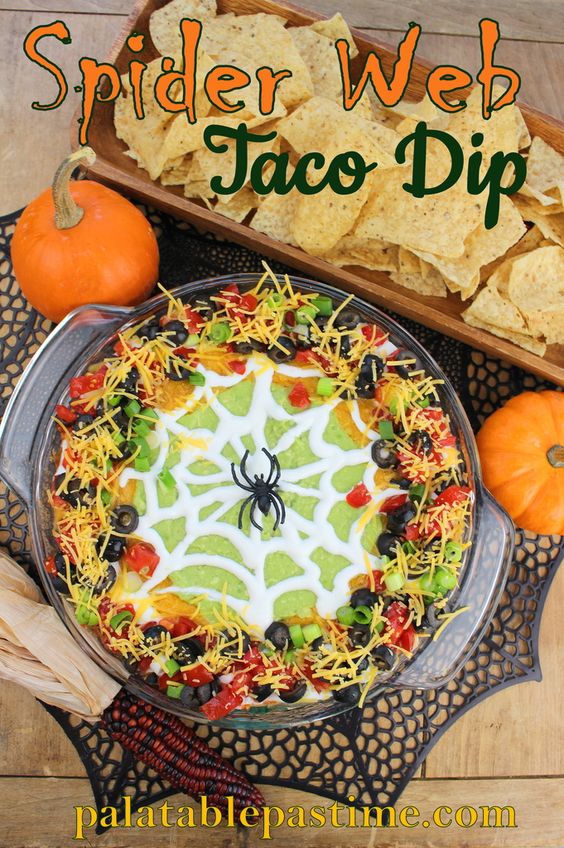 But the inside is basically what I'd put into a Mexican layer dip. You can even switch the ingredients around if you like something else, like adding beef or chicken. I just like it simple and vegetarian. But spiders…they aren't vegetarians, are they? So keep that in mind if a tarantula or three drops in to your party. They can often be found hanging about outside the party door looking for their moment to crash the festivities. Spiders are like that.
From: palatable pastime
Halloween Graveyard Brownies

These Halloween Graveyard Brownies are as cute and as EASY as it gets! They're proof that you don't need to be a professional baker or have any special equipment to make a super cool, creepy Halloween treat.
I like a Halloween treat that tastes as good as it looks, but that doesn't have me spending hours in the kitchen. You know what I mean?  My Chocolate Chip Spider Cookies fall under this same category. All you need is the ingredients for chocolate chip cookies. That's it!
From: tastes better from scratch
Mandarin Pumpkins

I was inspired to create these mandarin pumpkins after seeing this idea on Pinterest. Anybody would think that this post is sponsored by Sharpie, the way these ideas are stacking up (it's not). However… I'm a big fan of simple, quick, healthy, and fun, and these little guys tick all four boxes! And not to mention, it's naturally gluten-free and dairy-free. A good tip: Draw the outline of the pumpkin face shape you want with thin Sharpie, then fill it in with a thicker Sharpie. You'll save so much time!
From: design intuition
Jack O'Lantern Chips and Dip
Here's what you need: avocado, lime, roma tomato, red onion, fresh cilantro, garlic, salt, chili powder, butter, scallion clove, cheddar cheese, monterey jack cheese, milk, cornstarch, mild green chillis, pumpkin.
From: tasty
Candy Apple Bar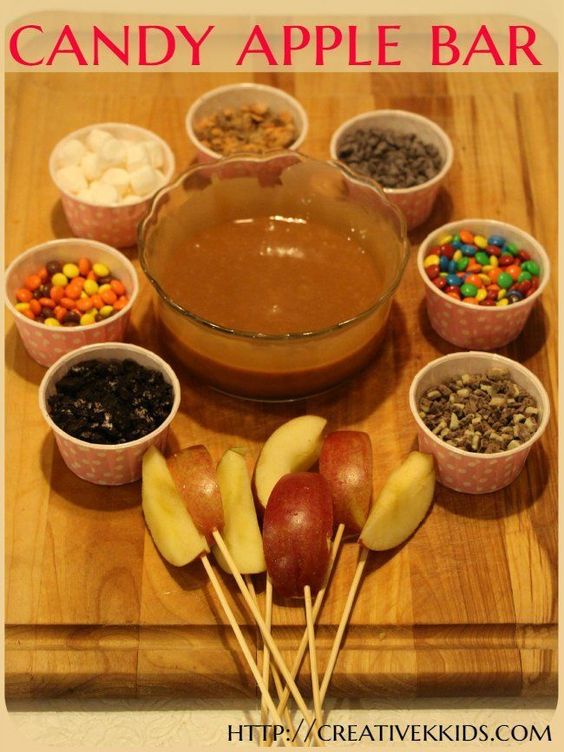 The apples can now be dipped in the caramel and then in the desired topping. The toppings do get caramel in it, but the girls did not care in the least. The girls did reuse their skewers as they never ate off of the skewer. They usually would remove the slice after it had the caramel and toppings on it, and then eat it. Only about half of the apple slice got the caramel and candy, but it was all it needed as that was a lot of sugar on each slice. The girls loved the dessert and had so much fun trying out different toppings. Three or four slices was all each girl could handle, but I think they liked this dessert so much better than an ice cream bar or regular cake. It was unique, fun, and easy! I will definitely do it again for a tween/teen activity.
From: creative kkids
Blood Splatter Oreo Cookies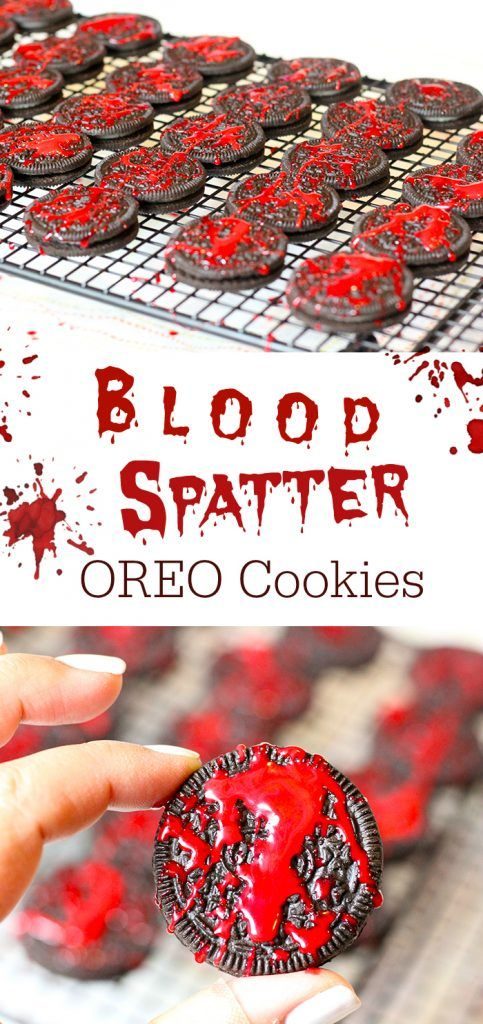 Make your OREO Cookies creep-tastic with some blood spatter. Just use Family Sized Original Oreo Packs and Red Cookie Icing. Use a food brush to flick and drip on the icing. Let them dry for about an hour and they're ready to serve up! So easy, so fun!
From: cutefetti
Mummy Hot Dogs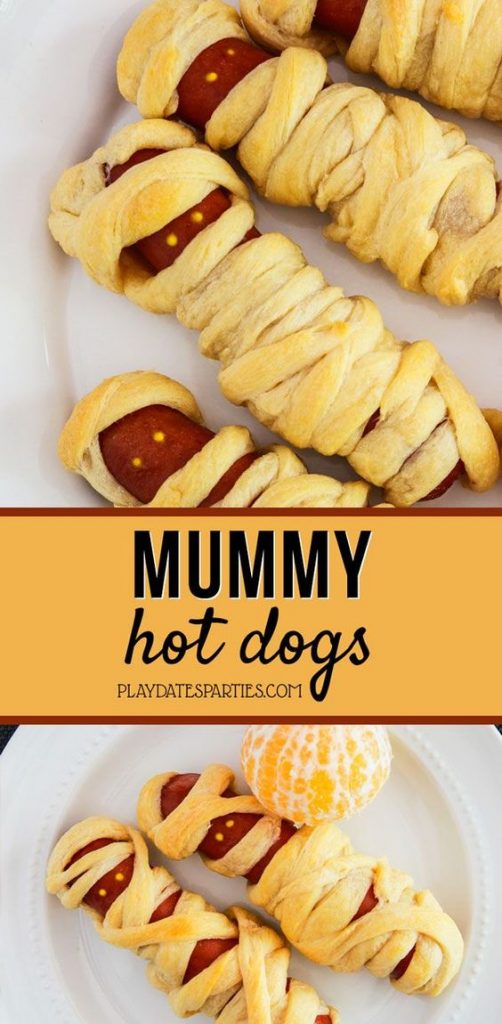 This mummy dogs recipe made with crescent rolls is perfect for kids! Make them for a Halloween party or for an easy weeknight Halloween dinner.
From: play dates parties
Pin these Halloween Food Ideas for later!
If you enjoyed this roundup of food ideas, don't forget to pin it to your Halloween board on Pinterest. You can also follow Fluffy's Kitchen on Pinterest for more recipes and ideas.