One of the most versatile tools in the kitchen is the crock pot. The beauty of this tool is that you can just throw all your ingredients in it, plug the crock pot in, set to desired strength, and wait. This is incredibly useful for me because I got about 10 different things I could be doing instead of watching an oven all day, so I like to make crock pot and instant pot meals very often.
24 Easy Crockpot Dinner Recipes
If you want to look at the full recipes please click on the link below the images. Hope you enjoy!
Also don't forget to follow us on Pinterest for more great recipes and ideas!
BBQ Ranch Pork Chops

Cooking your Pork Chops in the Crock Pot is so easy, it's almost like cheating.  But then you smother those delicious chops with the crazy outrageous combination of barbecue sauce and ranch seasoning.  That's when you know you've crossed the line… and stumbled upon some serious dinner happiness.
From: The Frugal Girls
Sweet and Sour Meatballs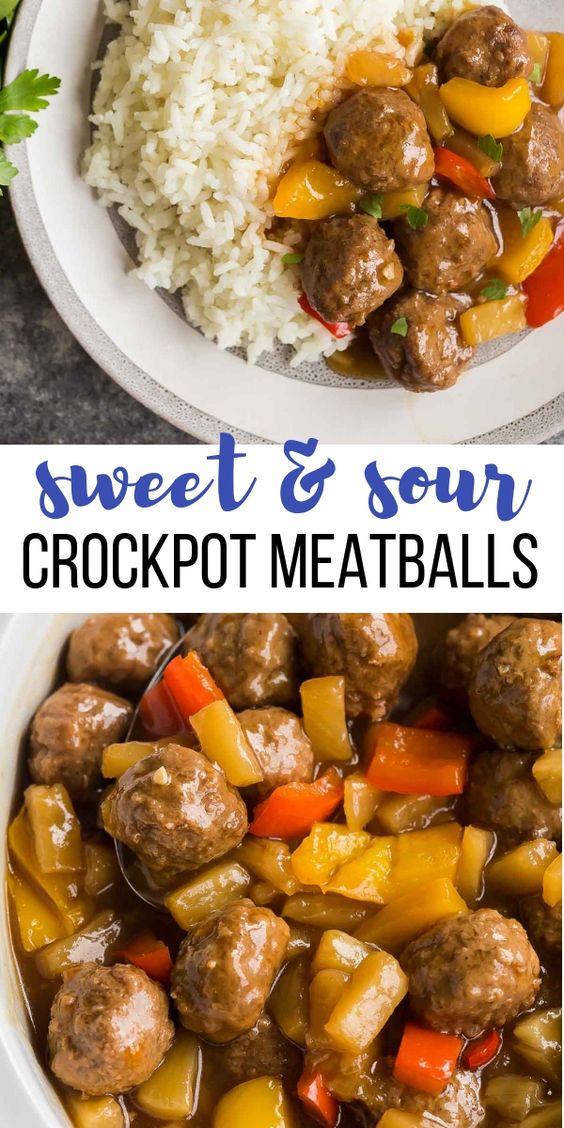 These Sweet and Sour Crockpot Meatballs are an easy appetizer or dinner! Made with fresh or frozen meatballs, homemade or store bought, and covered in the best pineapple sweet and sour sauce!
From: The Recipe Rebel
Chicken Burrito Bowls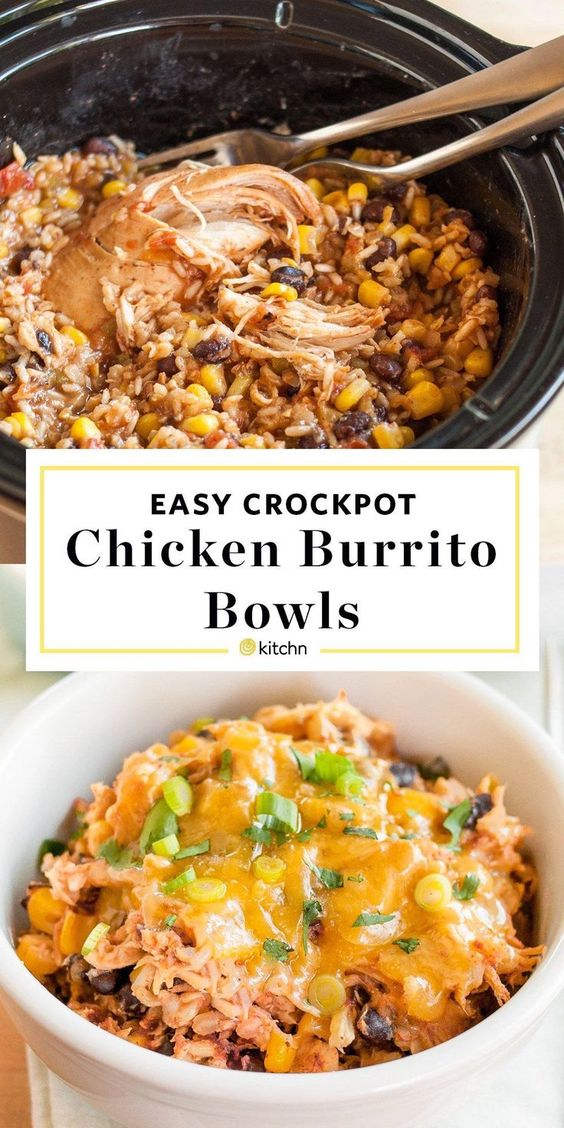 This is my absolute favorite kind of slow cooker recipe — one that takes less than five minutes to pull together and then rewards you with a delicious, healthy dinner at the end of the day.
From: kitchn
Crockpot Lasagna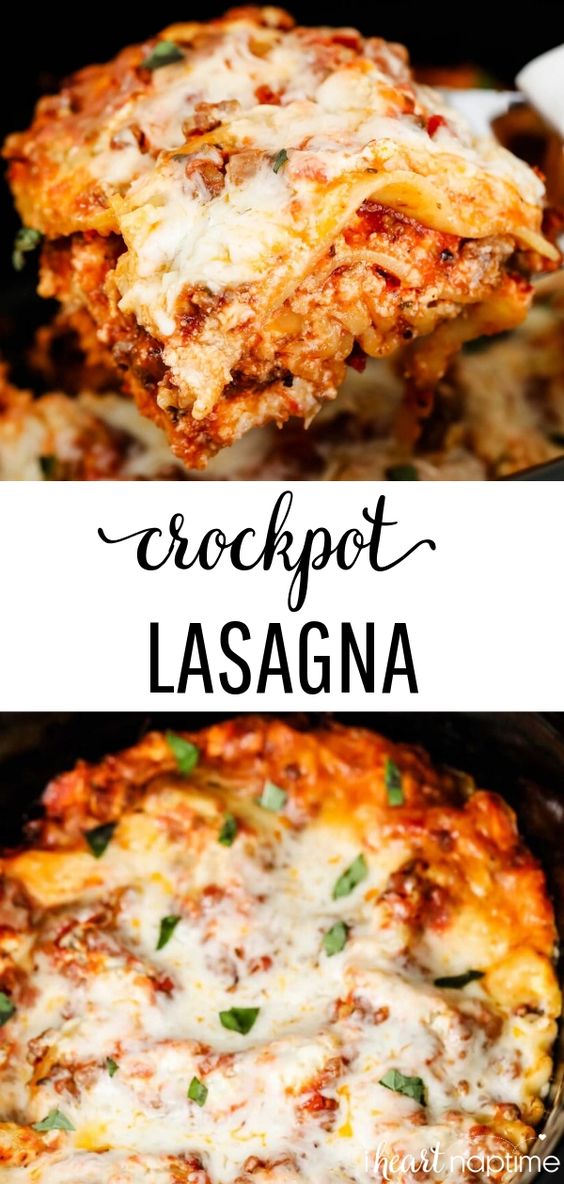 EASY Crockpot Lasagna – Delicious Layers Of Noodles, Meat Sauce And Melted Cheese Cooked To Perfection In The Crockpot! Only 10 Minutes Of Prep, Making This Easy Lasagna Recipe Great For Busy Weeknights. Sure To Be A Family Favorite!
From: I Heart Naptime
Easy Slow Cooker Beef Stew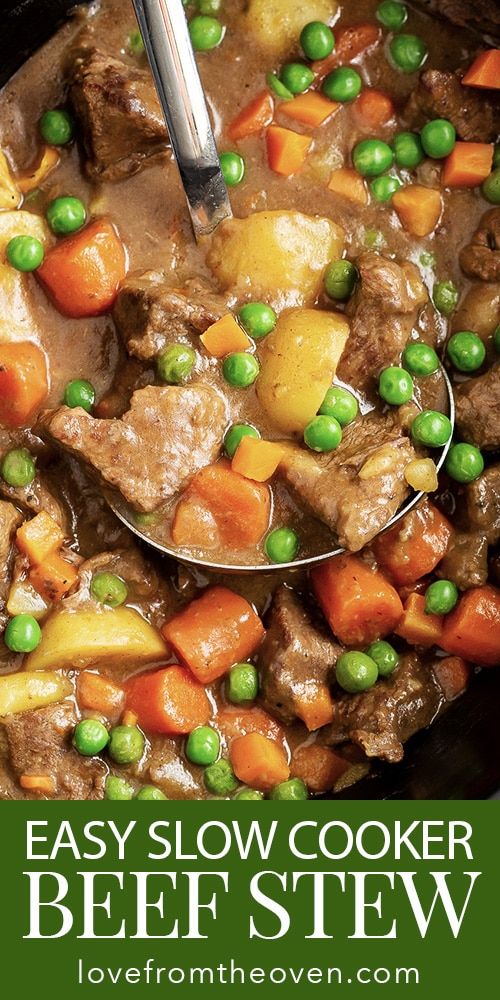 This delicious Beef Stew Crockpot Recipe is a family favorite. Even my picky eaters ask for seconds when I make this easy crock pot beef stew!
Made with simple ingredients, this slow cooker beef stew is the perfect comfort food to have ready and waiting on a cold night. Even if you don't know how to make beef stew, I promise that this easy beef stew recipe will produce absolutely scrumptious results!
From: Love From The Oven
Chicken and Gravy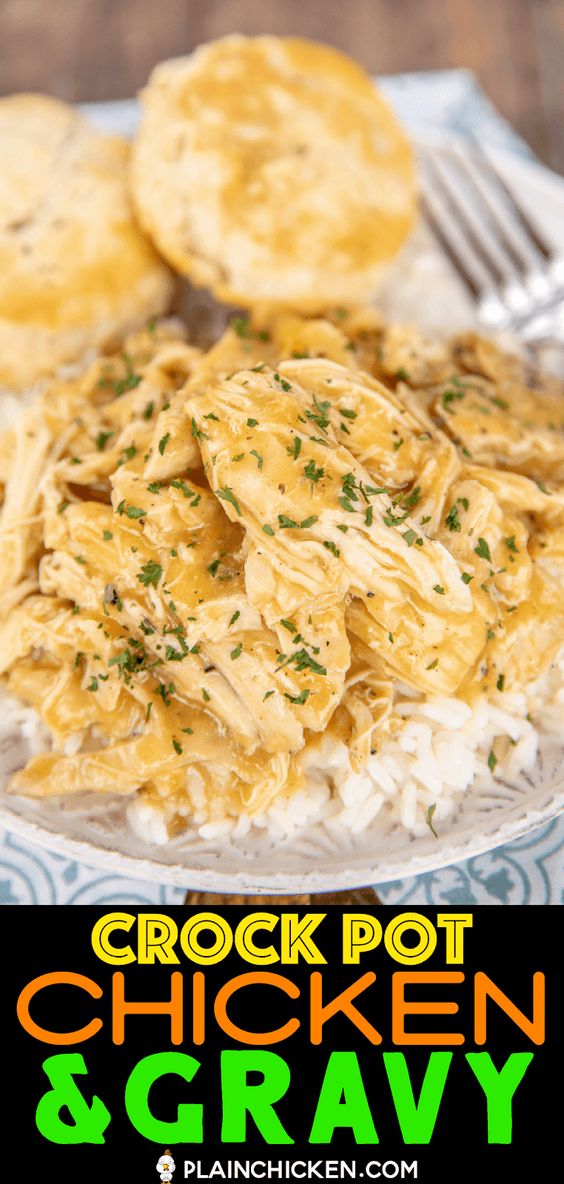 Slow Cooker Chicken & Gravy – only 3 ingredients!! Such a great weeknight meal! Just dump everything in the crockpot and let it work its magic! Serve over hot steamed rice with some green beans. SO easy and kid-friendly too!
From: Plain Chicken
Crack Hash Brown Casserole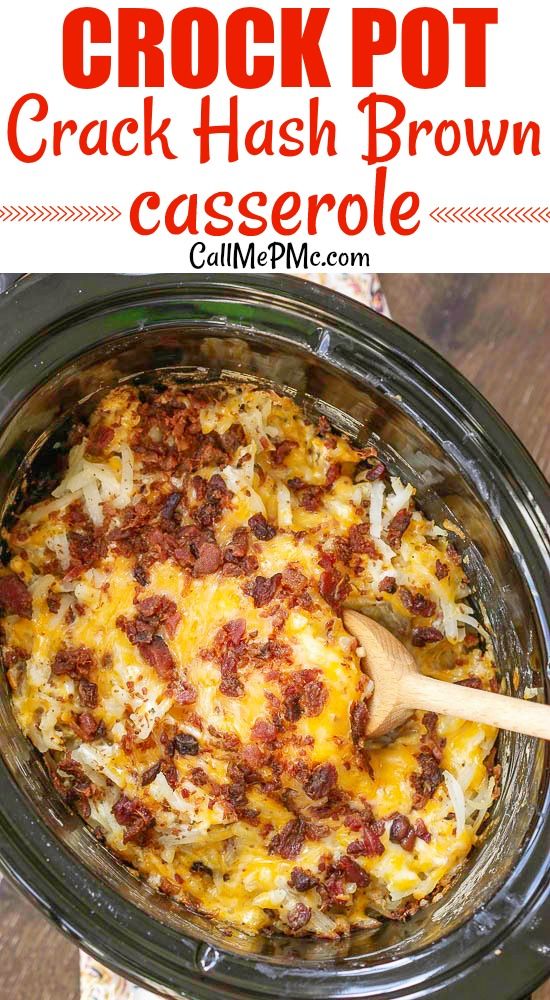 Crock Pot Crack Hash Brown Potatoes, the quintessential comfort food gets an easy and delicious make-over with the addition of Ranch seasoning and bacon.
From: Call Me PMC
Chicken Broccoli and Rice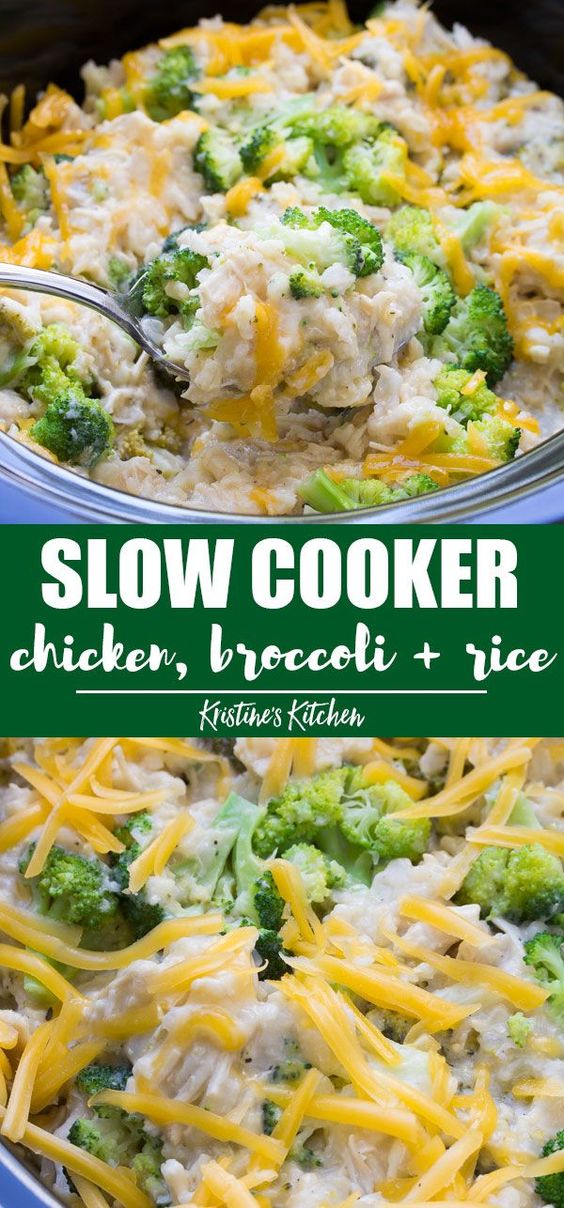 This cheesy Slow Cooker Chicken, Broccoli and Rice Casserole takes just minutes of prep, thanks to your crock pot! It is one of my favorite crockpot meals for quick family dinners!
From: Kristine's Kitchen
Italian Chicken and Potatoes

Chicken, Carrots & Potatoes made in a slow cooker! This Crockpot Italian Chicken & Potatoes makes the most tender chicken. An EASY, 5-ingredient dinner packed with flavor that will satisfy the whole family! Gluten Free + Paleo + Low Calorie
From: Skinny Fitalicious
Slow Cooker Mongolian Beef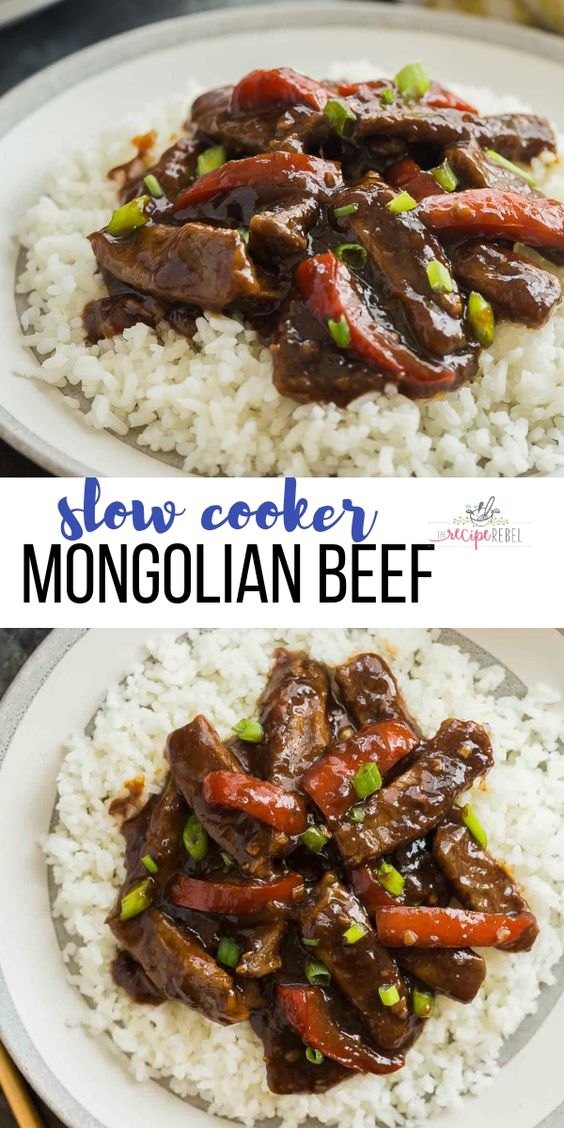 This Slow Cooker Mongolian Beef is so quick and easy — throw everything in the crockpot and let it cook! Tender strips of steak, covered in a rich, dark sauce full of Asian flavours with a touch of sweetness.
From: The Recipe Rebel
Crockpot Chicken and Dumplings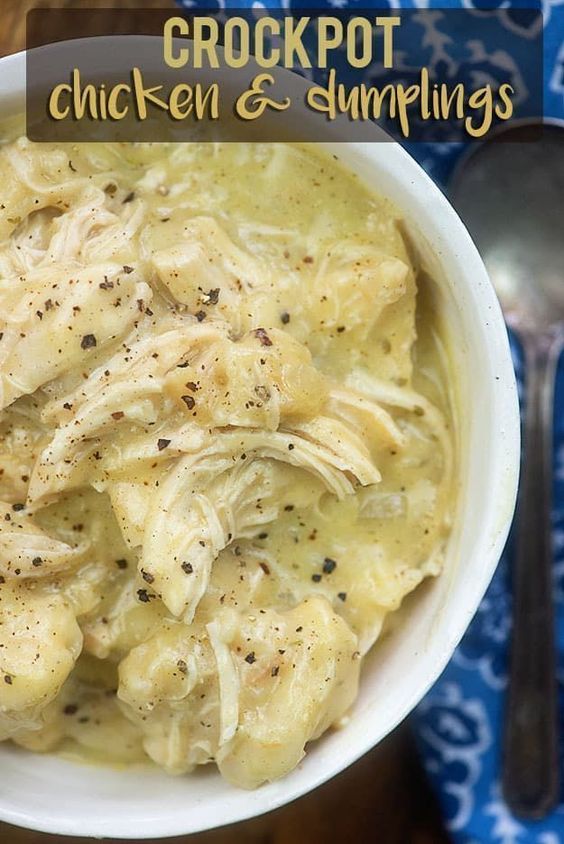 Slow cooker chicken and dumplings is a favorite in my house. It's easy to throw the ingredients in your slow cooker and when you come back you'll have a big bowl of comfort food ready for you. We like lots of dumplings and this recipe doesn't disappoint!
From: Buns in my Oven
Mozzarella Stuffed Crockpot Meatloaf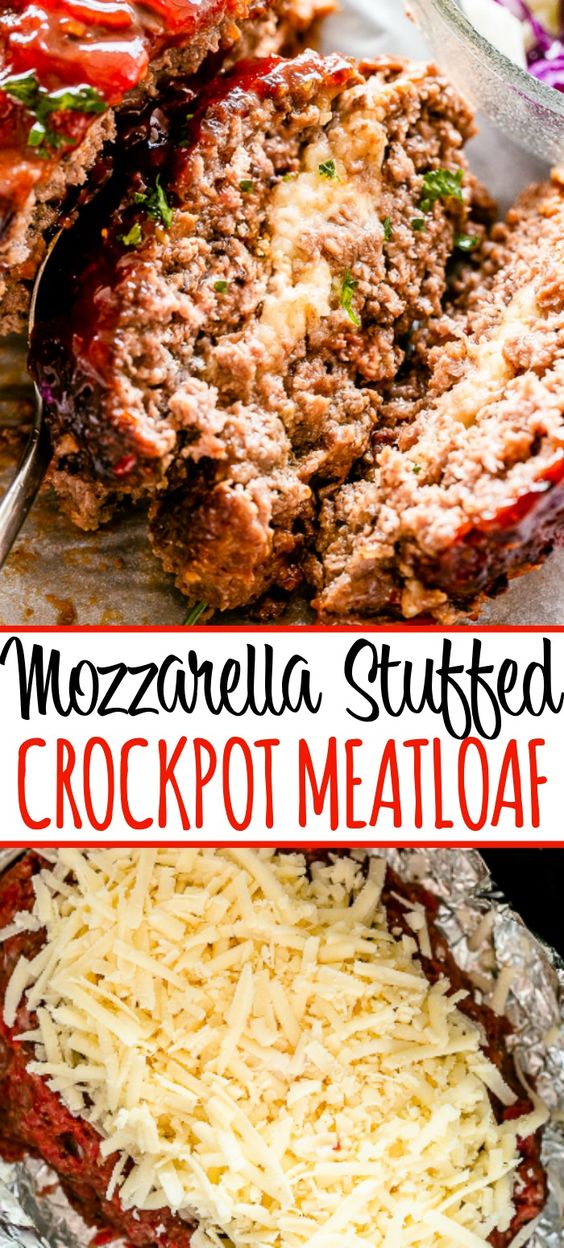 Crockpot Meatloaf is a perfectly tender and cheesy Meatloaf cooked in the Crock Pot and topped with a lip-smacking Honey Sriracha glaze. It's SO GOOD! If you are looking for an amazing Meatloaf recipe, your search may be over.
From: Diethood
Beef Tips and Gravy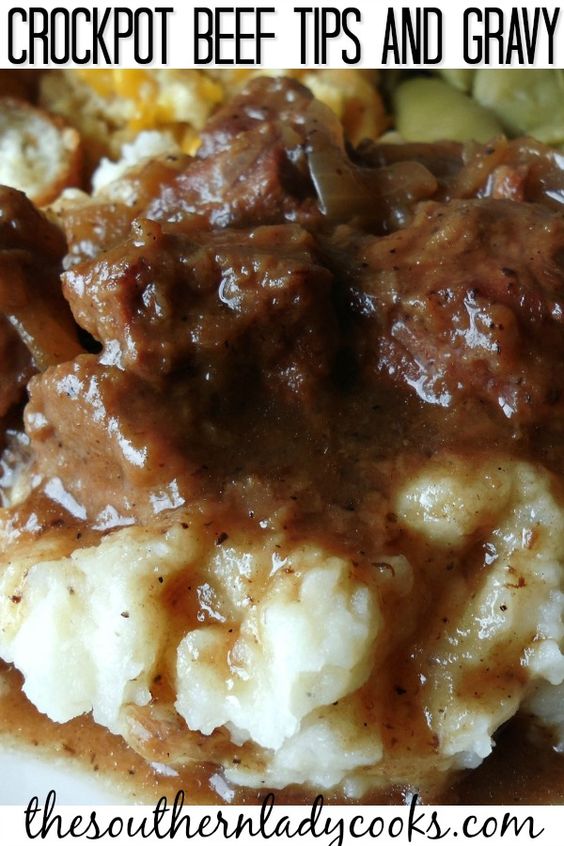 This recipe for beef tips and gravy is delicious over mashed potatoes, pasta or rice.  Of course, we love these beef tips and gravy over mashed potatoes because my family loves potatoes any way you fix them.
From: The Southern Lady Cooks
Tater Tot Casserole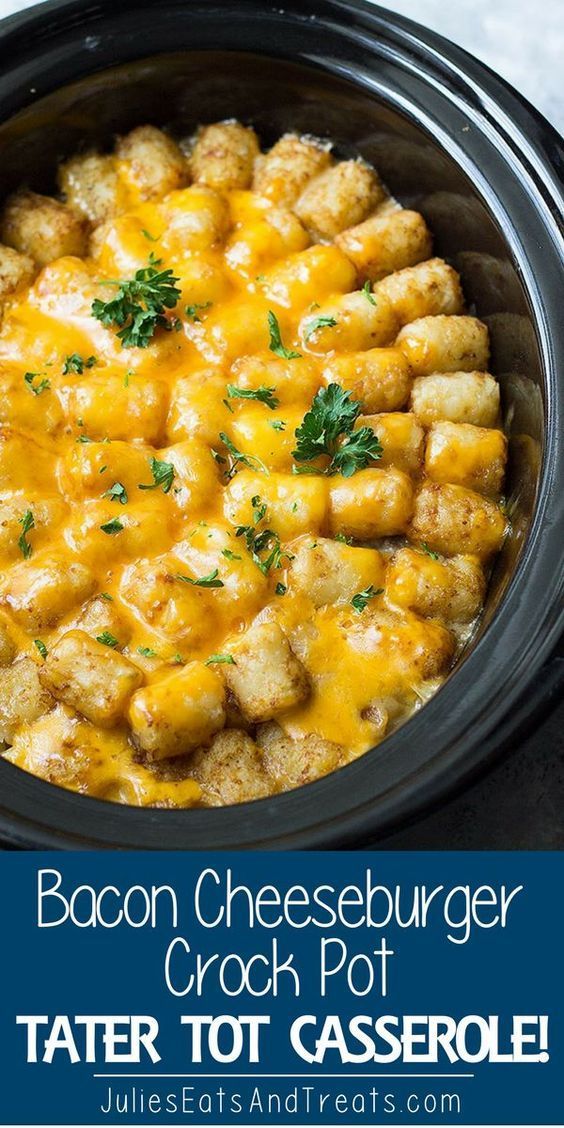 It's super easy to make and made completely from scratch with no canned soups! Don't worry though you can still substitute in a can of cream soup of your choice if you prefer. You could also bake this in the oven like a traditional tater tot casserole and I will give instructions for that as well. Don't worry, I got ya covered.
From: Julie's Eats and Treats
Crock Pot Chicken and Stuffing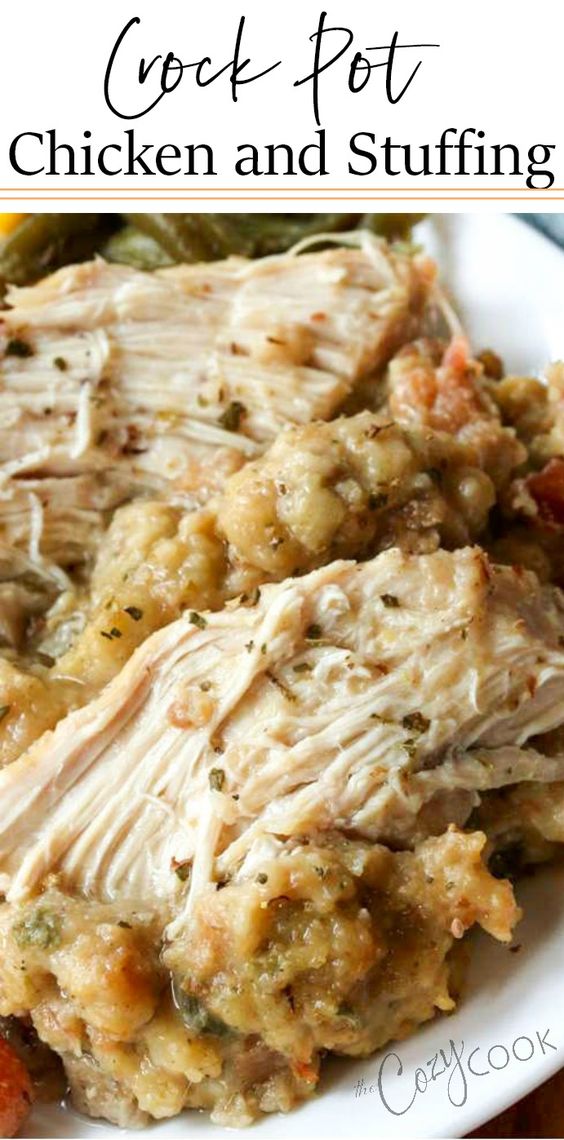 If you like your breadcrumbs still very much intact and firm, use more stuffing, up to 12 ounces. You can always add more moisture if needed (such as additional chicken broth).
From: The Cozy Cook
Crock Pot Chicken Pot Pie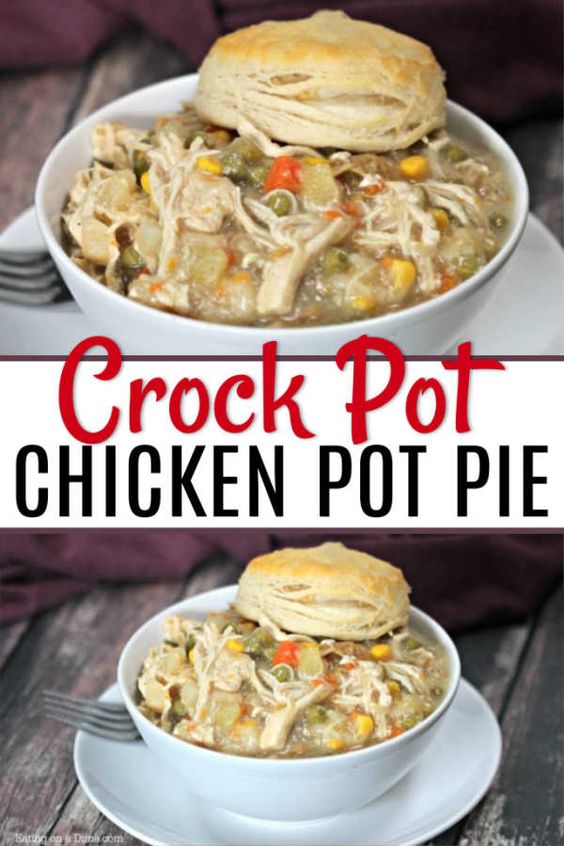 Here is the best Crockpot Chicken Pot Pie Recipe – yes you read that right… we are making it in the crockpot. Basically you are just making the "insides" of the pie.
From: Eating on a Dime
Best Crock Pot Pulled Pork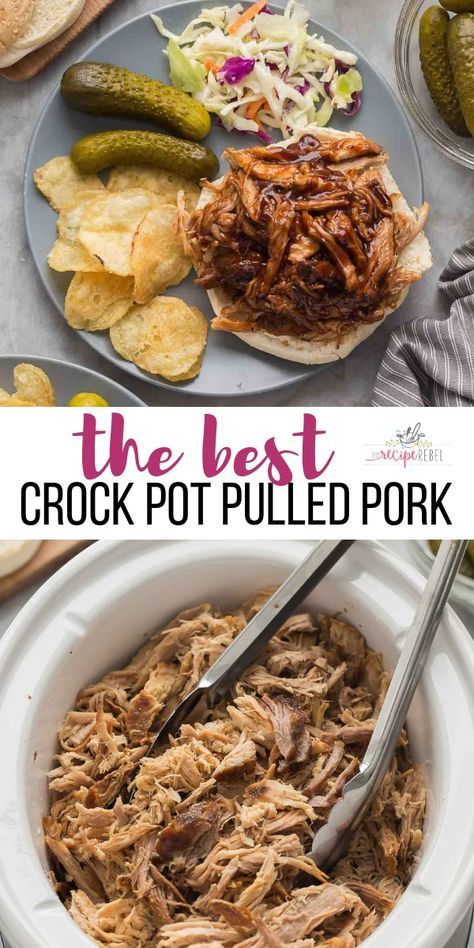 Here, we're all about flavor, and this crock pot pulled pork gets a ton of it from a savory rub, a cup of apple juice that hangs out with the pork loin in the slow cooker (you can take this a variety of different ways for different flavors!), and whatever sweet and smoky delicious BBQ sauce you smother it in afterwards (totally optional! It's got great flavor as is).
From: The Recipe Rebel
Slow Cooker Kielbasa Casserole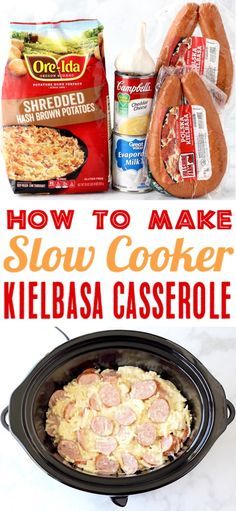 Guess what?  I've got the perfect fix for your comfort food cravings, this easy slow cooker casserole!  It's simple to make, hearty, and packed with family pleasing flavors.  Whether you're looking for an easy weeknight dinner or a delicious crockpot casserole for your weekend brunch, I've got you covered with another Easy Crockpot Recipe!
From: The Frugal Girls
Crock Pot Broccoli Alfredo Chicken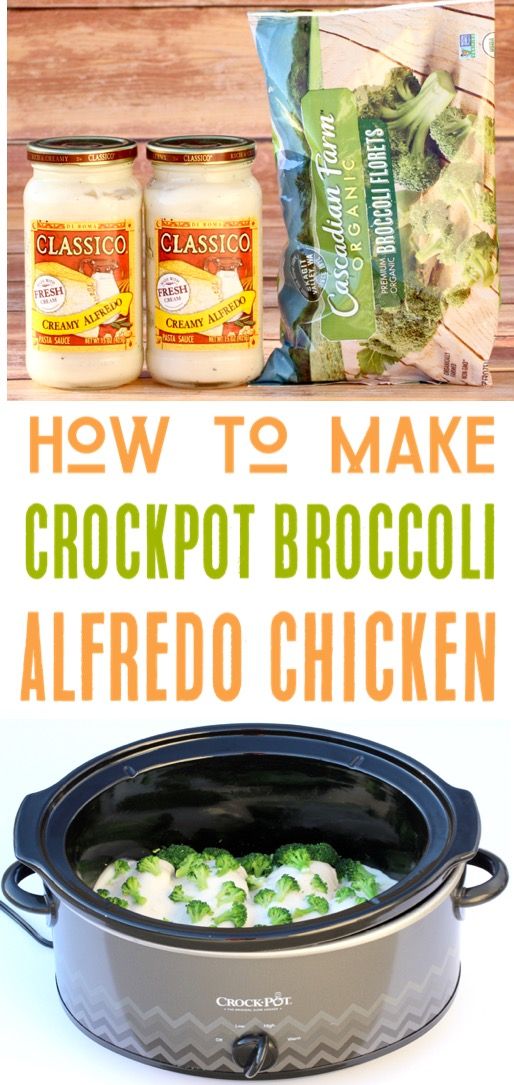 Broccoli Alfredo is on the menu tonight and this Crockpot Chicken dinner is going to make some people very happy in your home. Get ready for some easy comfort food in your slow cooker with this Chicken Broccoli Alfredo Crock Pot Recipe!
From: Blog Lovin
Slow Cooker Baked Ziti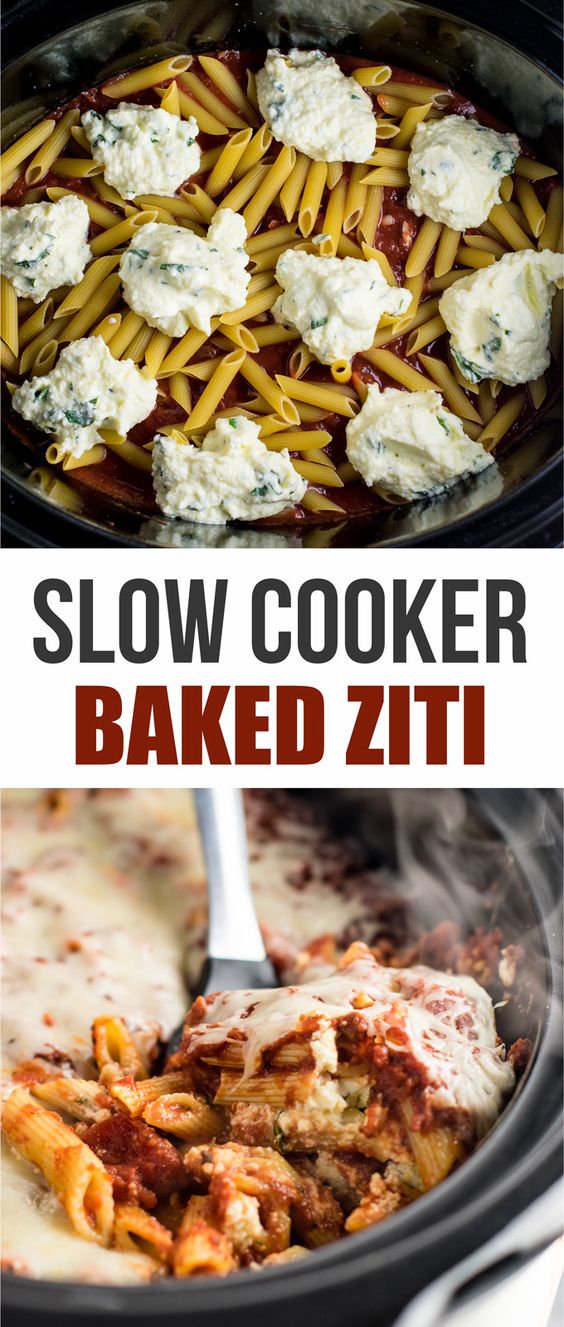 This Easy crock pot baked ziti recipe is a guaranteed crowd pleaser. The perfect easy slow cooker dinner recipe!
From: Build your Bite
Crock Pot Jalapeno Popper Chicken

Turn your favorite cream cheese jalapeno popper appetizer into a delicious dinner with this Slow Cooker Jalapeño Popper Chicken recipe.  Every bite is loaded with flavors from your favorite dish.  This Jalapeño Chicken is made with just the right amount of heat and topped with cheddar cheese and crispy bacon. It is incredibly easy to make in your crockpot and is low carb and KETO friendly.
From: Mommy's Fabulous Finds
Slow Cooker Chicken Breast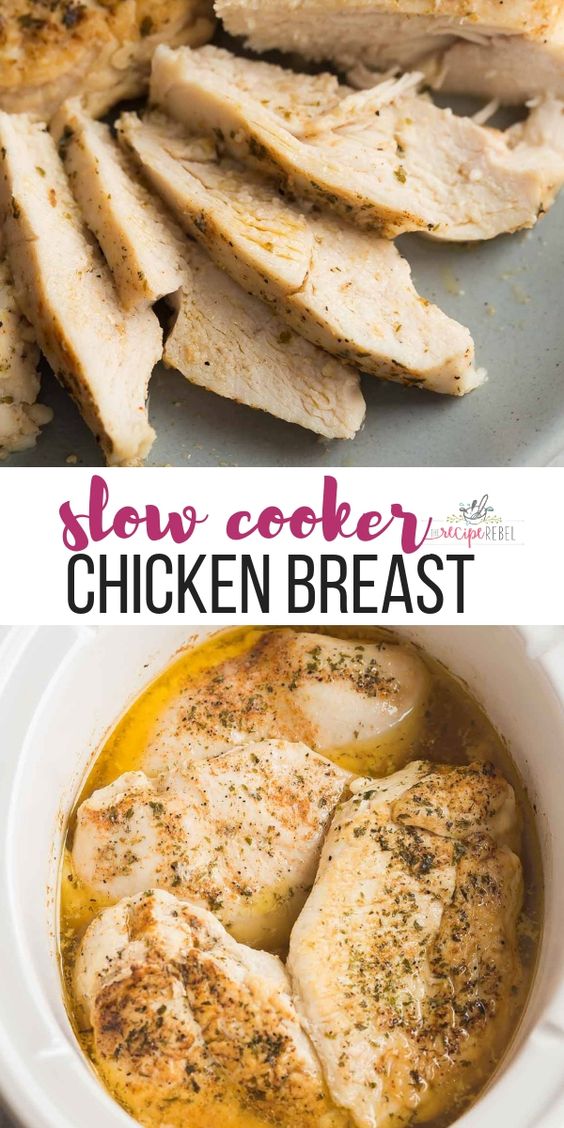 This Slow Cooker Chicken Breast recipe comes out perfectly juicy and seasoned every time! Learn my tips for getting the best crockpot chicken breast, perfect for salads, sandwiches or an easy dinner.
From: The Recipe Rebel
Easy Slow Cooker Taco Pasta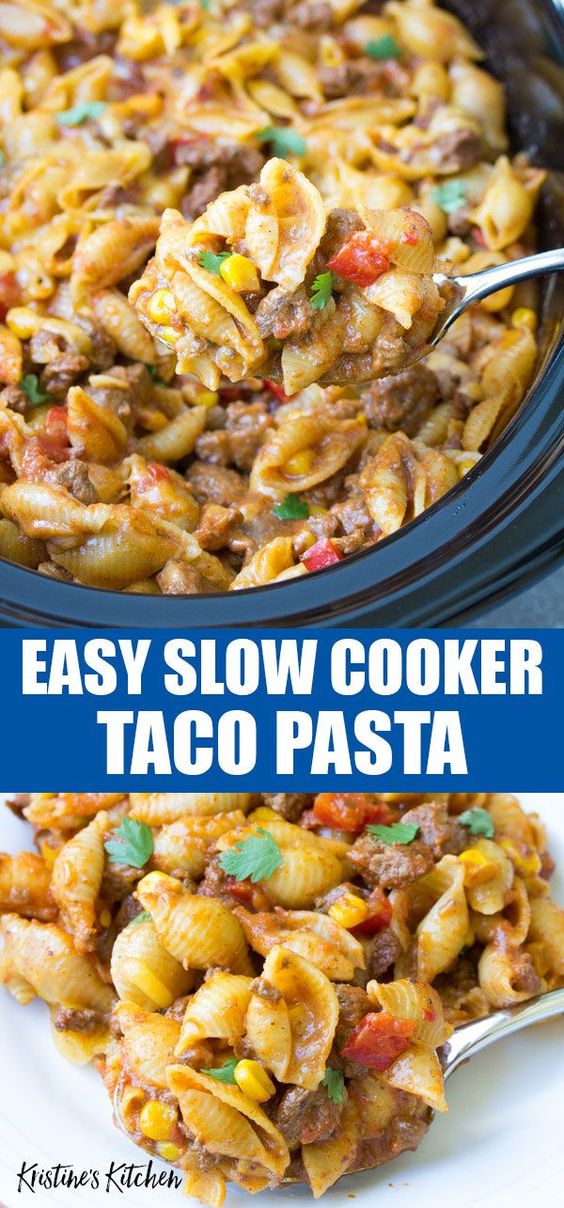 Prep the ingredients for this Easy Slow Cooker Taco Pasta the night before and then start it cooking in your crock pot when you are ready. With just 10 minutes prep, this comforting pasta dish couldn't be easier or faster to make!
From: Kristine's Kitchen
Crock Pot Chicken and Gravy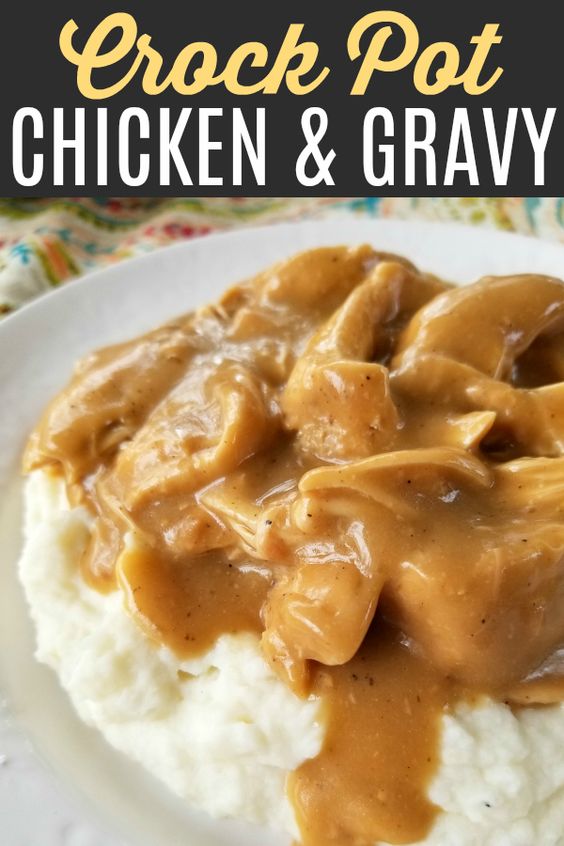 An easy and delicious slow cooker recipe for tender chicken with savory gravy perfect served over mashed potatoes, noodles or rice.
From: South Your Mouth
Pin these Easy Crockpot Dinner Recipes for later!
If you enjoyed this roundup of Easy Crockpot Dinner Recipes, please take a moment to pin it to your Crockpot and Dinner Recipe boards on Pinterest!
Also, follow Fluffy's Kitchen on Pinterest for more recipes and ideas!