Making Chicken is a little tough sometimes because you never want it to come out dry, and unfortunately that can happen a lot with chicken. You want that moist fried chicken taste that you can get at restaurants but don't want to use the unhealthy vegetable oils and don't have the time.
Thankfully we have an air fryer to serve up some great moist chicken dishes that are both palatable and healthy! Here's 19 easy air fryer chicken recipes that you can use to make some fantastic chicken for your guests. Whether it's wings, breasts, or a whole chicken, we have the recipe for you!
Enjoy!
19 Easy Air Fryer Chicken Recipes
If you would like to view the full recipe for any of these dishes, please click on the link below the images.
Also don't forget to follow us on Pinterest for more great recipes and ideas, and if you would be so kind, please help share these ideas on Pinterest by saving these to your air fryer and chicken boards.
Air Fryer Chicken with Dry Spice Rub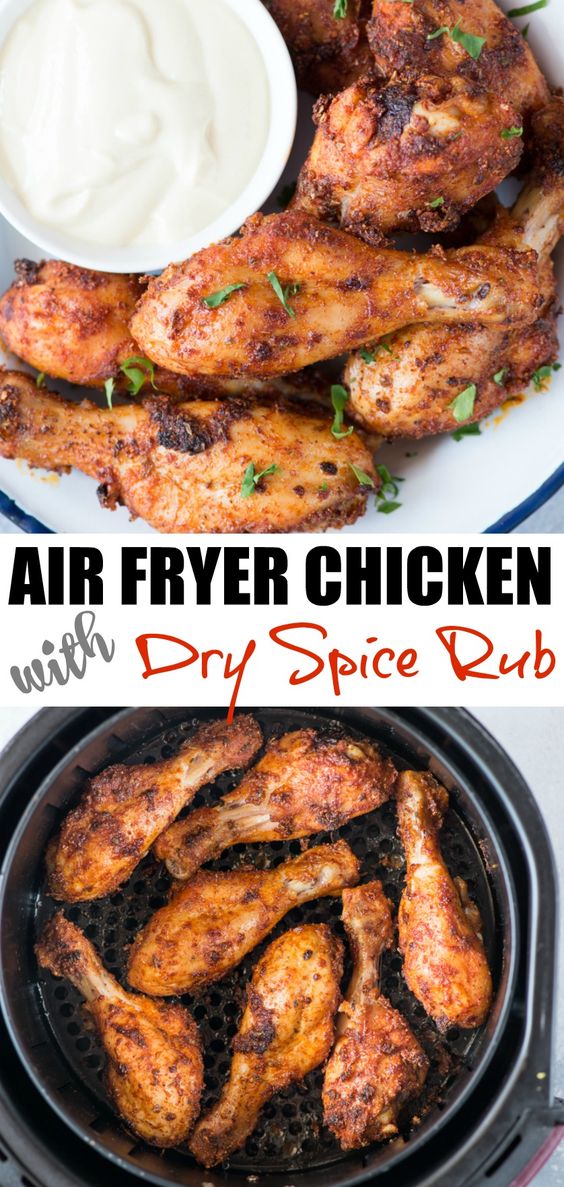 How about some juicy Air fryer Chicken tossed in an epic dry rub?? These Air fryer Chickens are not the only finger licking good but also is the healthiest.  You need just a teaspoon of oil for these. The dry rub is smoky, spicy and very easy to make. I served this with Honey mustard Mayo dipping sauce.
From: The Flavours of Kitchen
Air Fryer Chicken Breasts

Brining creates the most succulent chicken breast with very little effort. Chicken breasts dry out quickly, but with the help of Brining AND the use of an Air Fryer, this recipe is a foolproof way to get amazingly moist chicken breasts each and every time.
From: Diethood
Air Fryer Chicken Breast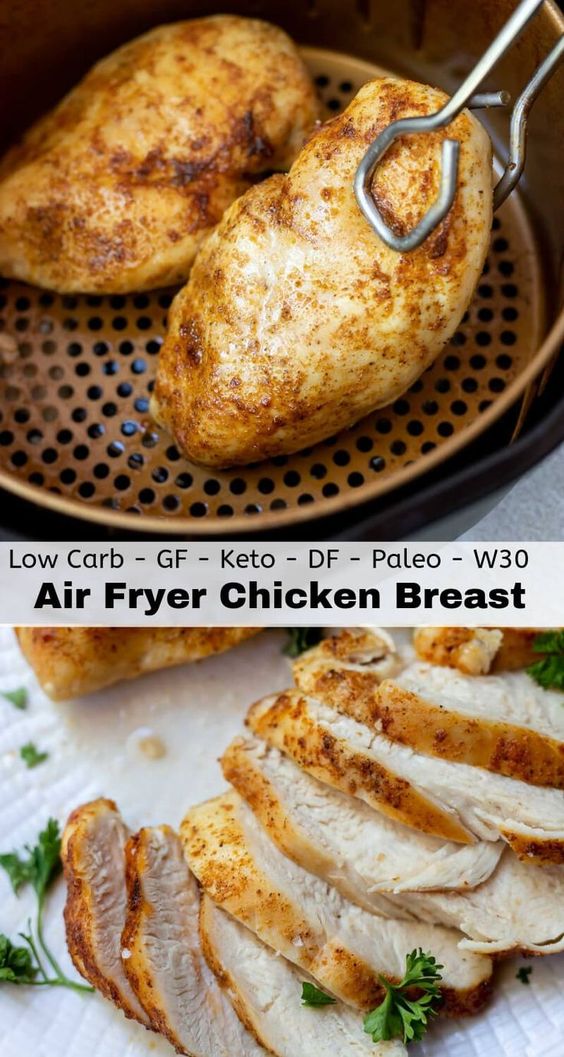 Like most all other air fryer recipes, Air Fryer Chicken Breast is super quick and easy. Just make sure the chicken breasts are all similar thickness, grease them up, season as you prefer and air fry them.
I can honestly say that I will probably never cook chicken breast in the oven again. Not only is air fried chicken breast quick and easy, it is so juicy too!
From: Tasty Air Fryer Recipes
Best Air Fryer Whole Chicken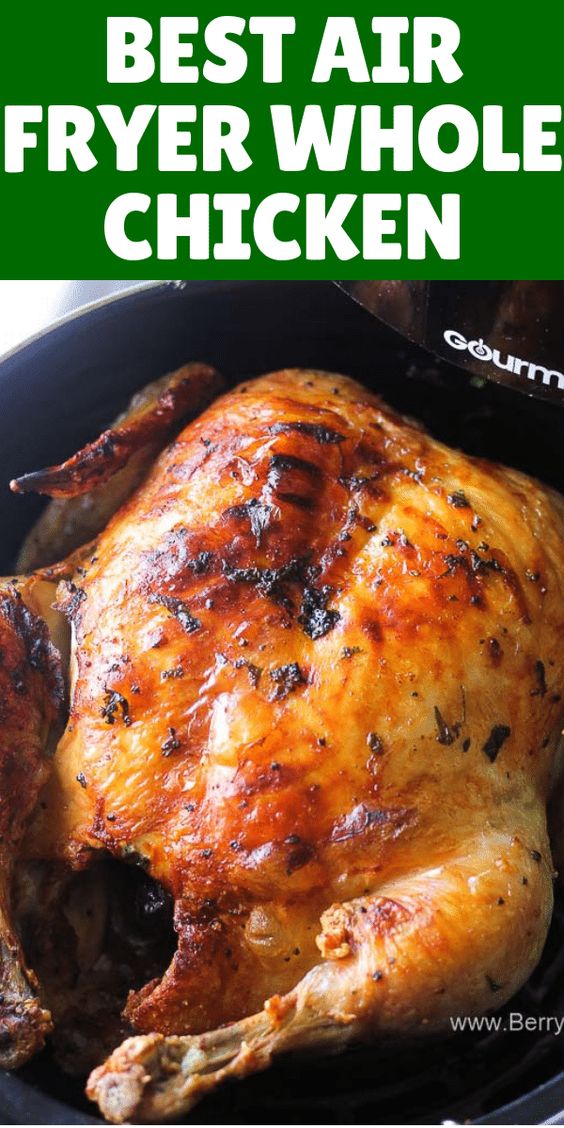 Try this amazingly easy recipe for air fryer chicken rotisserie style in the comfort of your own kitchen. Superb quality juicy meat and extra crispy skin, its what i call a perfect dinner!
From: Berry and Maple
Air Fryer Chicken Parmesan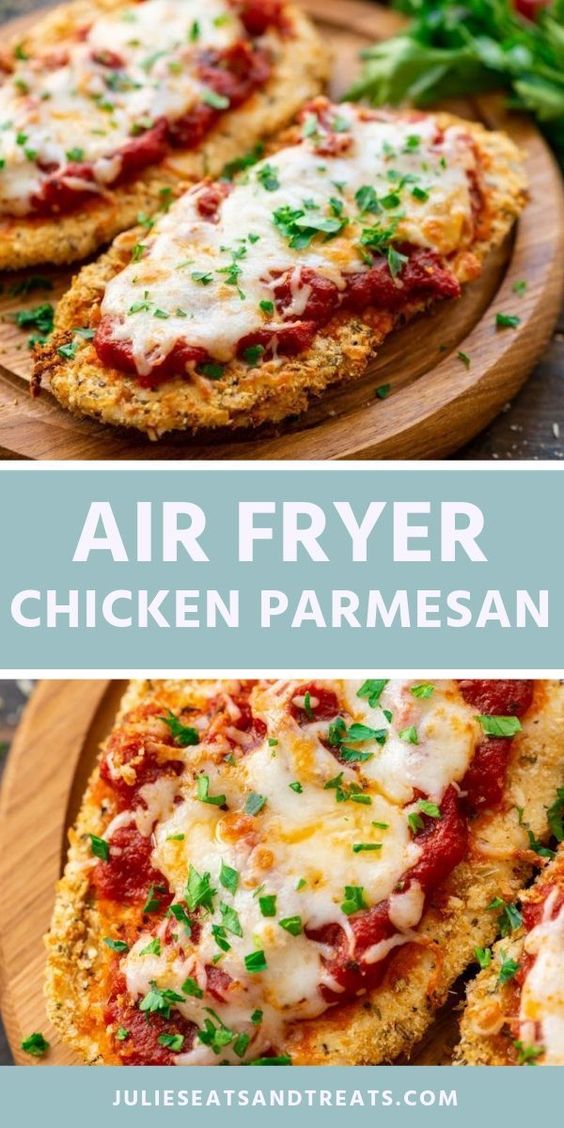 Looking for a healthier way to make Chicken Parmesan? We have it! This Air Fryer Chicken Parmesan recipe is everything you love about the original but healthier. The chicken is nice and juicy and the Parmesan coating is crispy. This is an easy dinner in your Air Fryer and the whole family is going to love it. We like to pair it with steamed vegetables, zoodles or pasta!
From: Julie's Eats and Treats
Air Fryer Sesame Chicken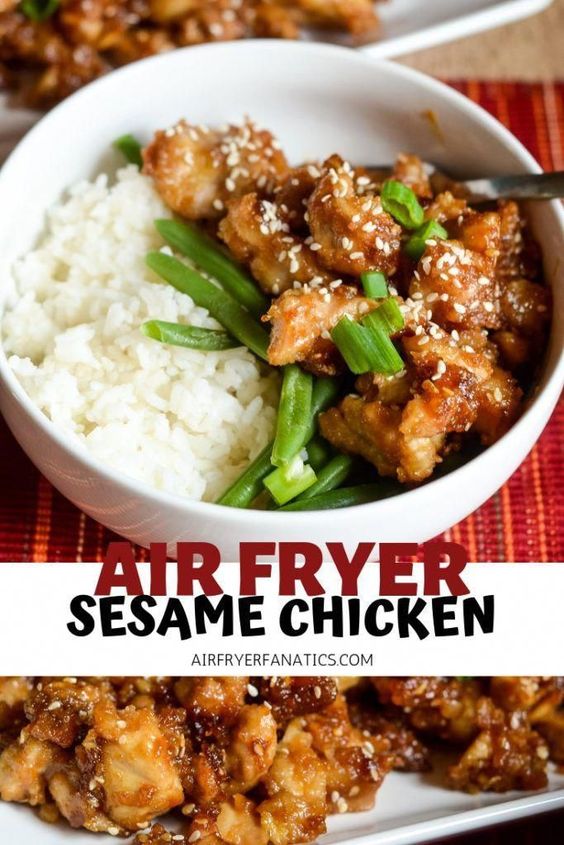 Most of the air fryer recipes that I make are also gluten-free, I opted to make this gluten-free as well; however, I will say it's a bit more time consuming than the others if you want to make this gluten-free.
From: Air Fryer Fanatics
Air Fryer Garlic Parmesan Chicken Tenders
This Homemade Chicken Tender recipe is low in fat and calories. Don't let that fool you, they are packed with flavor! Ready in just 12-minutes, this is one meal your entire family will love!
From: Kitchen Dreamers
Air Fryer Fried Chicken Recipe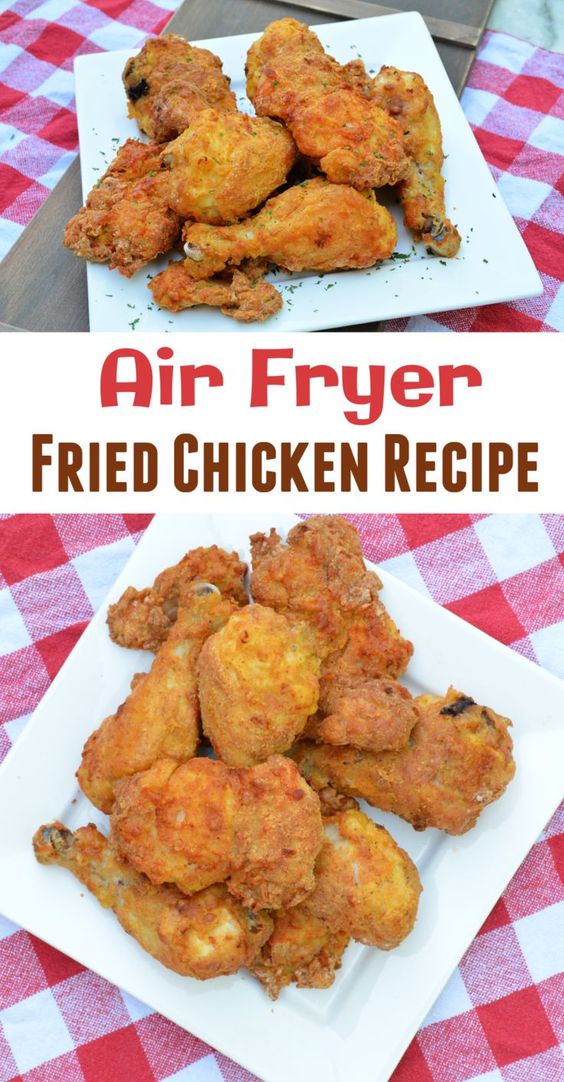 You've probably noticed lately that all of my new recipes have been air fryer recipes. I've become pretty obsessed with fixing just about everything in our air fryer. It makes foods taste SO good and it's so easy to use! With Memorial Day weekend coming up, I thought this would be the perfect time to share my air fryer fried chicken recipe. You will love how crisp and delicious the chicken turns out!
From: Thrifty Nifty Mommy
Chick Fil A Chicken Nuggets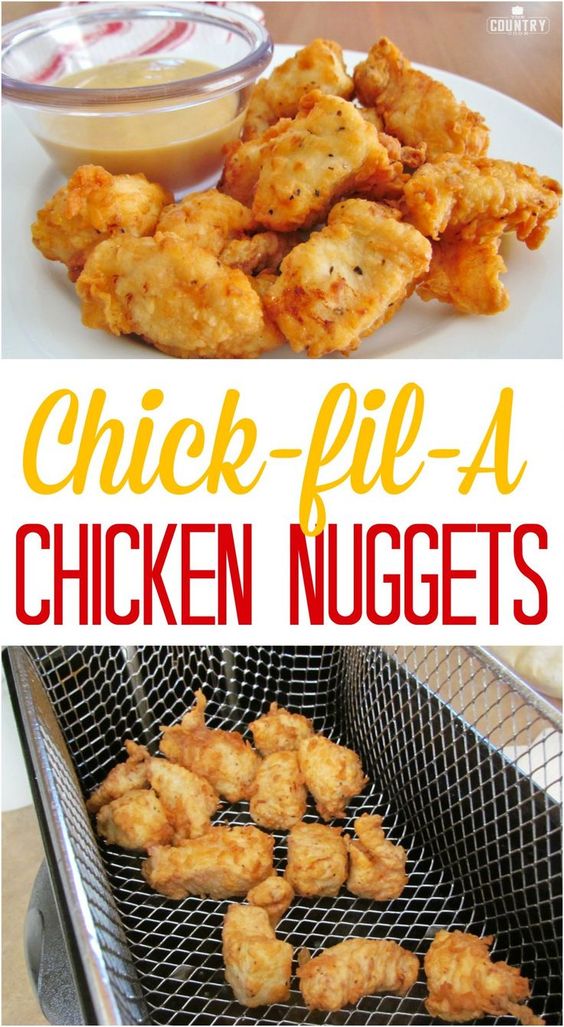 I have a firm rule on here that I never say anything tastes exactly like a particular food from my favorite restaurants. But I do love to try to re-create some of my restaurant/fast food favorites at home. It's a fun pastime for me that started many years ago. After a lot of trial and error, I can usually get flavors very close to my favorite meals, but never exactly the same taste.
From: The Country Cook
Easy Air Fryer Chicken Wings

Air Fryer chicken wings will make your go-to dish for large gatherings. They are effortless to prepare. You can save your oven for other dishes because the air fryer will do all the work for you.
From: Momsdish
Air Fried Chicken Breast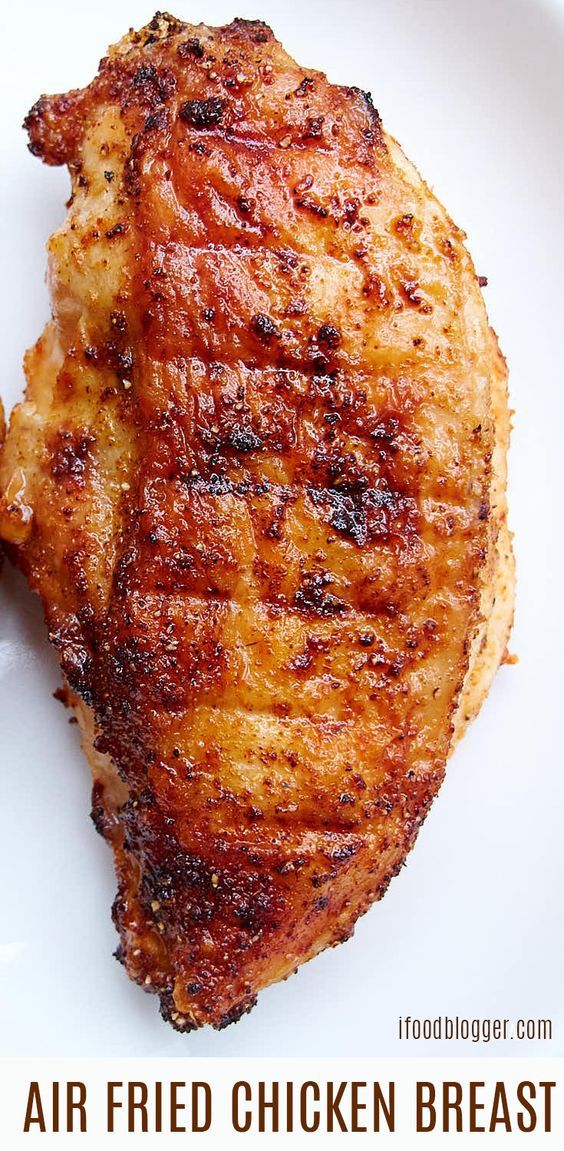 This air fryer chicken breast is seasoned with sesame oil and spices, then cooked to perfection in a little gadget that I never thought I'd enjoy this much. Yes, I absolutely love my air fryer. What do you think can be better than a perfectly caramelized, delicious pan-fried chicken breast? Or a crispy oven-roasted chicken breast? That's right, an air fryer chicken breast beats them both. And I am not afraid to say it. Of the air fryer recipes that I've tried so far, this one is the most impressive.
From: Craving Tasty
The Best Air Fryer Chicken Breasts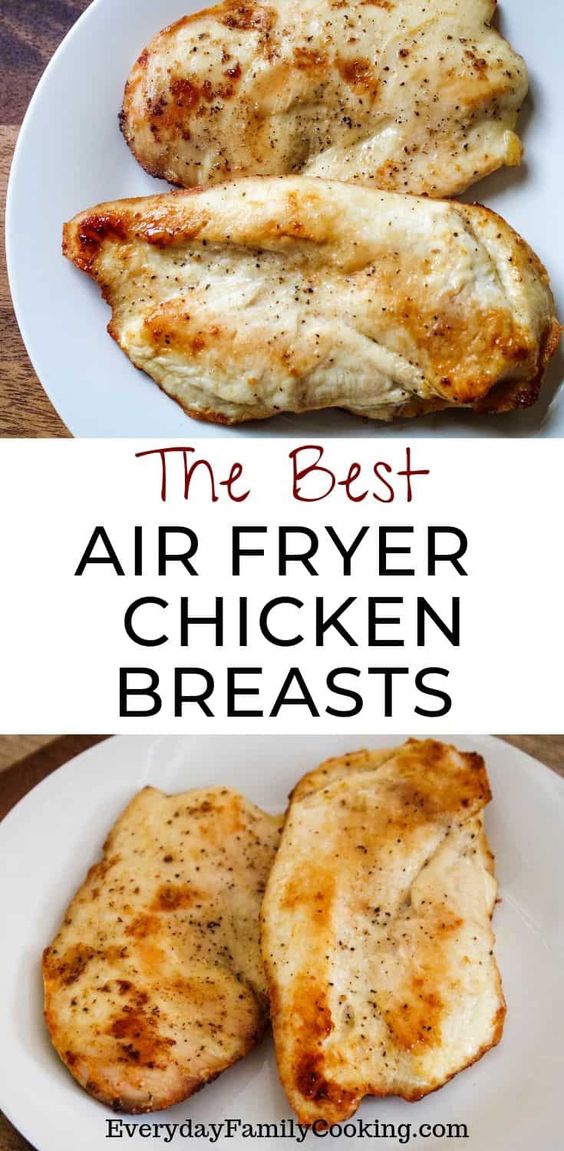 Air Fryer Chicken Breast is perfect year-round. It allows you to cook without heating your entire oven in the summer and delivers the same grilled chicken taste throughout the winter.
This boneless chicken breast recipe contains no breading and is completely keto, using butter as its coating. You can use full chicken breasts or cut the chicken into grilled chicken strips.
From: Every Day Family Cooking
The Best Air Fryer BBQ Chicken Wings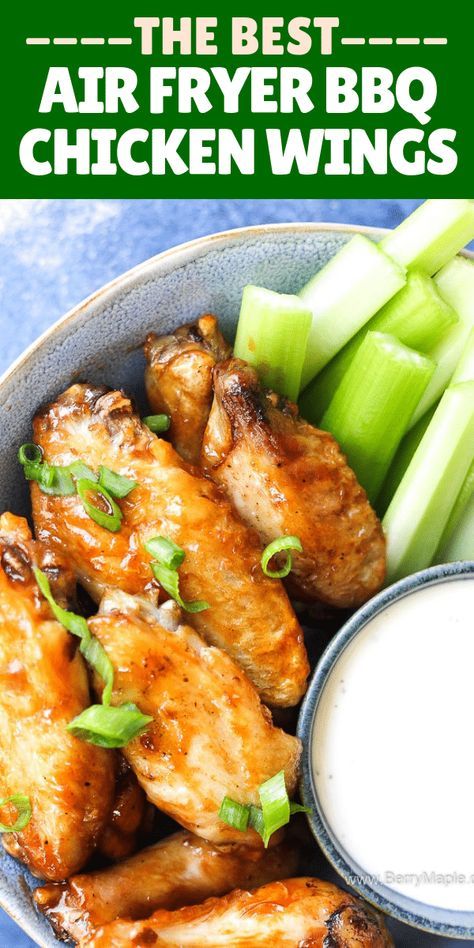 Easy, ready in 30 minutes, this BBQ Air fryer chicken wings are great for a party and for a family dinner!  Crunchy wings dipped in your favorite sauce- what could be better?
From: Berry and Maple
Air Fryer Ranch Chicken Tenders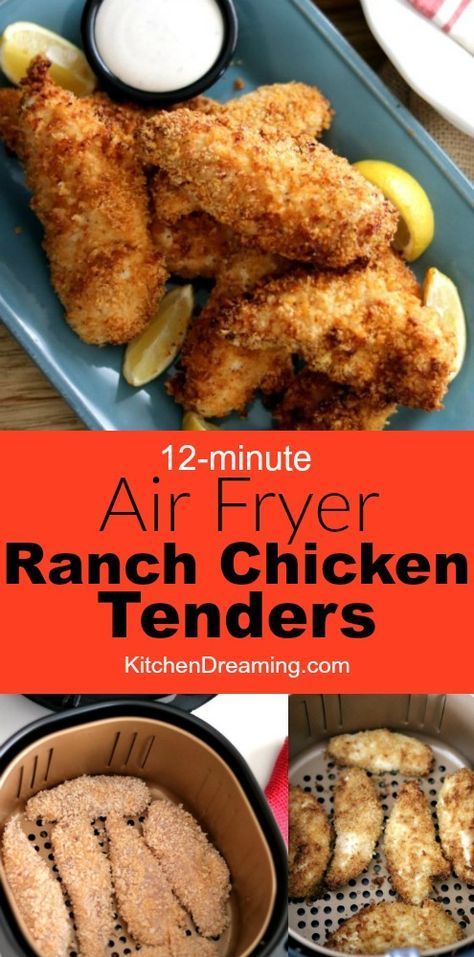 Ready in just 12 minutes, these Ranch Chicken Tenders are crunchy on the outside and tender and juicy on the inside. The subtle flavors of the ranch dredge can be tasted in the crunchy crumb topping.
From: Kitchen Dreaming
Air Fryer Chicken Parmesan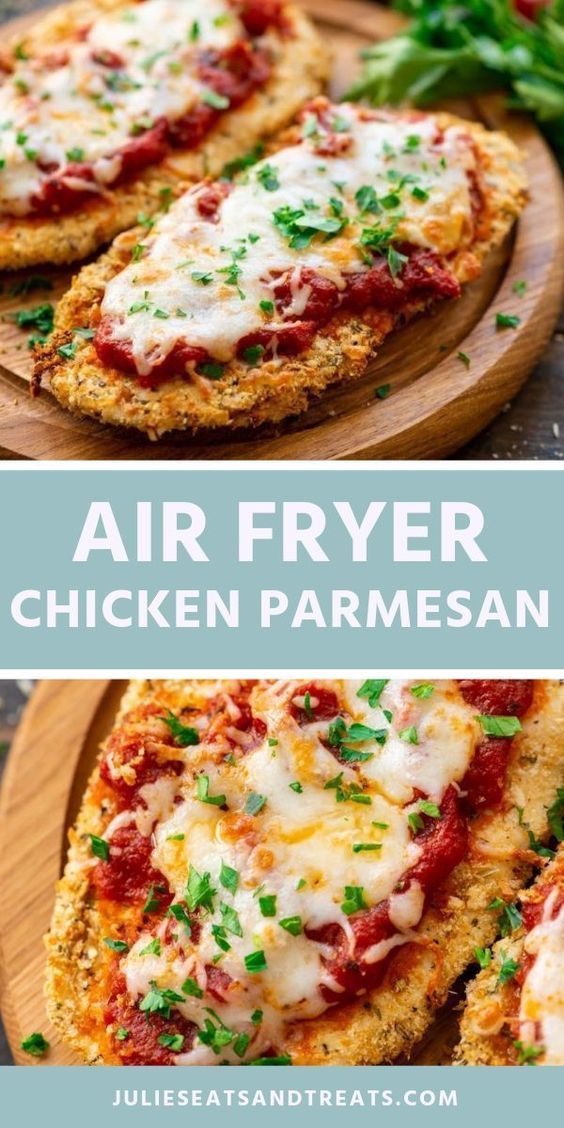 Air Fryer Chicken Parmesan – all the flavor and none of the fat! I am OBSESSED with this crunchy and delicious chicken! SO easy to make and ready in about 10 minutes. Chicken cutlets, eggs, flour, Italian breadcrumbs, panko breadcrumbs, parmesan cheese, spaghetti sauce and mozzarella cheese. Serves with a simple side salad and dinner is done!
From: Plain Chicken
Best Air Fryer Chicken Wings with Dry Rub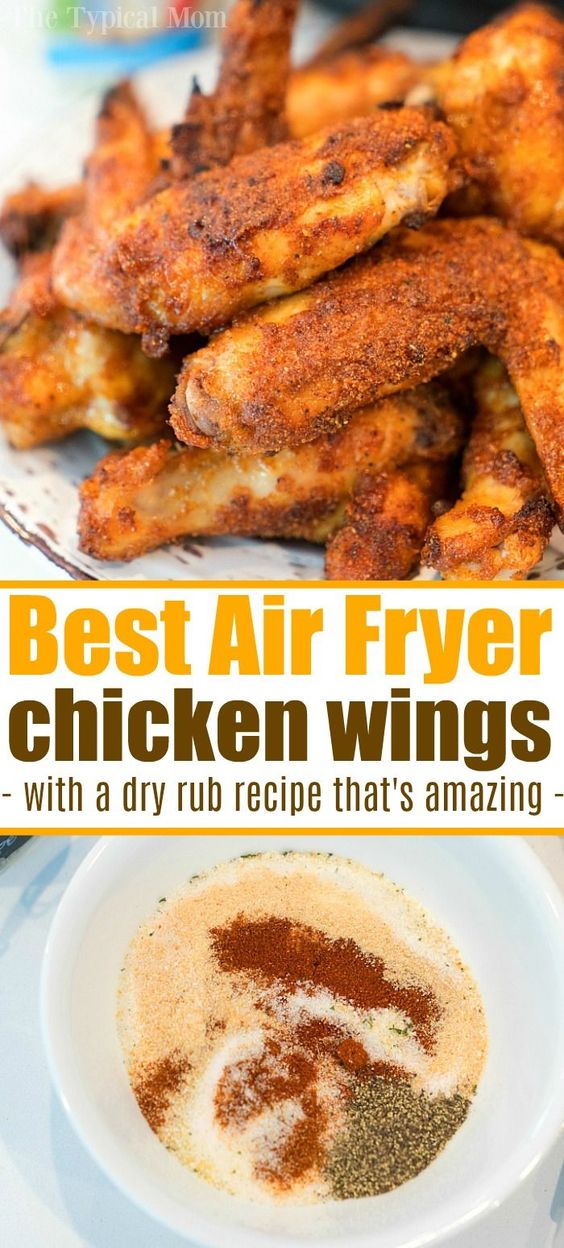 If you're new to this method of cooking it's like eating deep fried chicken but is as healthy as baked chicken. The best of both worlds I tell you. Before we got this nifty kitchen appliance we used baking powder to make really crispy chicken wings in the oven. Now we can skip heating the whole house up and make these air fry chicken wings in about 30 minutes flat!
From: The Typical Mom
Air Fryer Chicken Breast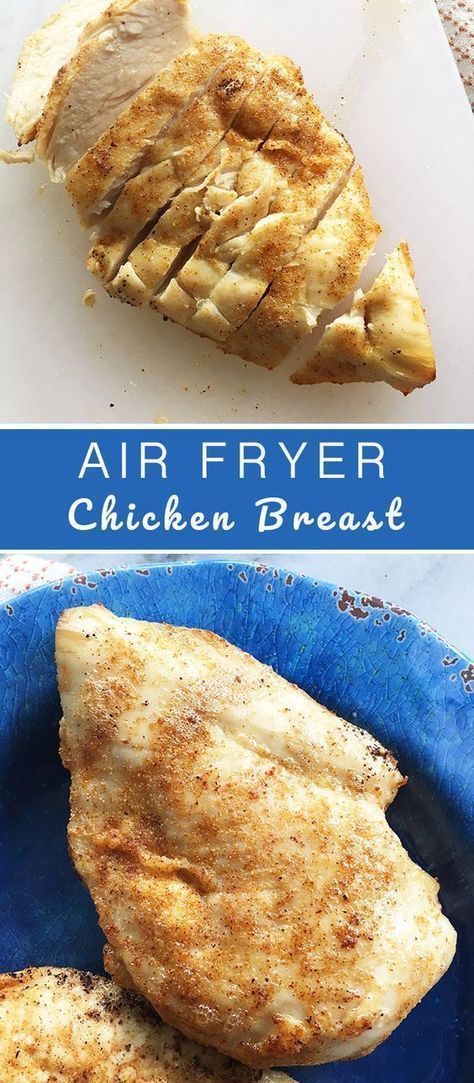 I know this seems like a pretty dumb, yet an easy thing to do in an air fryer. I looked up air fryer chicken breast recipes and there were a lot of recipes for breaded chicken and BBQ chicken. There were no recipes for just a plain old chicken breast cooked in the air fryer. This chicken comes out so juicy and moist and who doesn't like having leftover cooked chicken on hand to make leftovers with?
From: Recipe Diaries
Parmesan Breaded Air Fryer Chicken Tenders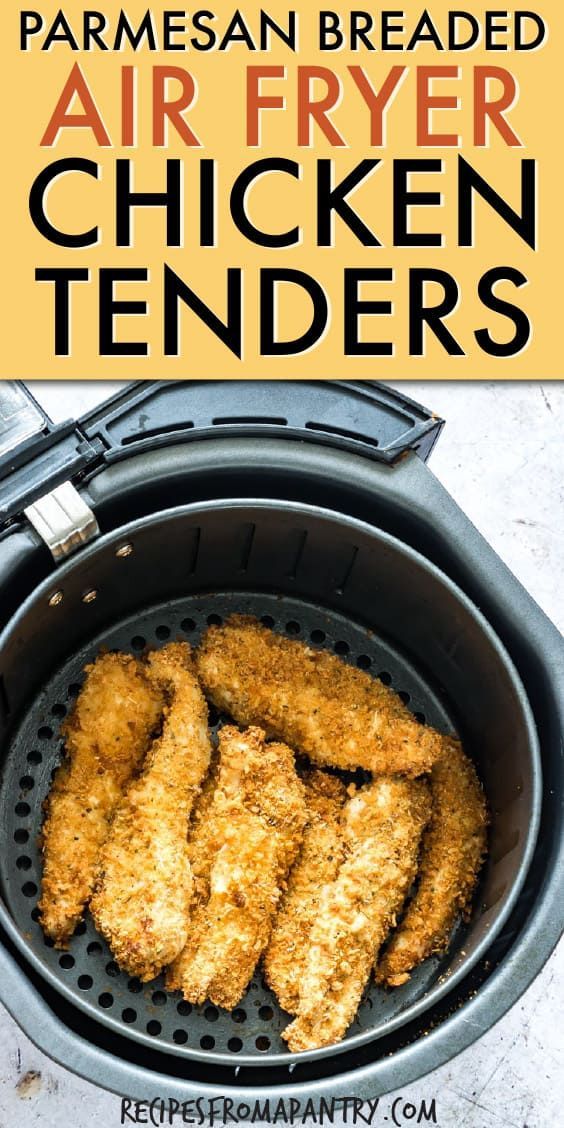 These golden crunchy easy Parmesan Breaded Air Fryer Chicken Tendersare ready in under 15 mins so it makes a great weeknight supper, brunch treat or snack. Serve with some baked fries, a simple salad or some mac and cheese.
From: Recipes From a Pantry
Air Fryer Ranch Chicken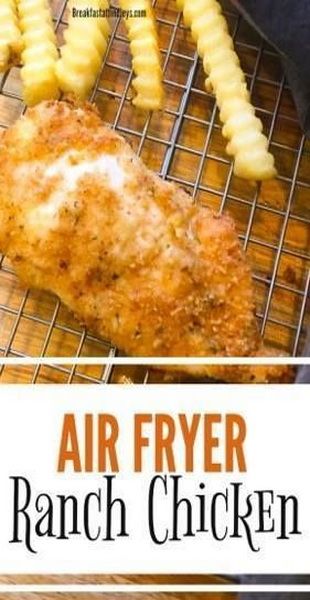 I discovered this recipe when we weren't able to leave the house, wasn't much in the pantry, and I just needed to make something for dinner. Wow, what a find! My husband LOVES this chicken, and we have it almost biweekly now. I really think some of the best dishes I have created have been under those circumstances! I also often keep ranch mix and breadcrumbs on hand, in case we are in a bind again!
From: Breakfast at Findlay's
Pin these Air Fryer Chicken recipes for later!
If you enjoyed this roundup of easy air fryer chicken recipes, please take a moment to share these recipes by pinning them to your air fryer and chicken boards on Pinterest.
Also please follow us on Pinterest for more great recipes and ideas!