Just recently I noticed that a ton of people got an Air Fryer for Christmas and I thought it was a great opportunity to collect some of the best healthy air fryer dinner recipes in one place. My good friend that I work with, my other friend from growing up, and my daughter all got an air fryer for Christmas. That's a lot of air frying going on!
Air Fryers are great because it allows you to get that fried flavor with a ton of food at one time, and you can just hit the button and it's done. Its such a relief to be able to make a HEALTHY dinner while at the same time saving time and effort. What can I say, I love air fryers!
26 Healthy Air Fryer Dinner Recipes
If you want to view the full recipe or instructions for these air fryer dinner recipes, please click the link below the image. Hope you enjoy!
Don't forget to to follow us on Pinterest for more great recipes. If you would, please help us share these ideas on Pinterest by pinning it to your Air Fryer boards!
Air Fryer Eggplant Chips

The air flow that is create under and around the eggplant. The more dryer they become the more crispy they will become. Also the thinner the fries the easier it is for them to become crispy, I like to cut mine about 1/4 to 1/2 of a inch thick.
From: Canadian Cooking Adventures
Air Fryer Salmon and Asparagus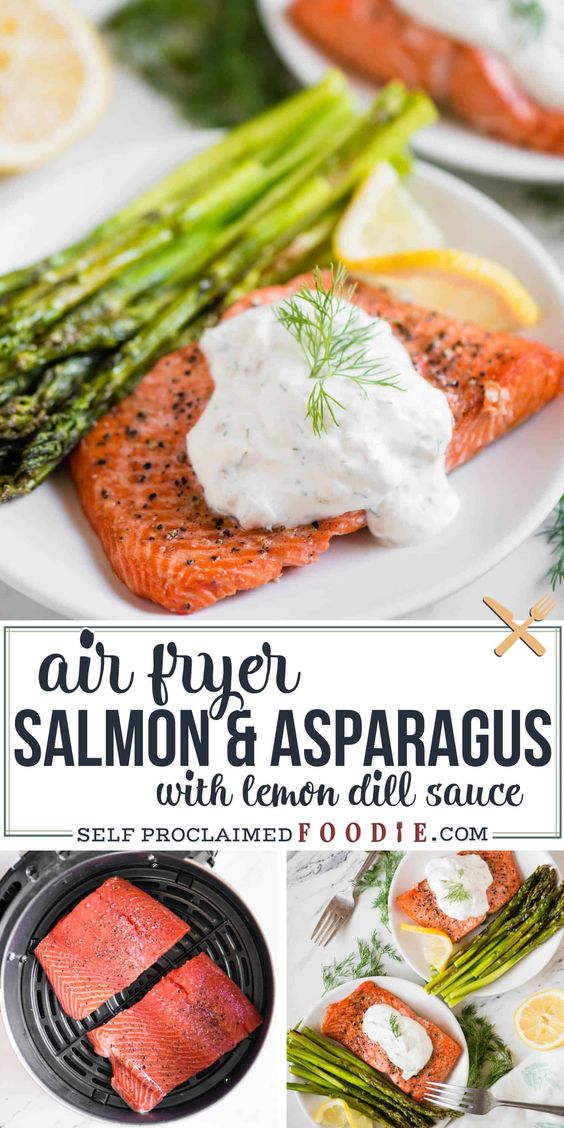 Not often can you make a complete meal in less than 30 minutes that not only tastes amazing, but it's good for you! I was so impressed with how perfect the salmon turned out after cooking in the air fryer. Double the recipe and use the leftover salmon to make Salmon Dip or Salmon Patties!
From: Self Proclaimed Foodie
Air Fryer Sweet Potato Fries

These crispy sweet potato fries are made in the air-fryer, and only use a small amount of oil. This is a great, healthy alternative to deep fried fries. The small amount of oil means less fat and calories, without sacrificing flavor. And the air fryer means crispy, tasty, fries, within minutes.
From: Eazy Peazy Mealz
Air Fryer Corn on the Cob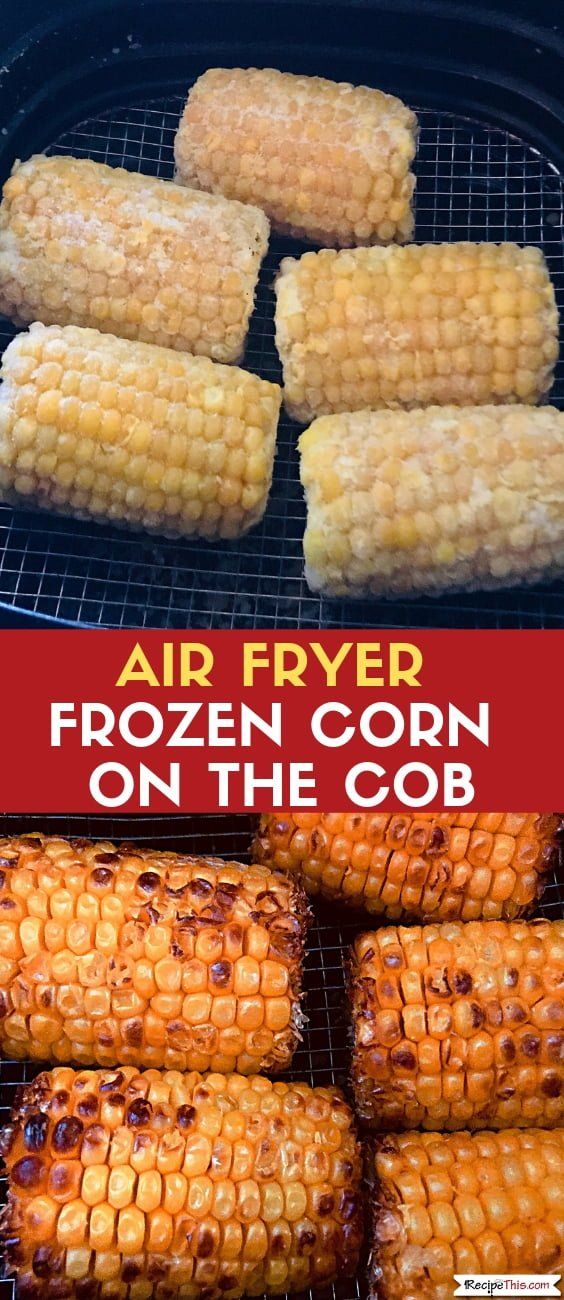 Air Fryer Frozen Corn On The Cob.The most delicious corn on the cob, cooked from frozen in the air fryer, that is lightly seasoned and served with melted butter, that will have you struggling just to have the one.
From: Recipe This
Air Fryer Coconut Shrimp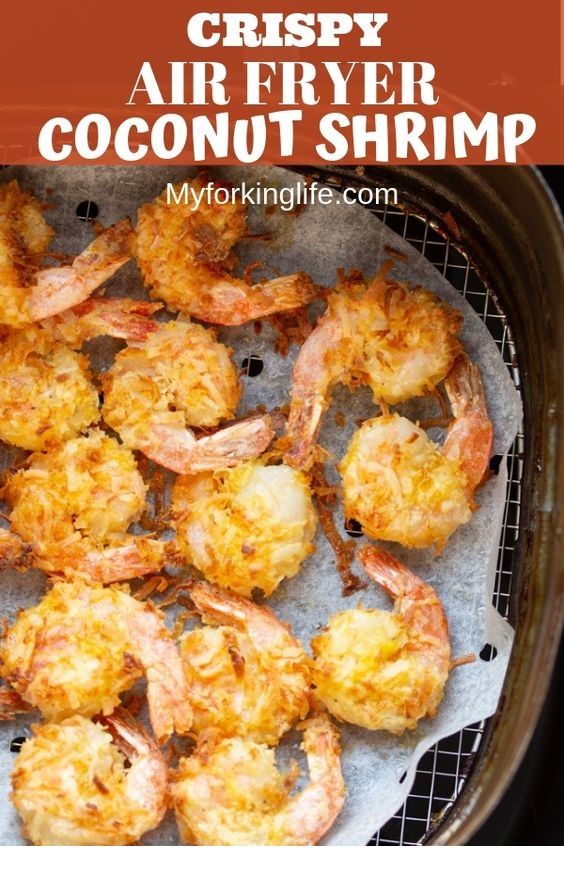 It may seem weird cooking shrimp in an air fryer since shrimp is so delicate and can overcook, but I found that my shrimp cooked perfectly in my Air Fryer. I like the crispy coconut coating on these shrimp and it is a restaurant quality appetizer. I'm sure you will have a few questions about cooking shrimp in your Air Fryer so I'll detail my experience below.
From: My Forking Life
Air Fryer White Fish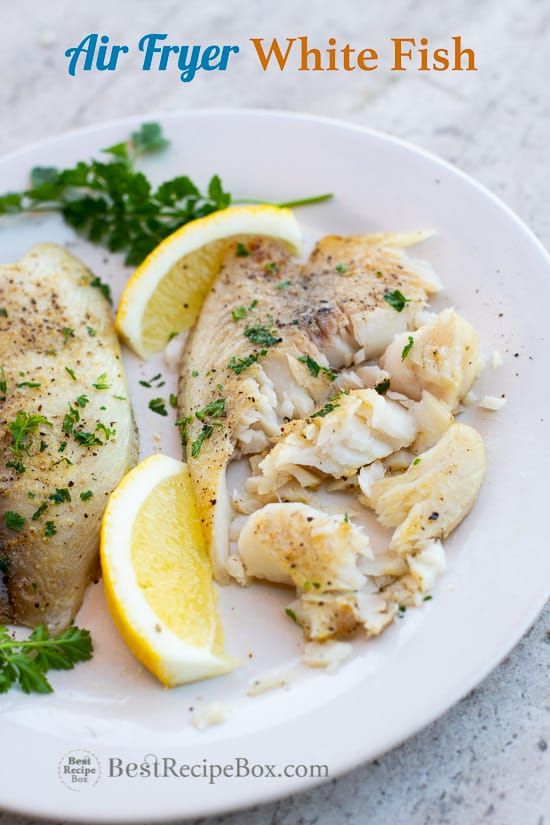 Super simple and always a favorite, this air fryer tilapia recipe is are to satisfy. What's not to love about a quick and easy low carb fish recipe in the air fryer? Within minutes, a healthy fish dinner is on the table.
From: Best Recipe Box
Air Fryer Steaks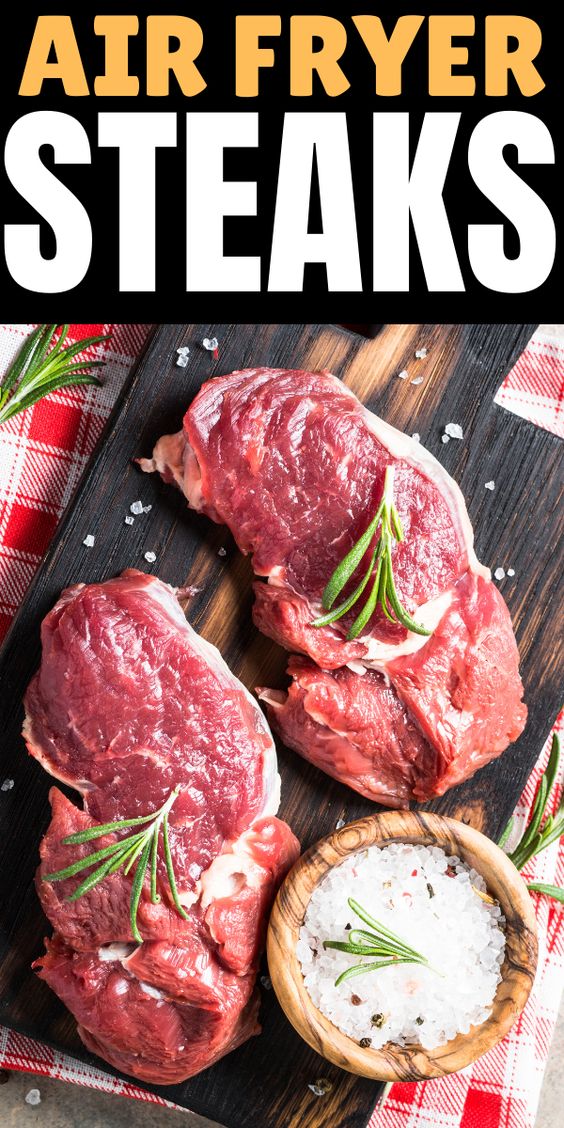 This recipe will show you how to cook the best juicy air fryer steak. No mess, no splashing oil, just tasty beef steak ( use sirloin or ribeye or any other favorite cut of meat)  for your next dinner. Keto, Paleo, low carb, weight watchers 4 smart points per serving.
From: Berry & Maple
Air Fryer Fried Pickles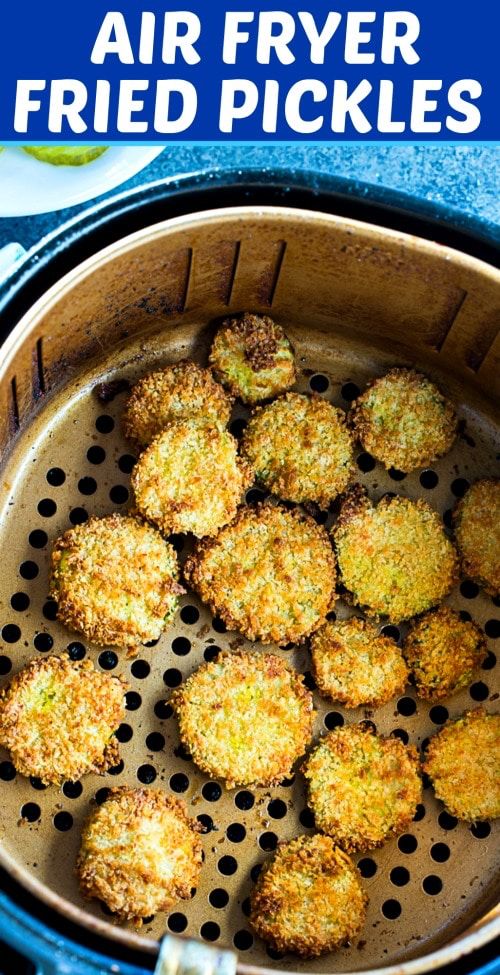 Air Fryer Fried Pickles turn out much crispier than baked Fried Pickles and they can be made in just a fraction of the time.
If you have never tried cooking in an Air Fryer, now is the time to start. I adore my Air Fryer. It has surpassed my crock pot and my Instant Pot as my favorite kitchen small appliance. I have an XL Power Air Fryer and use it multiple times a week. Everything I have tried making in the Air Fryer has turn out fantastically. Especially these Fried Pickles.
From: Skinny Southern Recipes
Air Fryer Sausage and Potatoes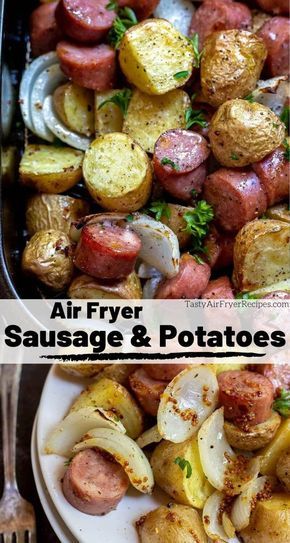 I'm trying to share more complete air fryer dinner recipes like this Air Fryer Sausage and Potatoes Dinner. Air fryers work great for making single items but they can also work well for entire meals. Plus, being able to cook everything at once in the air fryer is a fantastic weeknight dinner idea.
From: Tasty Air Fryer Recipes
Air Fryer Honey Roasted Carrots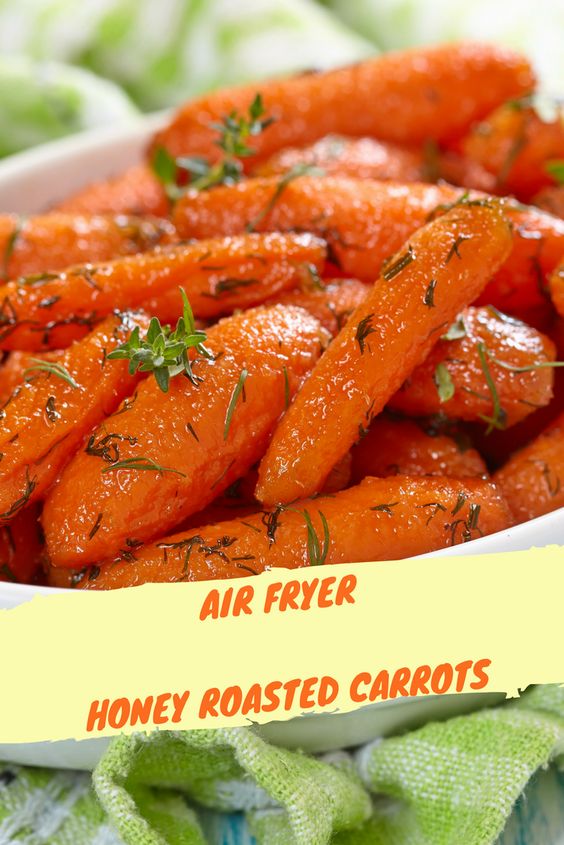 This might be my son's favorite way that I have ever made carrots. And you know what, they were so easy, he might be eating them weekly. This would also be a great side dish to make at Easter.
It's pretty easy to make, and you only need a few ingredients. I can not wait for the farmer's market this summer, and air frying up some fresh vegetables.
From: Fork to Spoon
Air Fryer Baked Sweet Potato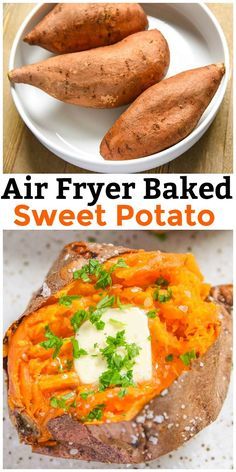 I'm potato obsessed! I could eat potatoes with every meal if that was a healthy option just to eat potatoes, ALL DAY EVERYDAY!
My husband and our daughter also share a love for potatoes, so we have our fair share of them throughout the week. We love our Air Fryer Baked Potato, but this Air Fryer Baked Sweet Potato recipe is just as good!
From: Courtney's Sweets
Air Fryer Zucchini Chips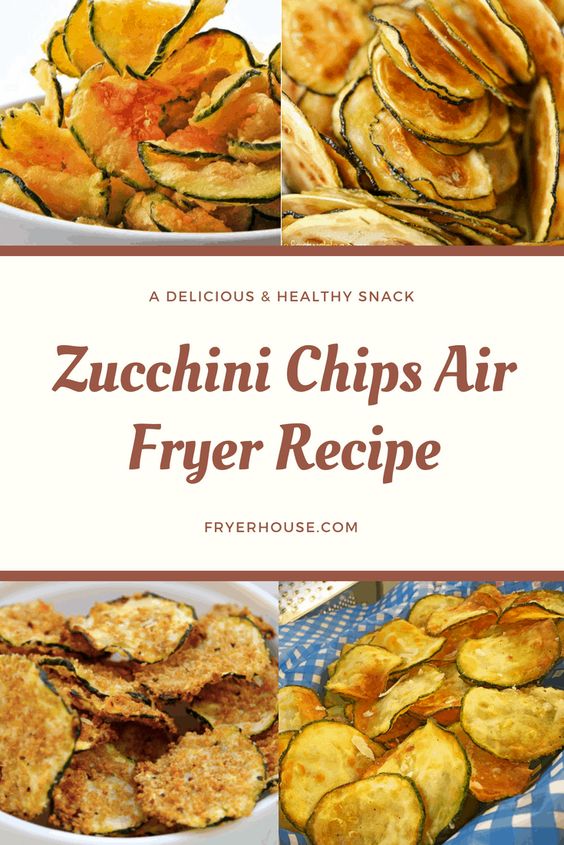 Zucchini is one of the ingredients that will be pretty hard to miss if you're trying to eat better. Everyone's just raving about this fresh produce as it has so many health benefits to offer.
It also doesn't hurt that it tastes so nice and fresh that you'll actually enjoy eating healthy by noshing on the dishes made with this ingredient.
From: Fryer House
Air Fryer Chicken Tenders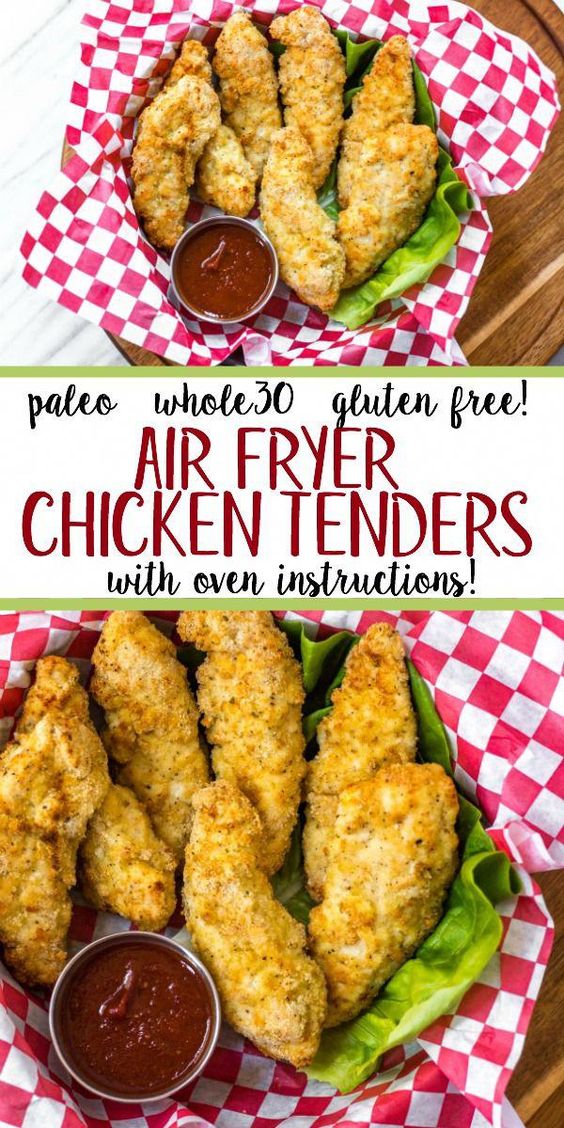 These Whole30 and Paleo air fryer chicken tenders are perfectly crispy on the outside and juicy in the middle. They're a healthy, low carb and gluten-free version of the classic chicken strips you can get at any restaurant. They're flavorful, only take a few simple ingredients and 12 minutes to cook! They're something the whole family will love and you'll feel great after eating!
From: Whole Kitchen Sink
Air Fryer Scallops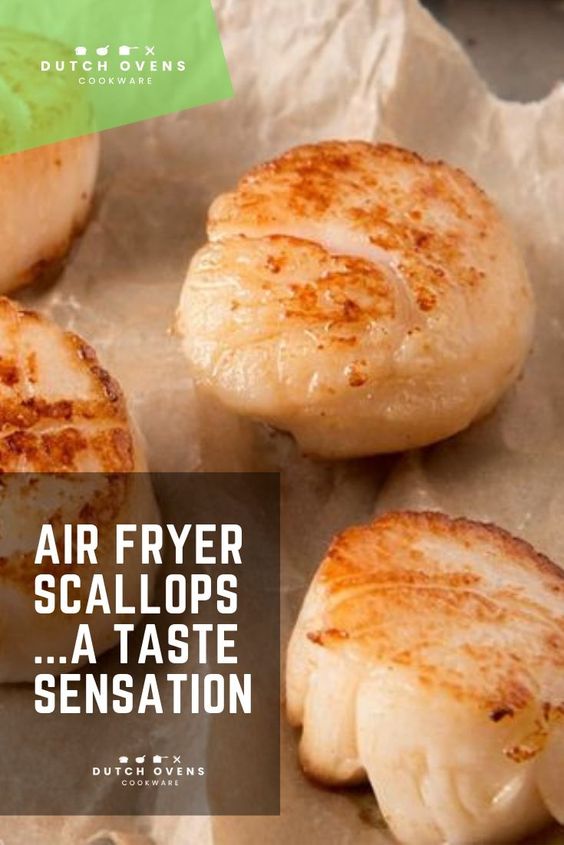 Scallops are a delicate food, make no mistake about it. Even on a stovetop, there is potential to overcook them which leaves them rubbery. Scallops in air fryer should not be possible…surely…Lets find out.
Here's the thing…I cook for a living. I know what good food is…scallops are good food. Air fryer scallops …really? Yes, really.
From: Dutch Oven Cookware
Air Fryer Beignet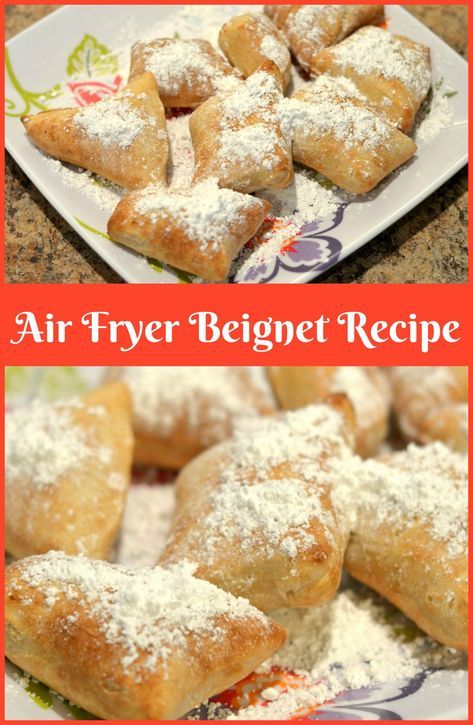 Having been born and raised in New Orleans, I regularly have a craving for their famous beignets.  Good thing for this Air Fryer Beignet recipe, it saves me a trip and some calories!
Since receiving my air fryer this past Christmas, I have been not stop air frying all the foods!
From: Guide 4 Moms
Air Fryer Eggplant Parmesan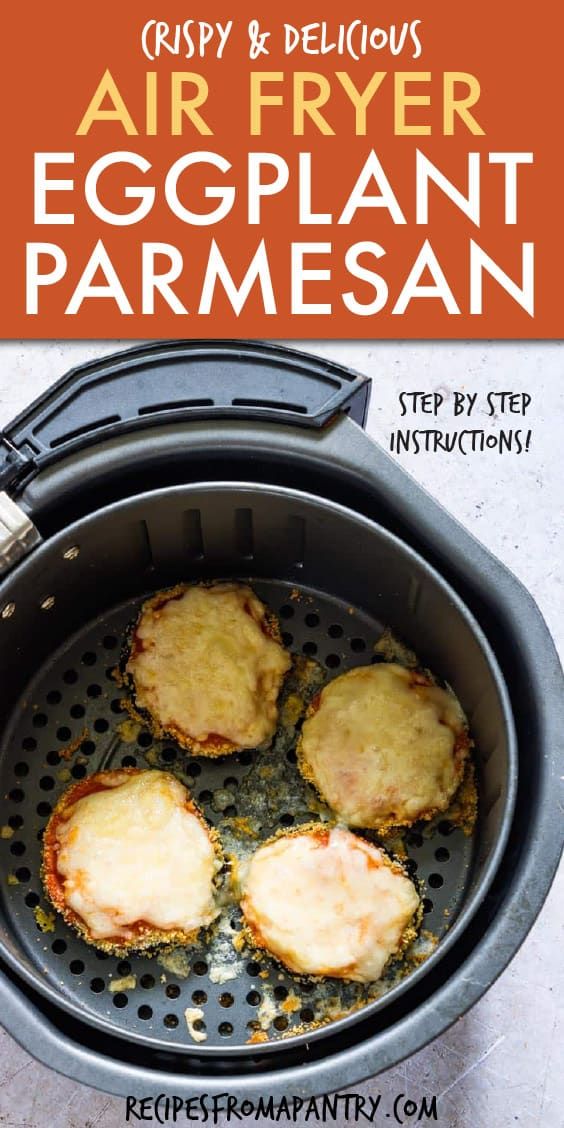 Air Fryer Eggplant Parmesan is a deliciously healthy version of a restaurant classic. It is made easily and quickly in the air fryer and is perfect served with salad or pasta. Suitable for gluten free diets. Post includes Weight Watchers points.
From: Recipes from a Pantry
Air Fryer Chicken Taquitos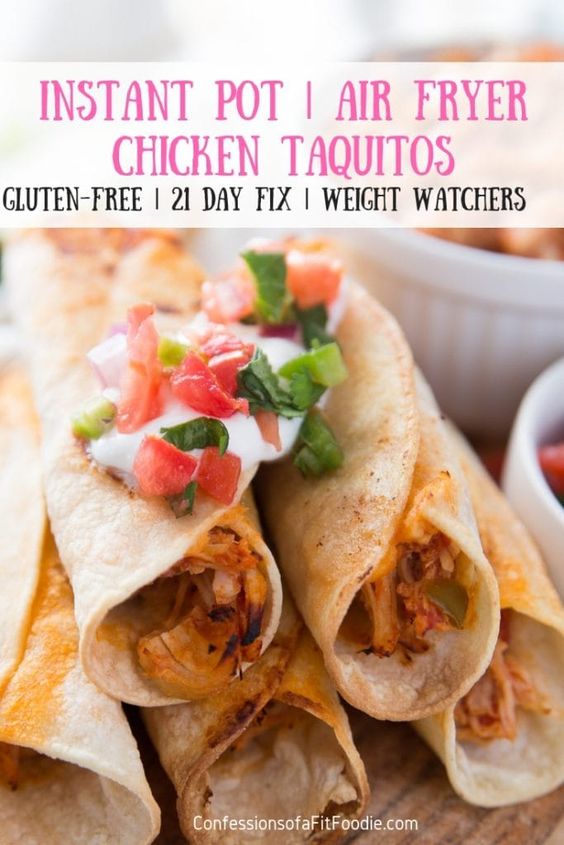 I'm having a moment here with my Airfryer and really, really loving it and loving experimenting with it.   Like…hmm…what can I throw in there to make all crispy delicious?  I'm trying Brussels Sprouts later and I cannot freaking wait.
But that's a post for another time.
Today we are talking Chicken Taquitos because corn tortillas are so darn delicious when they have been air fried!
From: Confessions of a Fit Foodie
Air Fryer Cauliflower Gnocchi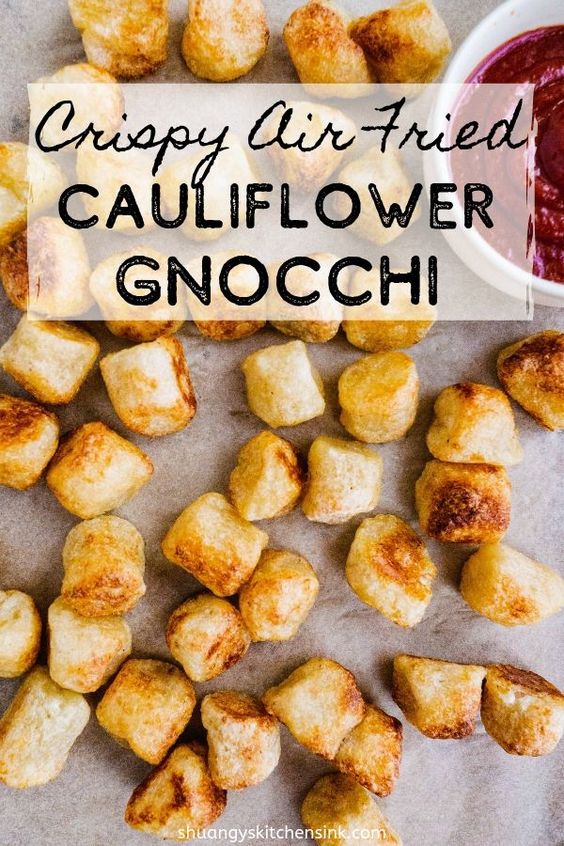 If have heard about the rave of Trader Joe's gnocchi. I am here to affirm that rumor. Yes, it is that good. However, if you have made soggy gnocchi per the instruction on the bag, I am going to share my favorite quick and easy way for the crispiest factor.Crispy Air Fryer Cauliflower Gnocchi!
From: Shaungy's Kitchen Sink
Air Fryer Steak Recipe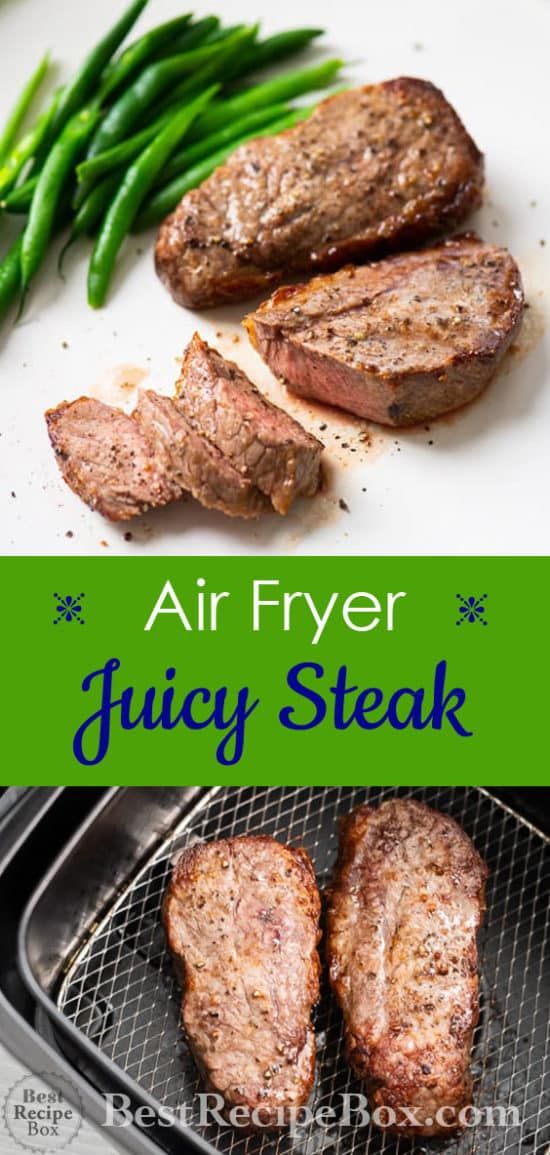 Here's our perfect and easy recipe for air fryer steak. It truly is so easy, it's hard to believe that steak can come out so juicy and delicious! Our air fryer steak recipe is perfect for two and within minutes, steak dinner is served. You can adjust cooking times to your preferred doneness. Just add some butter or oil, then salt and pepper to the steaks.
From: Best Recipe Box
Crispy Air Fryer Fish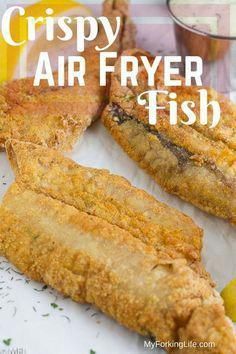 Summer fish fries are my favorite outings to attend. You know, the ones they have when your uncle who can season the fish like a champ comes over, fries up some amazing white fish, and the whole family gets together and enjoys. I'm talking that fried fish with that amazing golden fried glow. I'm talking that catfish, whiting, perch, yummy! I have those days that I want that amazing fish at home BUT I don't want to deal with frying in oil.
From: My Forking Life
Air Fryer Pizza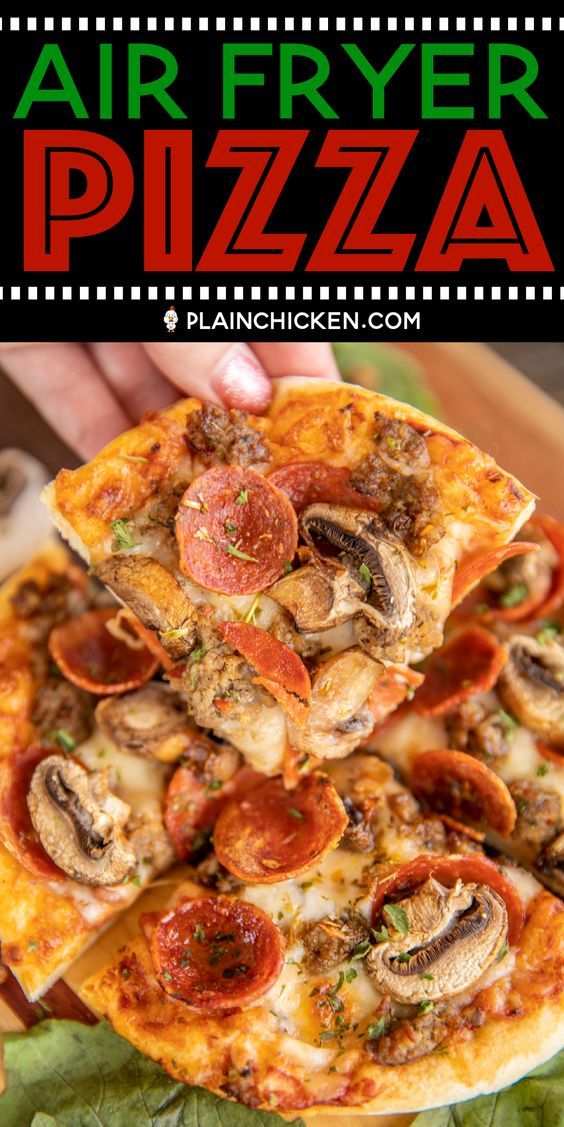 This Air Fryer Pizza is on repeat in our house. We have been making it nonstop since I bought an air fryer. It is so simple to make and it tastes as good as any pizzeria! We stopped ordering pizza because we love this air fryer pizza so much! I love that they are individual and we can customize our own toppings.
From: Plain Chicken
Air Fryer Roasted Carrots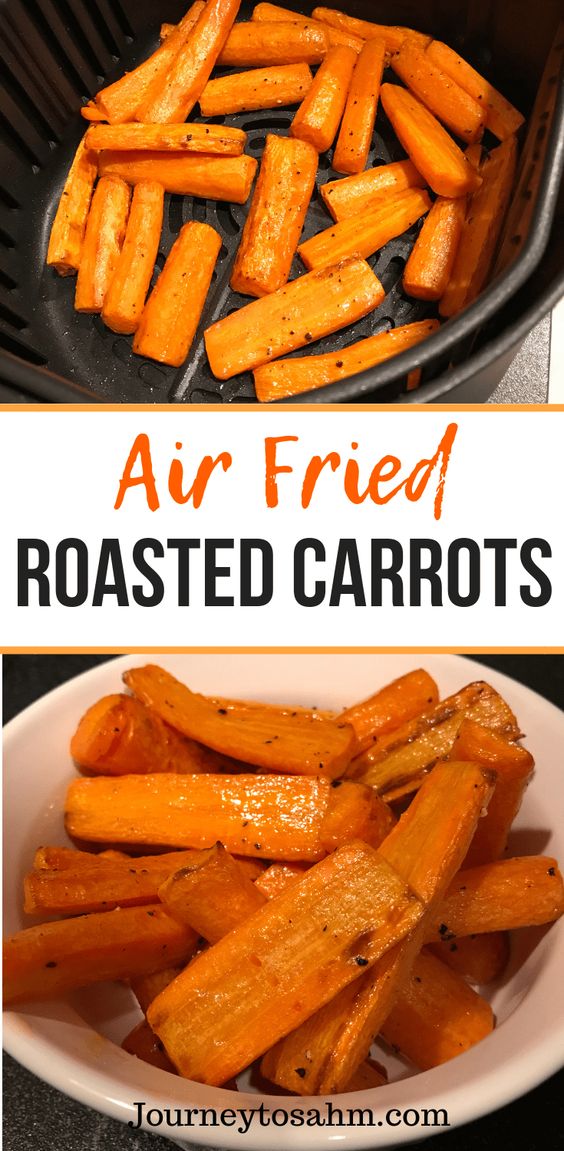 Roasting carrots is a perfect quick side dish for any meal. It creates a healthy alternative to carbs and complements almost any dinner.
You can use baby carrots as well, you will just need to adjust the cooking time to make sure they are cooked all the way through.
Did you know one carrot only has 25 calories? There's also very low prep involved! That's a win-win for everyone!
From: Journey to Sahm
Air Fryer Salmon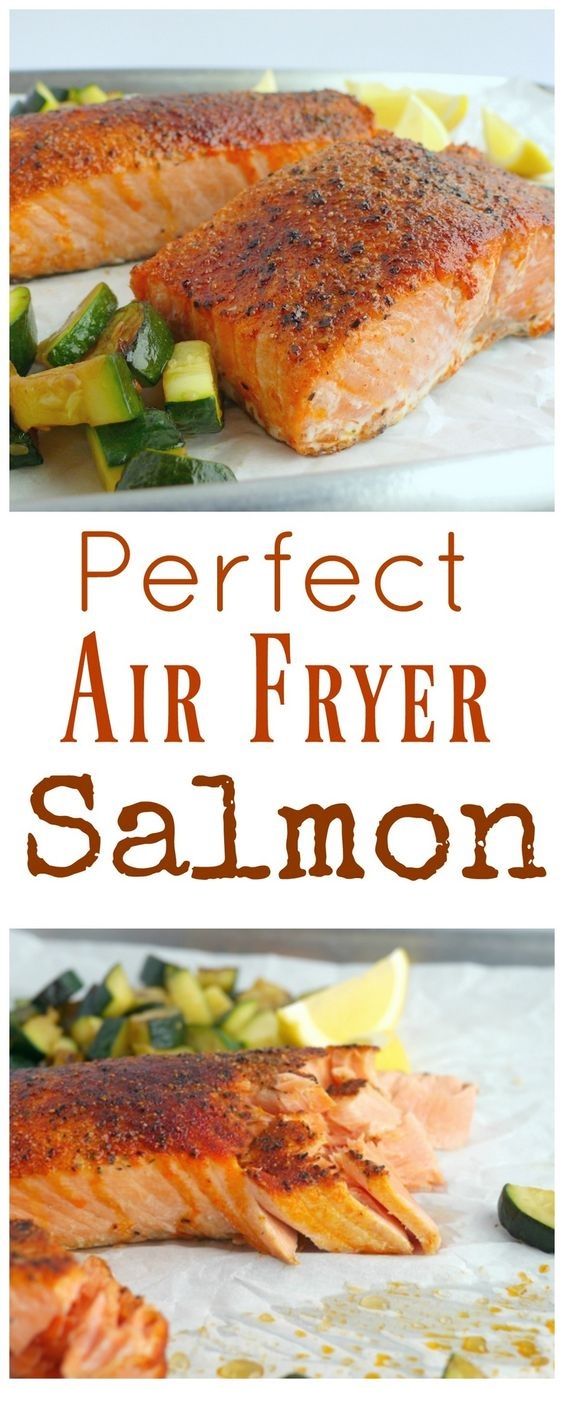 I would have never guessed making salmon in an air fryer would have produced the most tender and juicy salmon every time. I promise this Perfect Air Fryer Salmon will become your new way to conquer salmon in the kitchen.
From: Noble Pig
Air Fryer Zucchini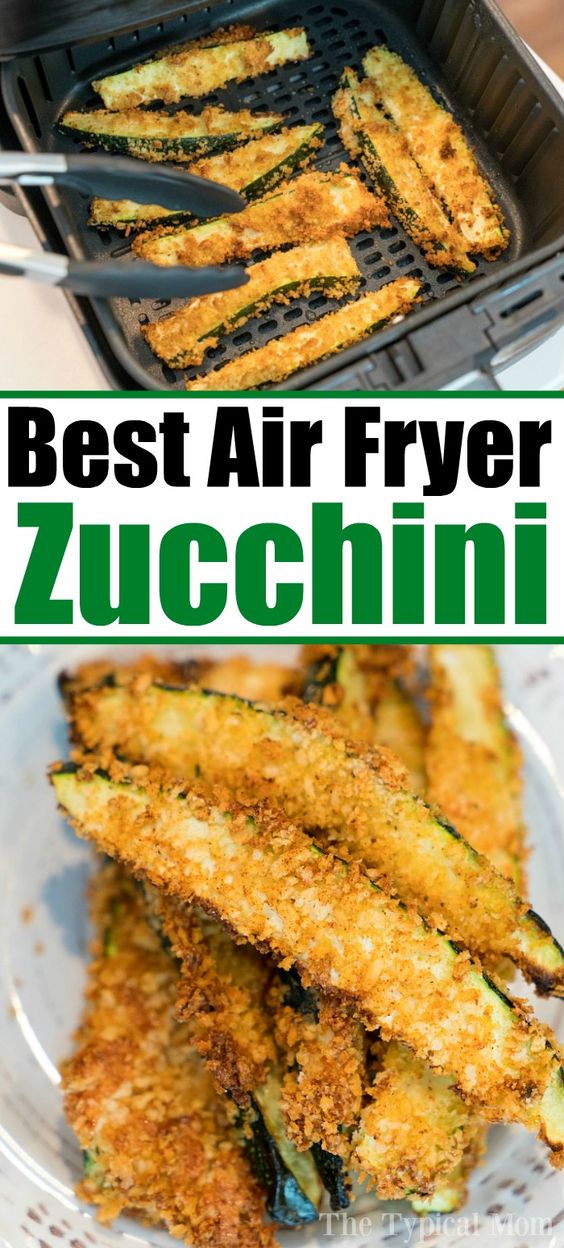 We had a lot of zucchini in our garden this year! That meant we made air fryer zucchini fries, spears, chips, and lots of bread for breakfast too. Anyway you cut or slice this green vegetable we just love and hope your family does too.
From: The Typical Mom
Air Fryer Chicken with No Breading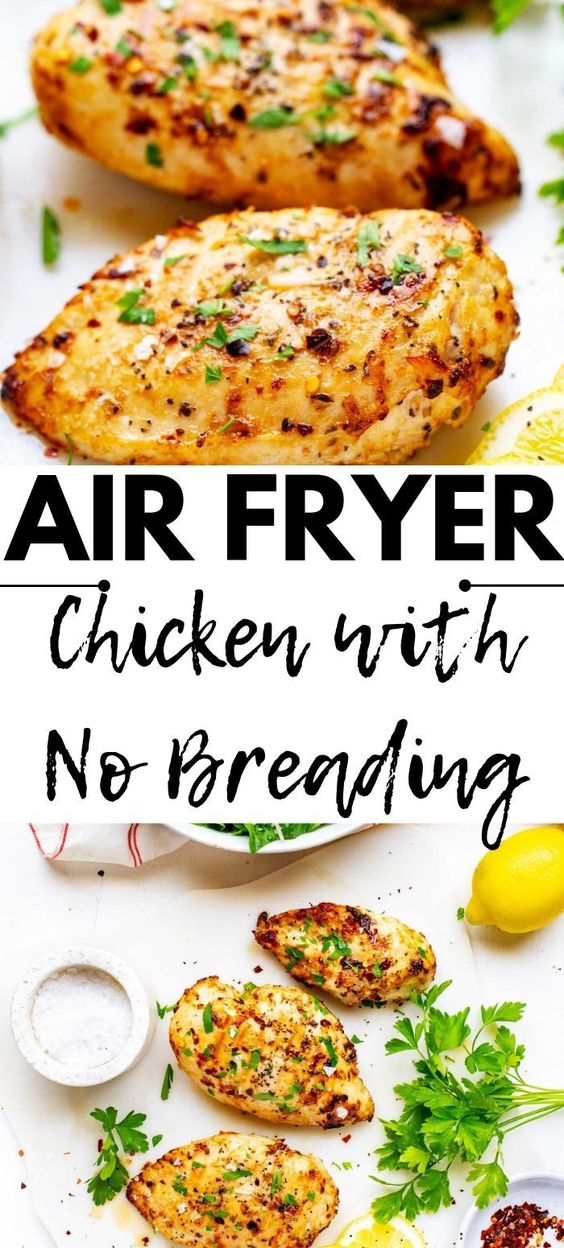 The secret to incomparably tender chicken in this Air Fryer Chicken with no breading is a deliciously punchy mayonnaise-based marinade. With tangy dijon and a kick of heat, you are going to turn to this recipe again and again. I like to make a double recipe on the weekend. We have one for dinner, and I've got chicken leftover for recipes and other meal prep for the week.
From: Kicking Carbs
Air Fryer Burgers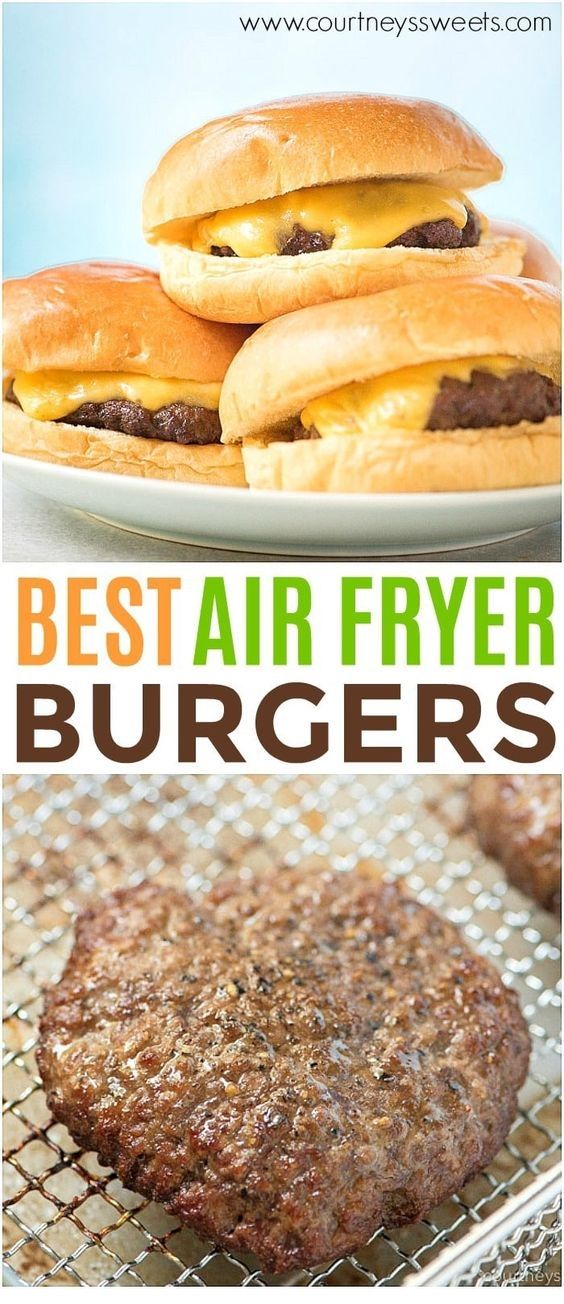 These are the BEST Air Fryer Burgers ever! No need to fire up the grill, heat up the oven, or even use a cast iron skillet. These air fryer cheeseburgers are juicy and cooked to perfection.
From: Courtney's Sweets
Pin these air fryer recipes for later!
If you enjoyed this roundup of Air Fryer recipes, please take a moment to pin it to your Air Fryer boards on Pinterest.
Also, follow us on Pinterest for more great recipes and ideas!