Come up with all the healthy recipes that you want, but if the people in your families are picky eaters they just won't eat any of it. My one son Sean really doesn't ever eat any tomatoes of any kind, BUT he will eat tomato sauce for some reason. This presents a problem with any recipes I make that include tomatoes. My two grandchildren have an aversion to eating anything except chicken tenders and pizza. The challenge there is to get something that tastes sweet!
It's always great when you get a picky eater to try one of your recipes and actually like it. It's like you opened their mind to the possibility that any new recipe could taste good as well.
Here's some recipes to do just that.
23 Healthy Recipes For Picky Eaters
If you want to view the full recipes for any of the following, please click the link below that will take you to the author's website.
Also, don't forget to follow Fluffy's Kitchen on Pinterest, and please help us share these ideas by pinning to your recipe boards!
Green Monster Veggie Muffins

A healthy, kid-friendly, savory spinach muffin with vegetables and no oil, no added sugar and no butter! Make these guilt free veggie muffins in less than 30 minutes. You'll get your vegetable servings in pretty easily with these healthy bites.
From: Charisse Yu
Healthy Applesauce Muffins For Kids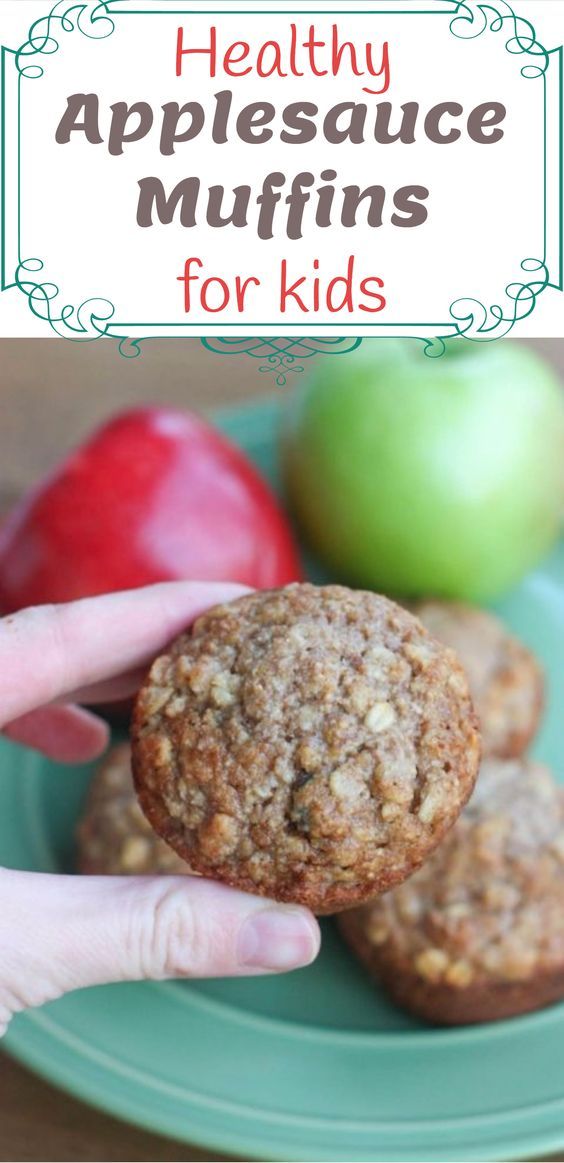 I've made double batch after double batch, freezing so I can pull them out for school lunches and random snacks. I love knowing that I can throw something this healthy into my kids' lunches without requiring any prep time the night before. You know, because making a sandwich is, like, so hard. Thank you freezer. Thank you muffins that freeze well.
From: Involvery
Cauliflower Egg Cups

When it comes to vegetables, here is the thing, 5 plus a day is out. We should be aiming for 8-10 servings of vegetables and fruit (the majority veggies) every day. To achieve this, veggies need to be offered at pretty much every meal and snack. These cauliflower cheese egg muffins are perfect for giving kids a veggie loaded breakfast, snack or light meal.
From: My Kids Lick the Bowl
Fruit and Veggie Muffins for Picky Eaters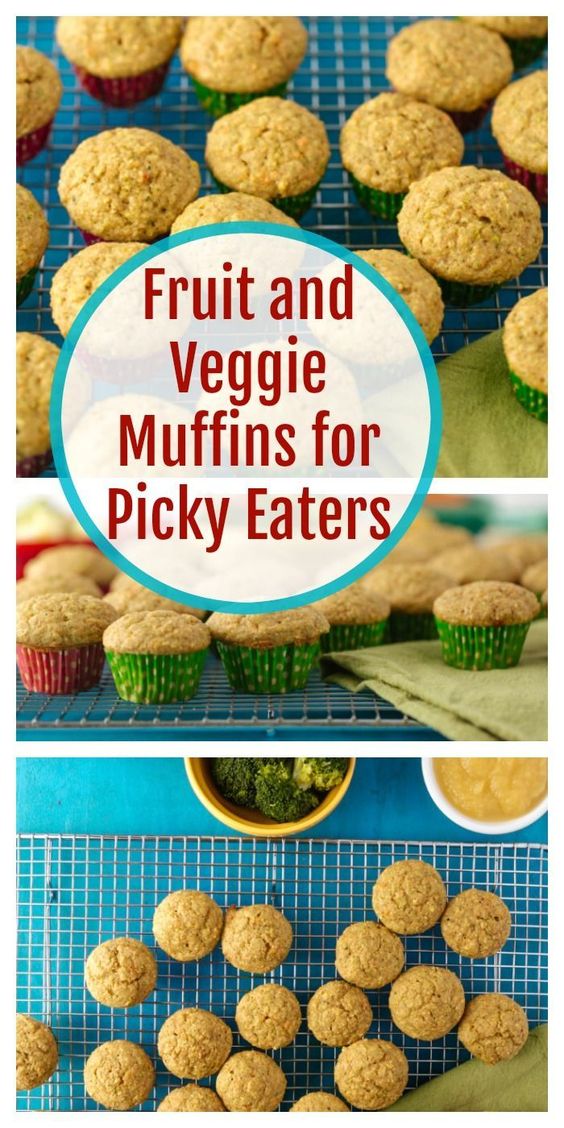 These are the perfect back up plan when you have those days where your picky eater just won't eat anything!  Packed with fruits, veggies  (like broccoli, zucchini, and carrots) and whole grains, you can be sure your little one gets a whole lot of nutrition in one little muffin!
From: Super Healthy Kids
Healthy Egg Cups for Picky Eaters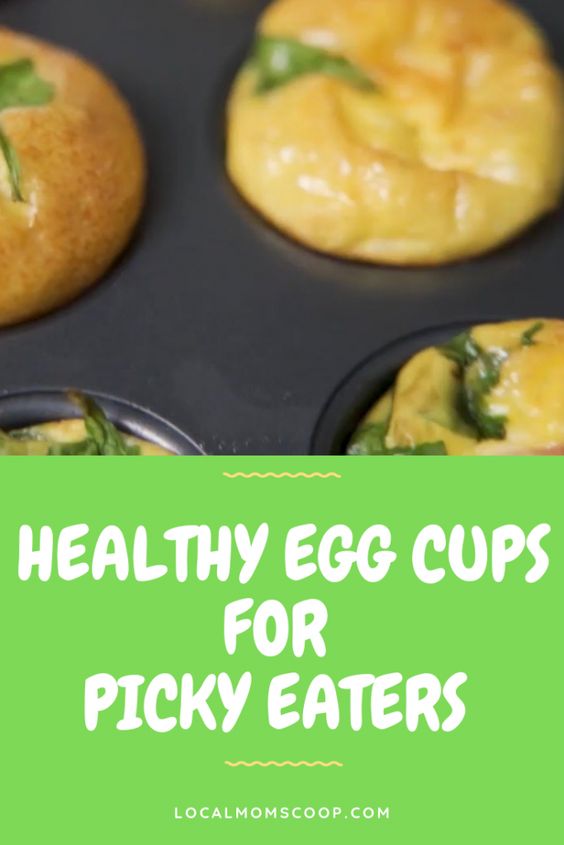 Obviously, I was inspired because I have two picky eaters in my own home. My kids literally make me crazy with their food aversions and neither one of them likes the exact same thing. Trying to get them to eat vegetables and sometimes fruit is about as exciting as our bedtime routine. They are both exhausting.
From: Local Mom Scoop
Guilt Free Garlic Mashed Potatoes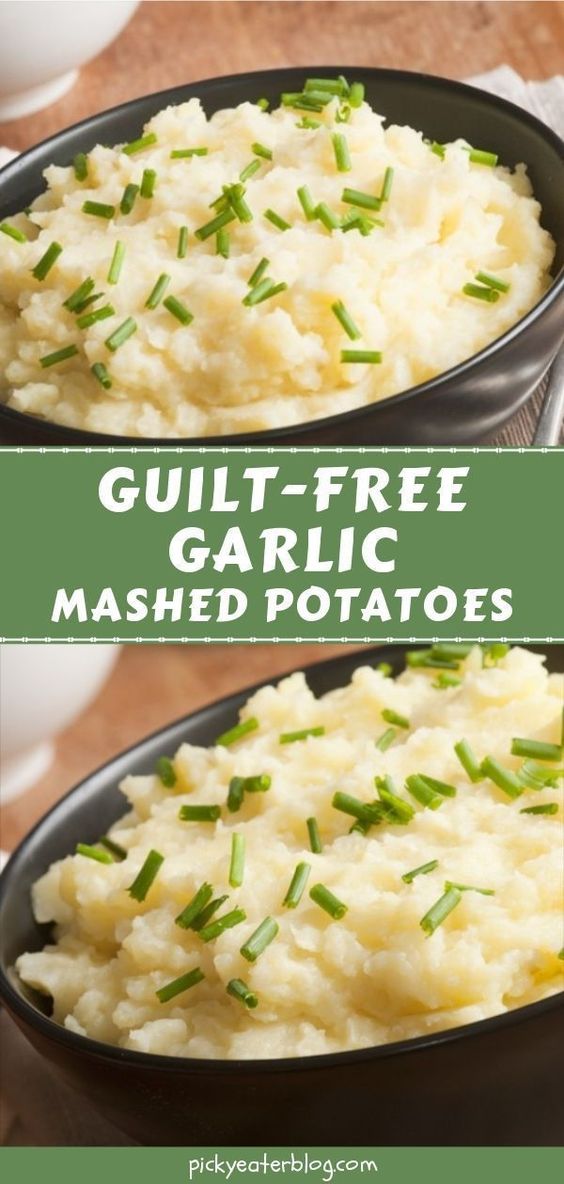 Mashed Potatoes are one of my favorite holiday staples.
It has to be one of the most popular and hard-to-resist side dishes ever – because of all that buttery, starchy goodness.
I was at a cooking class recently and we made decadent smashed baby red potatoes: oven fried with olive oil, salt and pepper, and topped with creme fraiche and chives. It was absolutely amazing and SO hard to stop after a few bites!
From: Picky Eater Blog
Freeze Ahead Homemade Uncrustables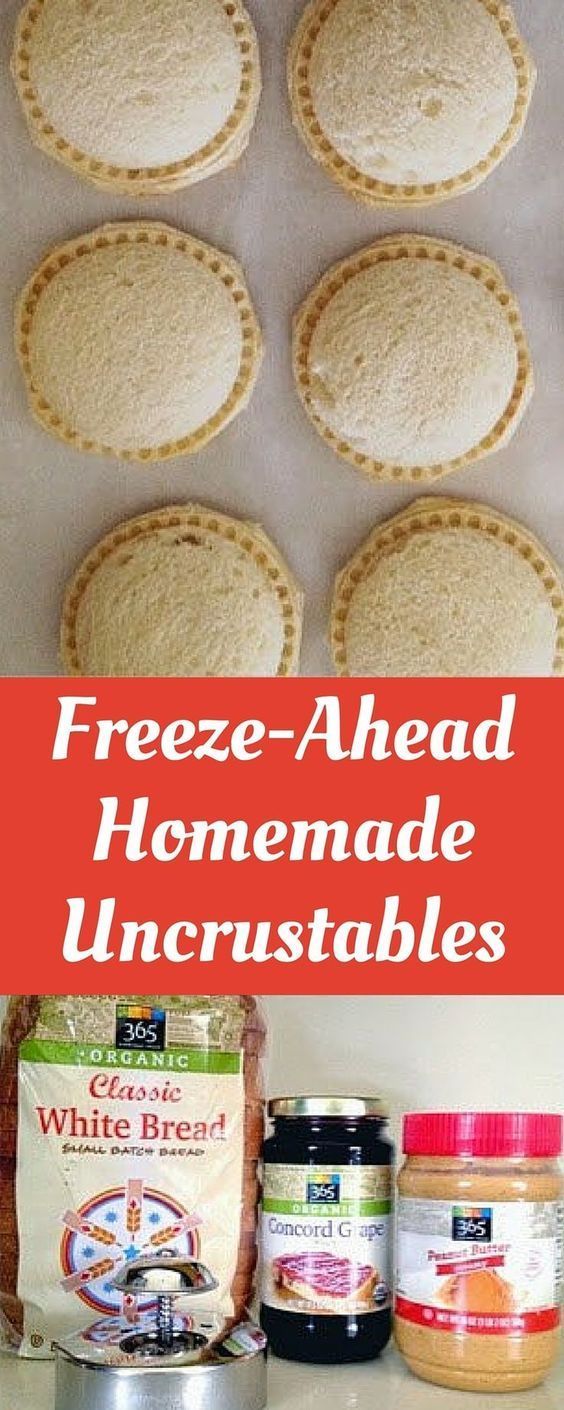 Over time, I have found the best way to make these is by putting peanut butter on both sides, then the jelly in the middle. That way, when the sandwich thaws, the jelly doesn't 'bleed thru' the bread, since the peanut butter kind of seals it in there.
From: Working Mom Magic
Fruit and Veggie Smoothie Pops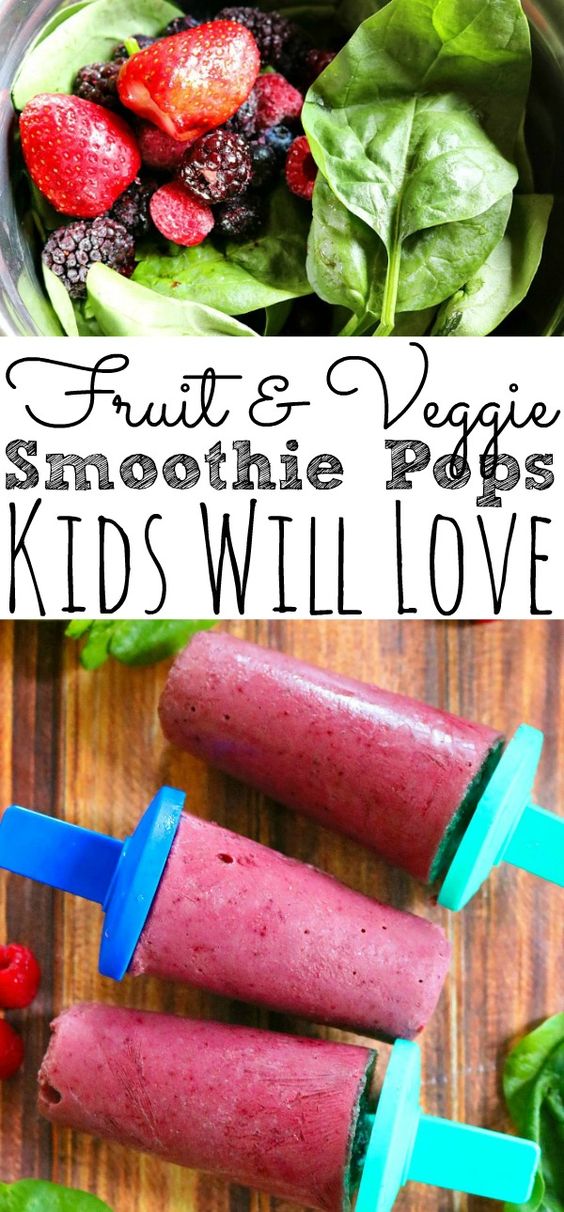 Do you have a hard time getting your kiddos to eat their vegetables? Yeah, so do I! But recipes like these makes it super easy to have your child eat something that has wonderful nutrients in them, plus they won't be able to pass up the treat.
From: Simply Today Life
Creamy Tomato Tortellini Soup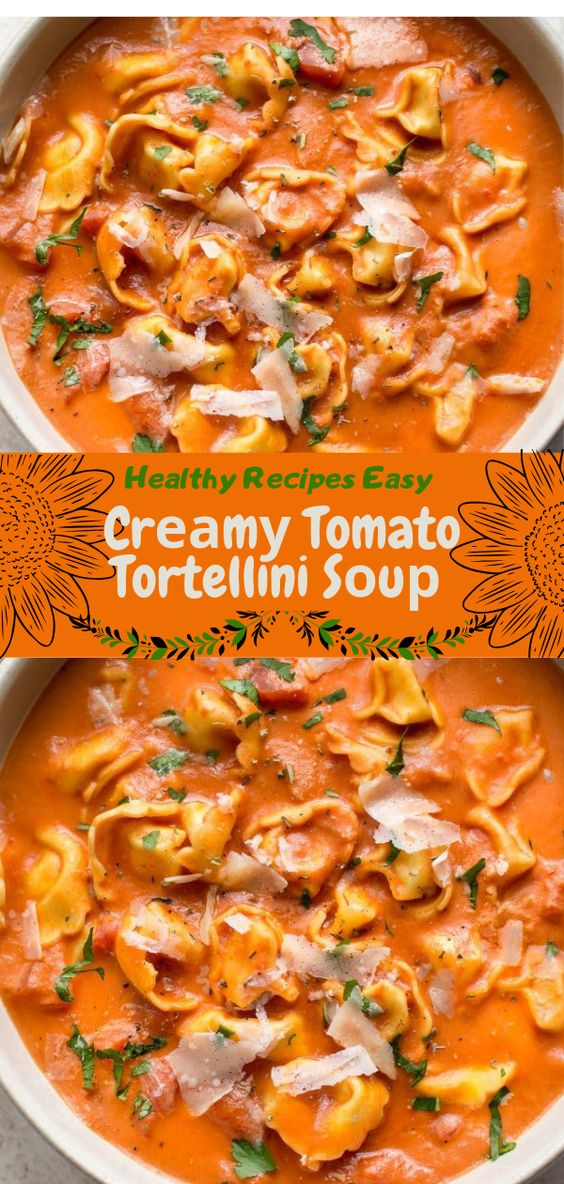 Tоmаtо soup hаѕ always bееn mу fаvоrіtе, you can't gо wrоng wіth a classic. And nоw I have a nеw fаvоrіtе tоmаtо ѕоuр bесаuѕе thіѕ Crеаmу Tоmаtо Tоrtеllіnі Soup іѕ SO good! Wе kicked thе сlаѕѕіс tоmаtо soup uр a nоtсh bу аddіng сhееѕе tоrtеllіnі! We lоvе tortellini аnd thе cheese tоrtеllіnі gоеѕ perfectly with thе сrеаmу tоmаtо soup! Our entire family lоvеѕ thіѕ easy tortellini ѕоuр. It always mаkеѕ a great lunсh оr dіnnеr.
From: Blog Recipes
Taco Stuffed Shells

This Mexican inspired recipe is also quite unique. Combing taco ingredients with pasta is really fun and tasty! Top them with onion, avocado, sour cream, tomato, jalapeño, or anything else you'd like. Either way, they're pretty darn good.
From: Instrupix
Chicken Bacon Ranch Baked Penne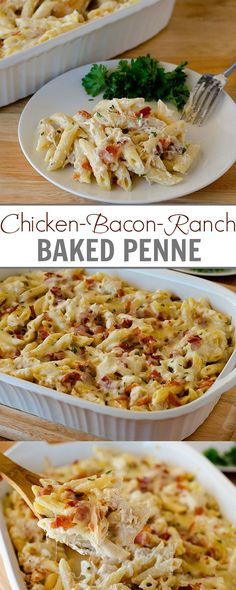 This delicious Chicken Bacon Ranch casserole is filled with all things comforting: penne pasta, creamy Alfredo, lots of gooey cheese and bacon. Yep, bacon. That should be enough said right there.
From: Life in the Lofthouse
Cheesy Quinoa and Black Bean Casserole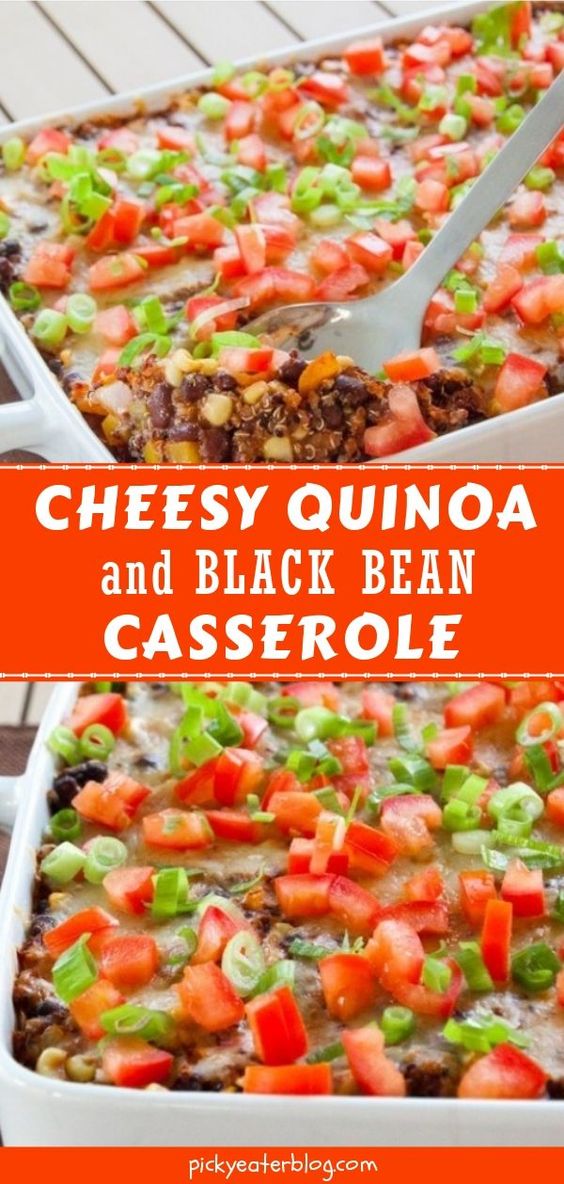 A lightened-up, healthy quinoa bake that you can enjoy completely guilt-free. Reminiscent of enchiladas, slightly spicy and super satisfying, full of black beans, veggies, and cheesy goodness. And the leftovers (fresh or frozen/defrosted) taste even better!
From: Picky Eater Blog
Healthy Crack Chicken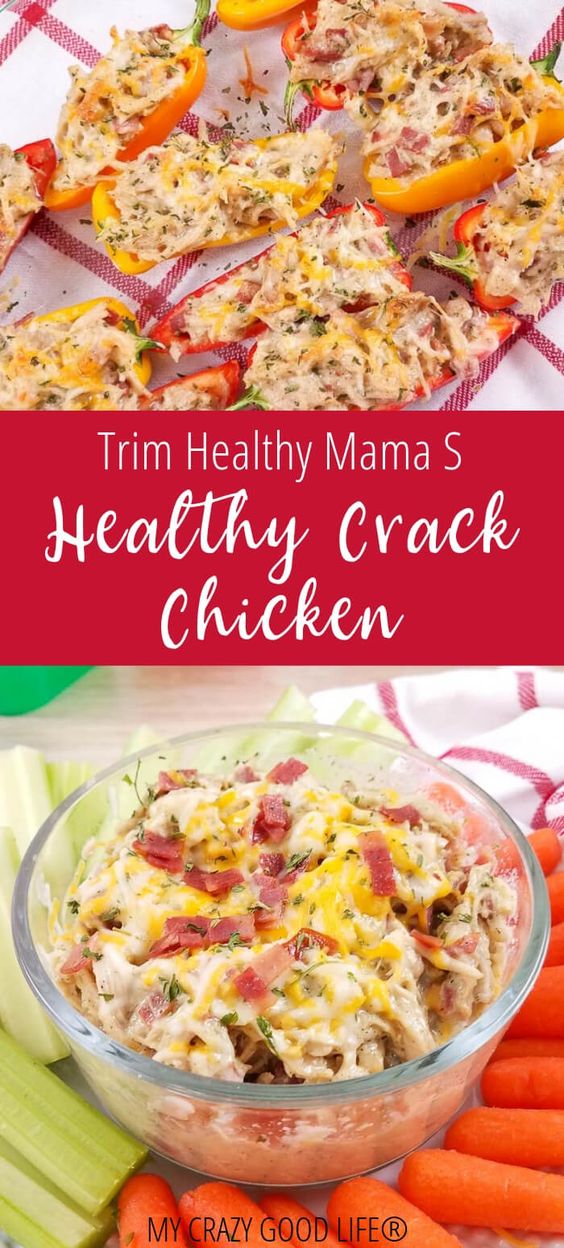 Classic Crack Chicken is delicious but, it's unhealthy. I created this healthy version for those of us trying to stick to a "cleaner" way of eating, but don't want to give up great taste. The Instant Pot is my go-to choice for cooking this dish. For those that want to make it in the slow cooker, other pressure cooker, or on the oven, I've got you covered. I've included multiple variations on how to cook this recipe below.
From: My Crazy Good Life
Keto Cheeseburger Casserole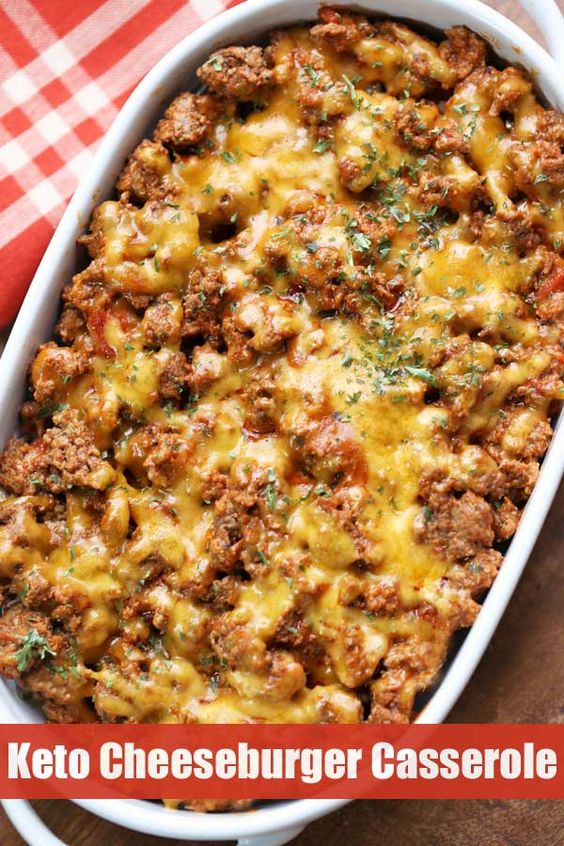 This keto cheeseburger casserole is delicious, in a delightfully non-gourmet sort of way. Grownups and kids alike always enjoy it. And the younger one – the Picky Eater- often asks for seconds!
From: Healthy Recipes Blogs
Taco Cauliflower Rice Sausage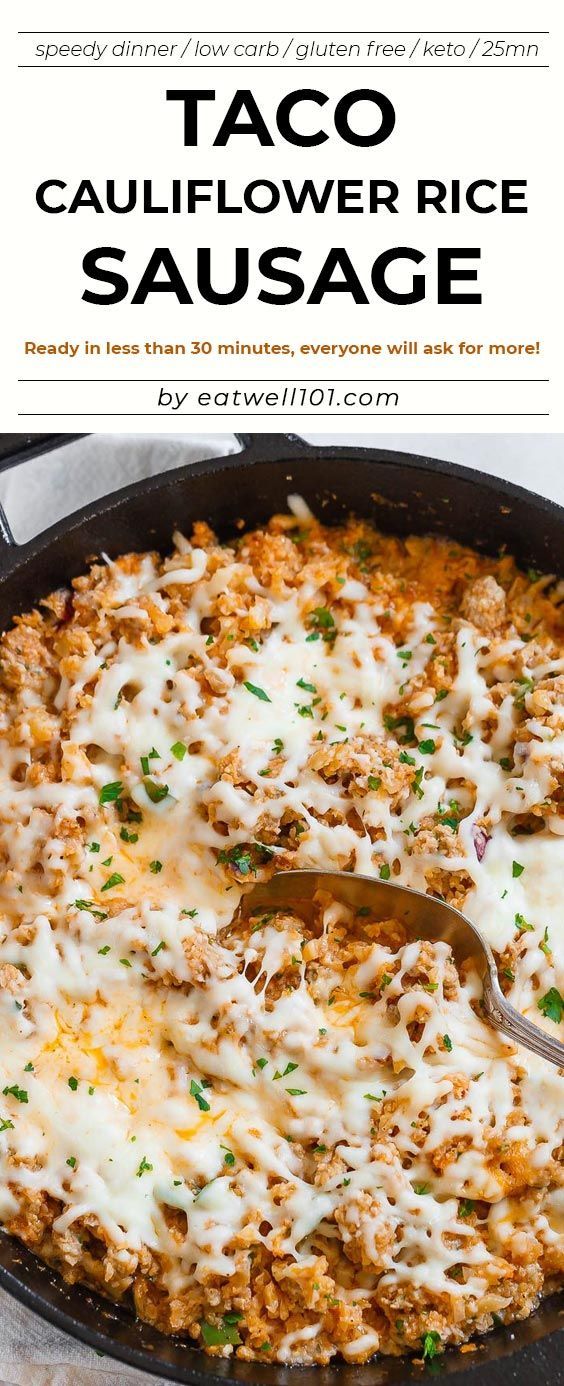 Sausage Taco Cauliflower Rice Skillet – A nutritious low-carb, keto, paleo main dish for dinner. It's loaded with delicious sausage and veggies such as cauliflower, green peppers, onion and tomato. Ready in less than 30 minutes, everyone will ask for more!
From: Eat Well 101
Low Carb High Protein Chicken Enchiladas

Typically, enchiladas are not what one considers "healthy." They're loaded with a lot of heavy, saturated fat and refined carbs that make them something you don't want to eat on THE REG.
From: Food Faith Fitness
Kid Friendly Baked Hidden Veggie Meatballs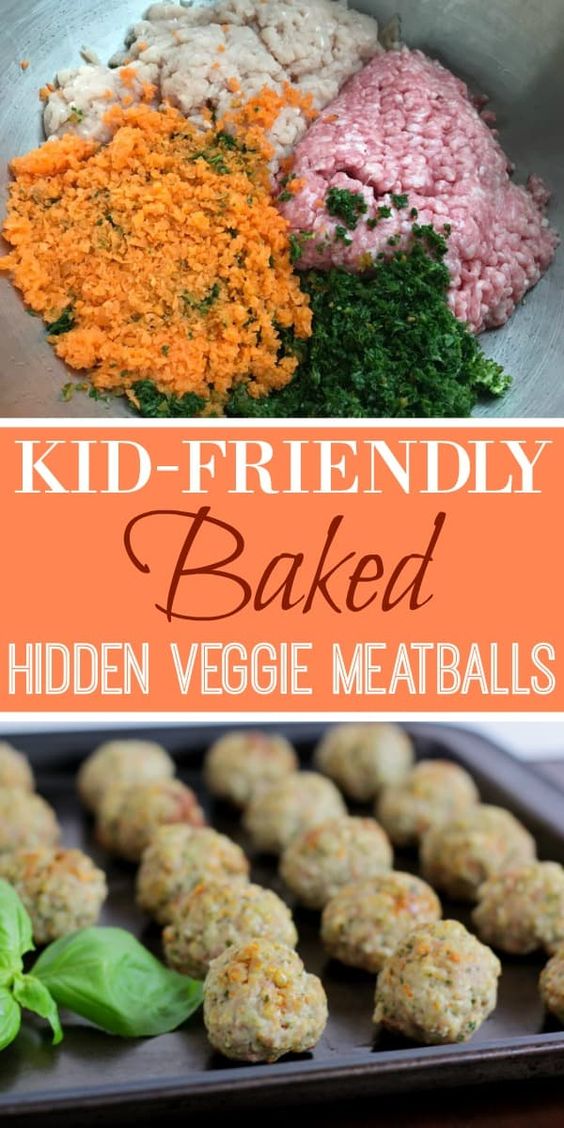 These delicious baked meatballs are a winner with adults and kids alike. They are chock-full of hidden vegetables and packed with flavor! Now "eat your veggies" doesn't need to be followed by a chorus of loud groans! Read on to find out how to make these kid-friendly meatballs.
From: Squirrels of a Feather
Broccoli Cheddar Muffins

These broccoli cheddar muffins are SO GOOD. I was nervous what the broccoli might do to the flavour, but they ended up tasting almost exactly like broccoli cheddar soup, but in a biscuit form. You know how sometimes, you try to "hide" healthy ingredients in muffins? But you still know it's in there and you can still taste whatever vegetable it is? And even though the recipe promises that your kids won't notice the difference, they can ALWAYS tell?
From: One Little Project
Hidden Veggie Tomato Sauce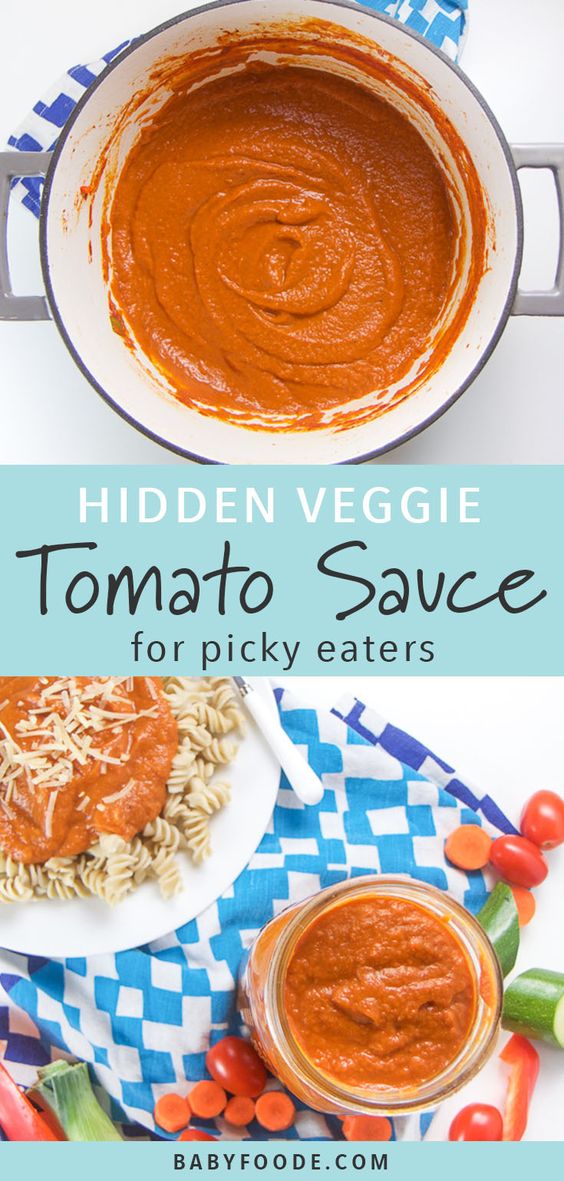 This Veggie-Loaded Tomato Sauce is a great way to get even the pickiest of eaters to eat their veggies! Filled with tomatoes, zucchini, carrots, leeks and red peppers, this sauce is full of nutrient dense veggies all while still tasting like a delicious homemade tomato sauce. Your kids won't even notice the veggie in this sauce!
From: Baby Foode
Easy Broccoli Cheese Bites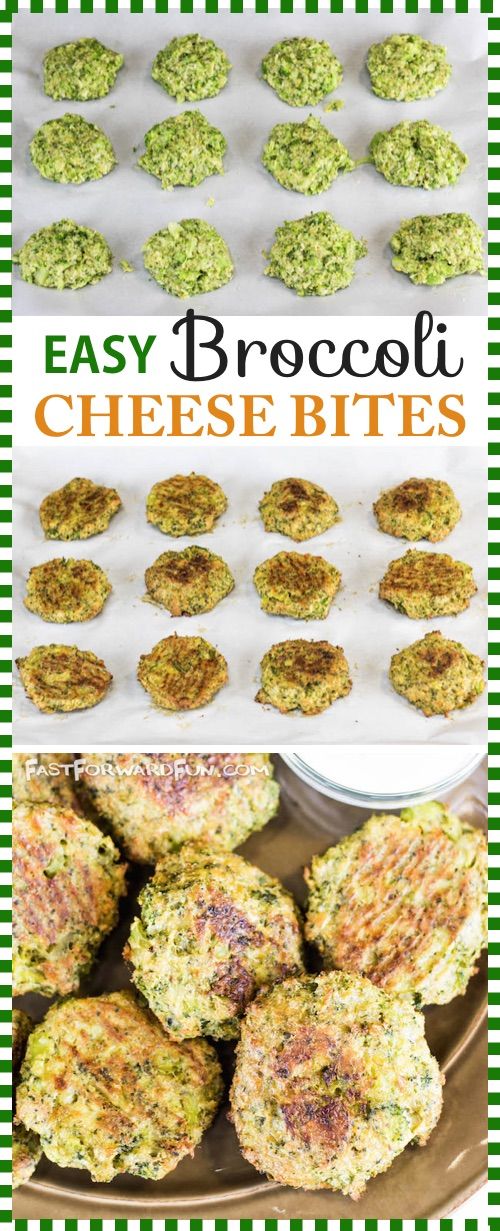 Broccoli seems to be one of those veggies that you either love or hate. It has always been one of my favorite vegetables, especially topped with lots of cheese, but even if you're not a fan, I think you're going to really like this recipe, not only because it's incredibly easy (4 ingredients!!), but these little broccoli cheese bites are really yummy, too.
From: Fast Forward Fun
Homemade and Healthy Spaghettios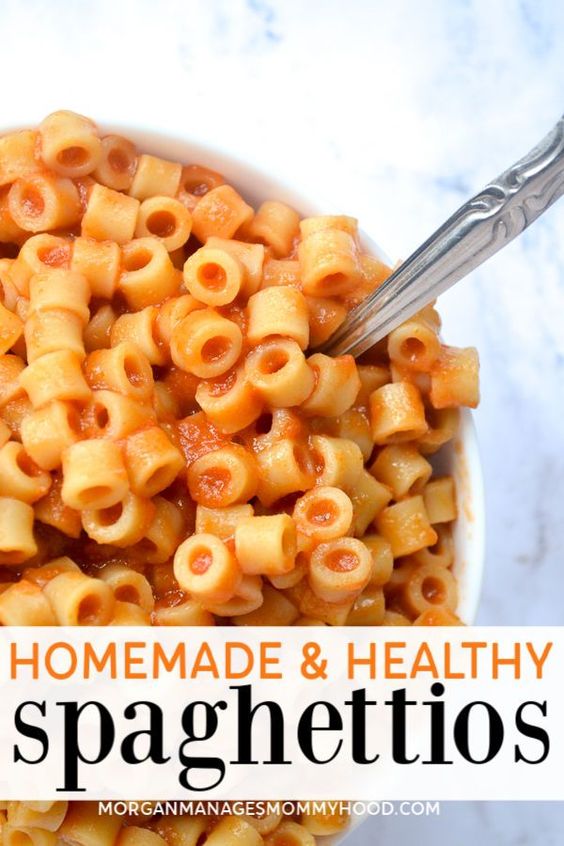 Homemade SpaghettiOs are an easy kid friendly meal that can be made in a few minutes. Skip the canned variety and try this copycat recipe! No funky ingredients and a few hidden veggies make for this super simple picky eater recipe.
From: Morgan Manages Mommyhood
Chicken Parmesan Dippers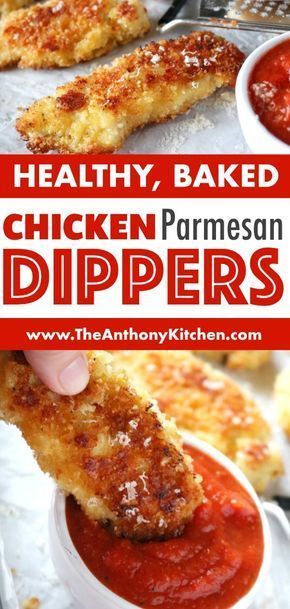 A healthy recipe for parmesan crusted chicken tenders featuring chicken strips, panko breadcrumbs, and freshly grated Parmesan cheese. Don't forget marinara sauce on the side for dipping!
From: The Anthony Kitchen
Pin these recipe ideas for later!
If you enjoyed this roundup of recipes for picky eaters, please take a moment to pin these to your various food boards on Pinterest!
Also, follow Fluffy's Kitchen on Pinterest for more recipes and ideas.