It's almost Christmas again and I wanted to make a post about some easy Christmas cookie recipes. It's a fine tradition we have every year to make some Christmas cookies and I like to include my grandchildren in the process because they have a lot of fun.
These are some of the most decorative cookie ideas I've ever seen and the ease at which you can make these cookies are truly something considering their intricacy. Hopefully you can make some of these for your holiday parties or to leave for Santa.
Enjoy!
24 Easy Christmas Cookie Recipes
If you want to view the full recipe for any of these cookie recipes, please click on the link below the image. Hope you enjoy!
Don't forget to follow us on Pinterest for more sensational recipes and ideas, and if you could, please help us share these recipes on Pinterest by pinning them to your Christmas boards!
Easy Christmas Bark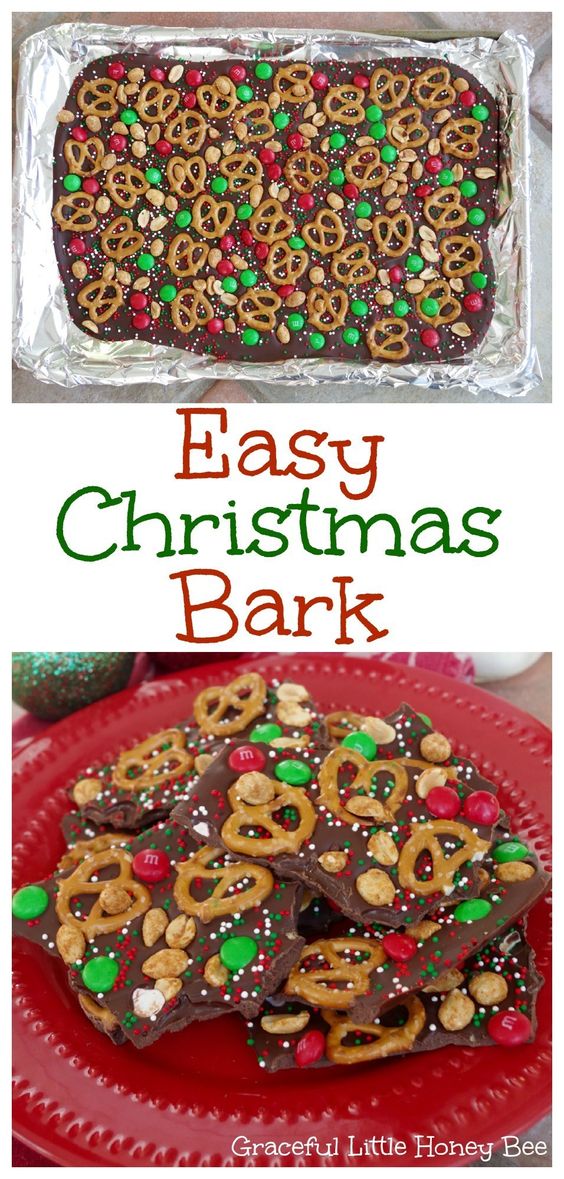 This Easy Christmas Bark recipe is packed with salty pretzels and sweet chocolate candy. It's incredibly simple to put together and makes a great holiday treat or gift to give to any family member, neighbor or friend.
From: Graceful Little Honey Bee
Christmas Crinkle Cool Whip Cookies

Christmas Crinkle Cool Whip Cookies are a blast to make with the kids! Everyone loves these easy Christmas cookies, just be ready to get a little messy!
From: Bread Booze Bacon
Hot Cocoa Cookies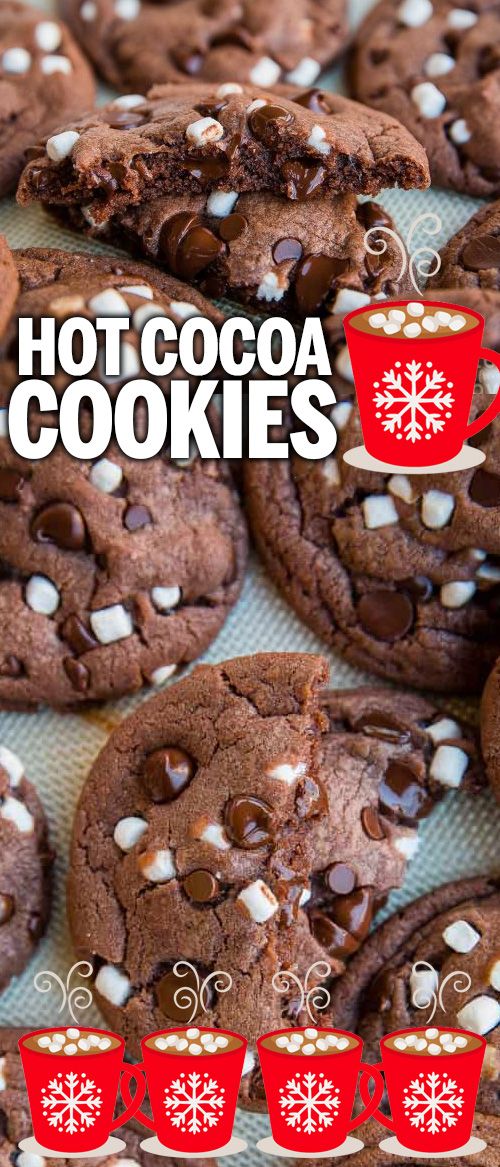 I'm sharing one of my all time favorite cookies with you today, my hot chocolate cookies. When I first made these hot cocoa cookies, adding hot cocoa mix to a cookie seemed like it would taste good. But I didn't quite expect for them to be SO delicious.
From: Love From the Oven
Peppermint Melting Moments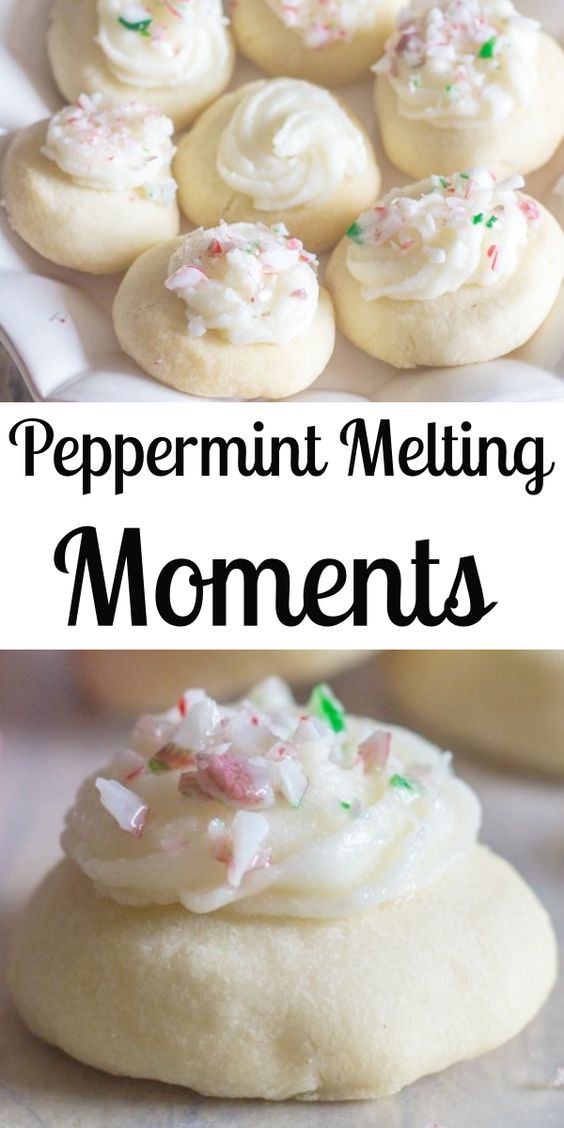 These Peppermint Melting Moments are a perfect addition to your Christmas Cookie Baking List.  Fast and easy with a delicate taste of peppermint.  Add a creamy frosting, delicious!
From: An Italian in My Kitchen
Peppermint Oreo Balls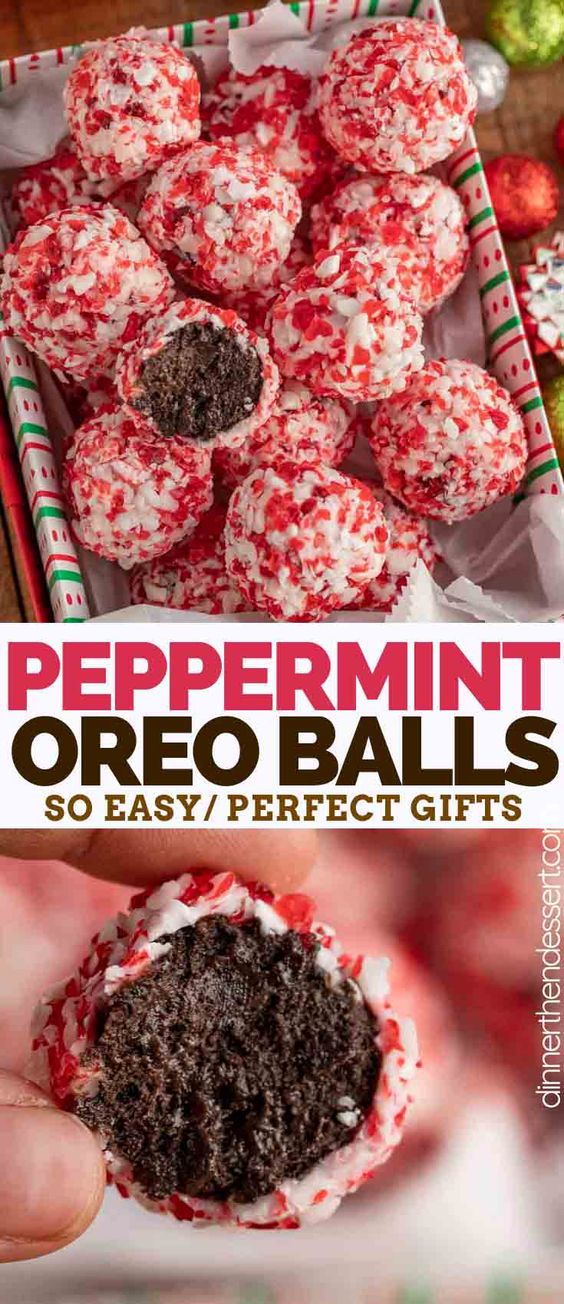 Peppermint Oreo Balls are an indulgent mixture of crushed Oreo cookies and cream cheese, dipped in melted chocolate and rolled in peppermint candy pieces.
If you love peppermint and cheesecakes, you'll definitely like this version of the recipe. They're sweet, creamy, and have a really nice crunchy texture from the outside layer of candy, plus they're no-bake so they're incredibly easy to throw together.
From: Dinner Then Dessert
Gingerbread Cookie Bites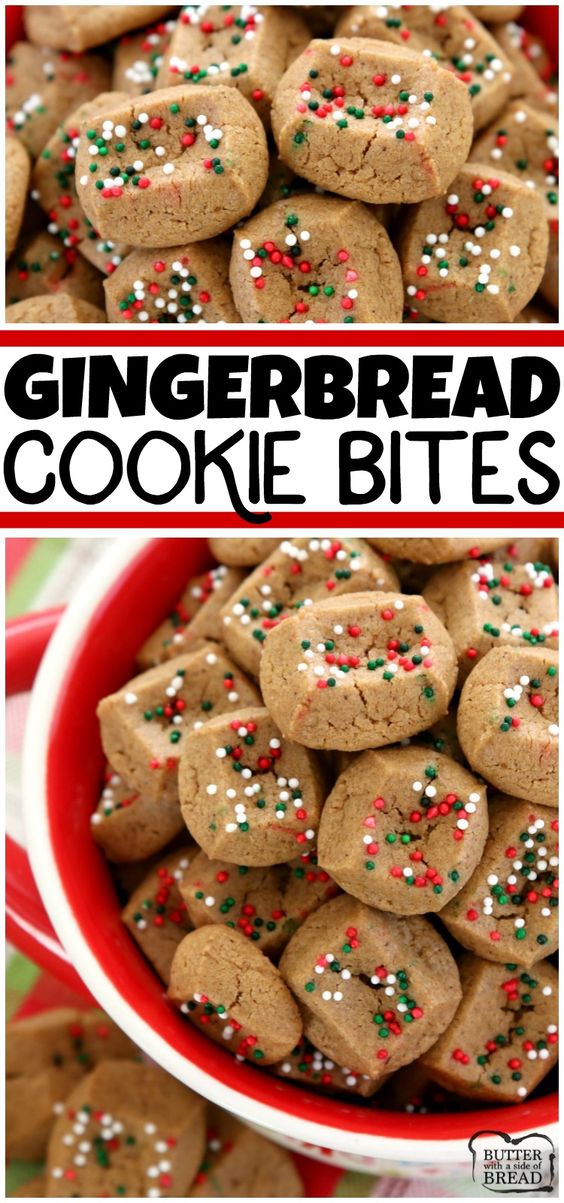 The simplest gingerbread cookie recipe ever! Chewy, bite-sized gingerbread cookies that take a fraction of the time to make! They're perfect for holiday parties and get-togethers!
From: Butter With A Side of Bread
Christmas Tree Oreo Cookies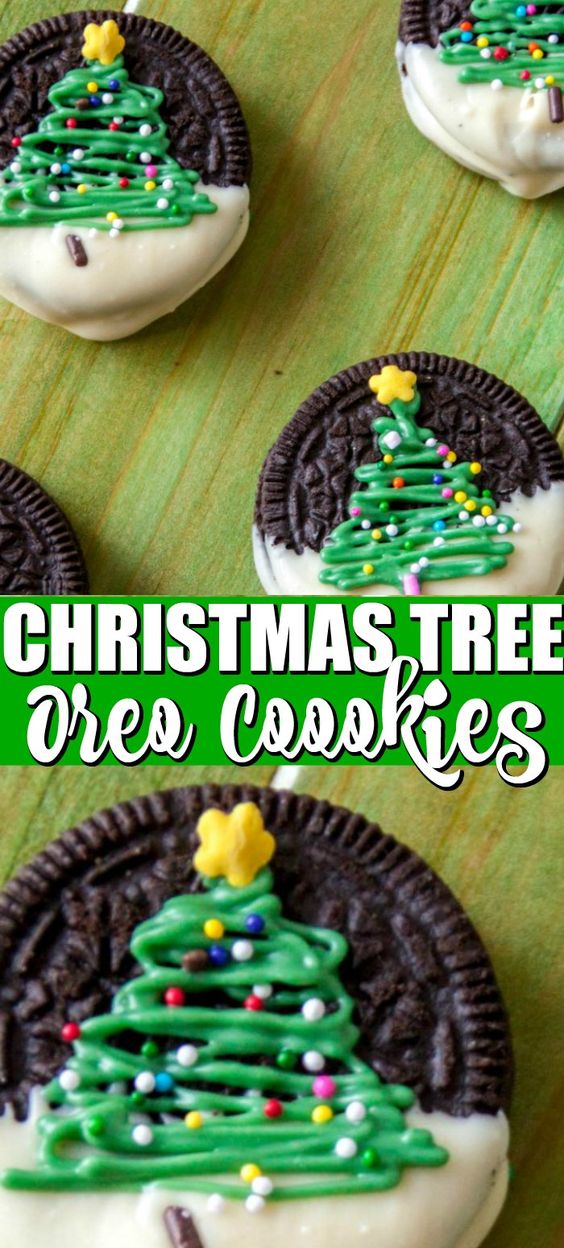 Christmas Tree Oreos are a simple Christmas cookie that looks beautiful on your cookie dessert tray! Using a mint Oreo cookie or your favorite Oreo cookie flavor you can make these simple, yet beautiful Christmas Oreos.
From: Midget Momma
Easy Christmas Shortbread Cookies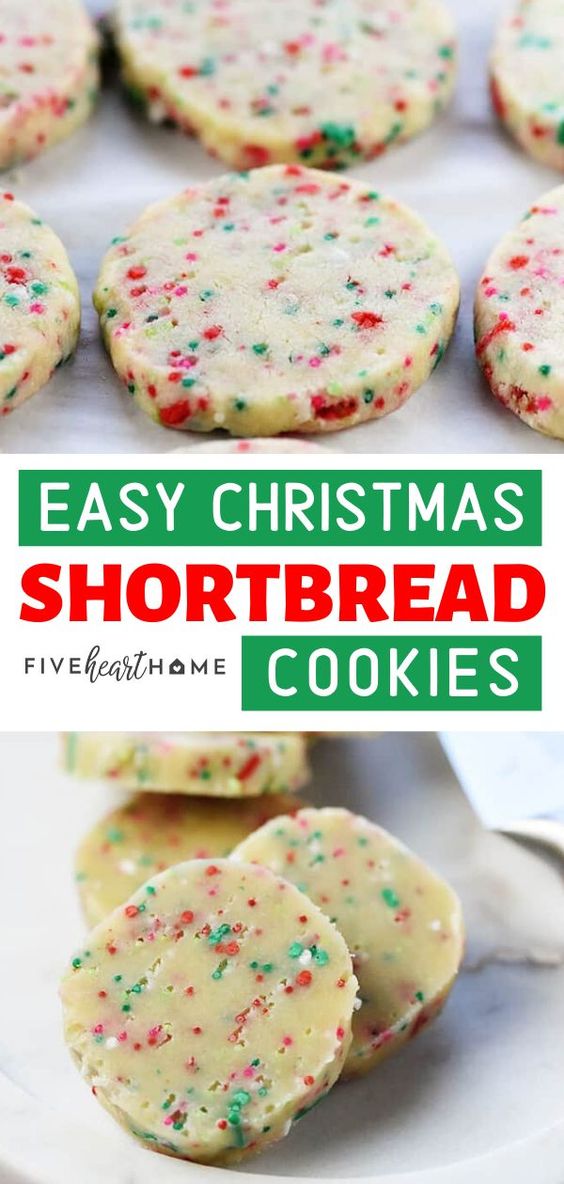 So who's already been baking Christmas cookies? Eating Christmas cookies is one of my very favorite holiday pastimes, and baking them is a close second. 😉 These Easy Christmas Shortbread Cookies are a family favorite that's always on my December baking list, so I'm excited to be sharing them with you today!
From: Five Heart Home
Brown Sugar and Cinnamon Cookies

These cookies are perfect for any cinnamon lover! Make for your next Christmas cookie exchange, fall party, or game day party! Great for lunches and after school snacks too!
From: Hot Eats and Cool Reads
Whipped Shortbread Cookies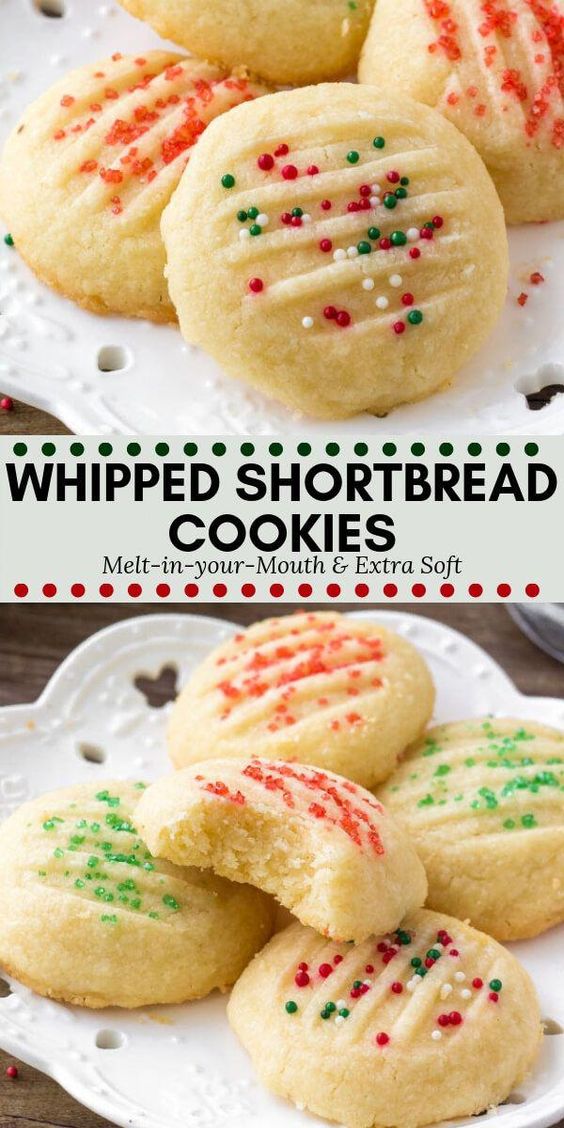 Whipped shortbread cookies are light as air with a delicious buttery flavor. They melt in your mouth because they're so soft, and only require a few simple ingredients. Learn all the tricks for making this classic holiday cookie recipe.
From: Just So Tasty
Ritz Rolo Cookies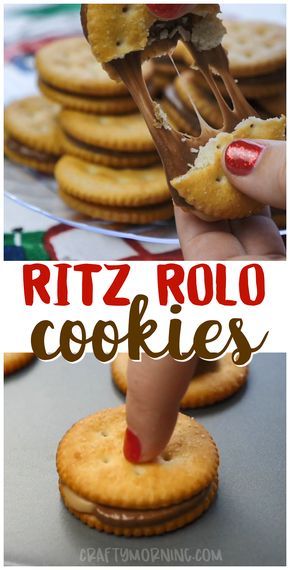 This is one of my favorite desserts to make around the holidays…ritz rolo cookies!! They are the easiest thing to make and everyone can't stop eating them at Christmas time.
From: Crafty Morning
Chocolate Chip Snowball Cookies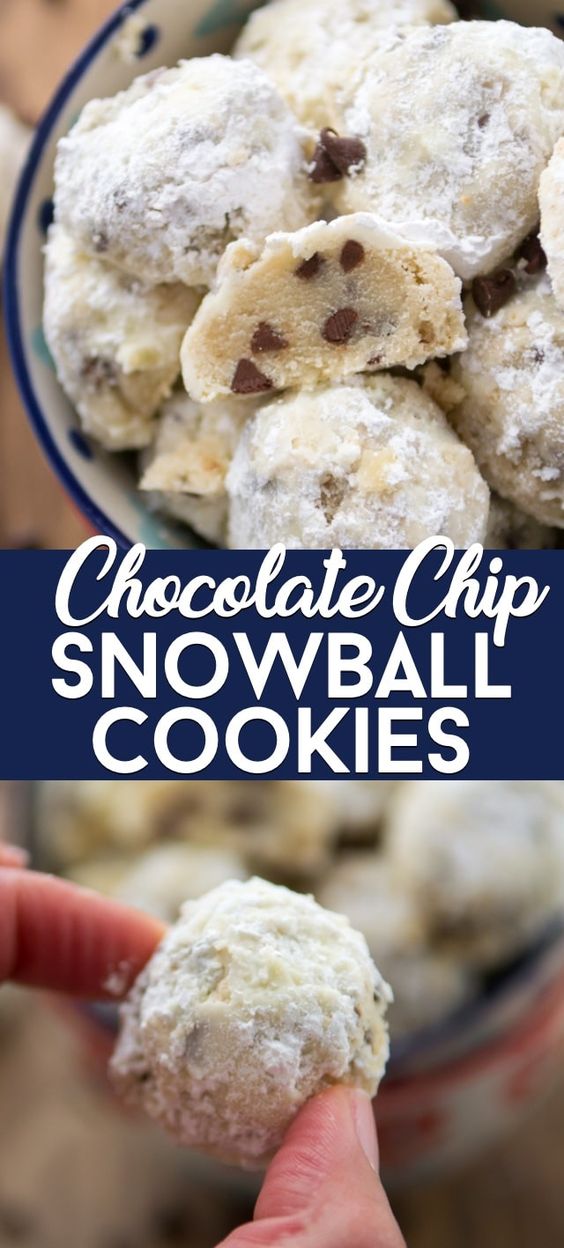 Are they called Snowball Cookies or Russian Tea Cakes? Whatever they're called, they're one of my favorite Christmas cookies. Did you know you can add chocolate chips to snowball cookies?
Chocolate Chip Snowball Cookies have no nuts so they're allergy friendly – and hello, CHOCOLATE. These are one of my MOST POPULAR cookie recipes!
From: Crazy For Crust
Raspberry Pinwheel Cookies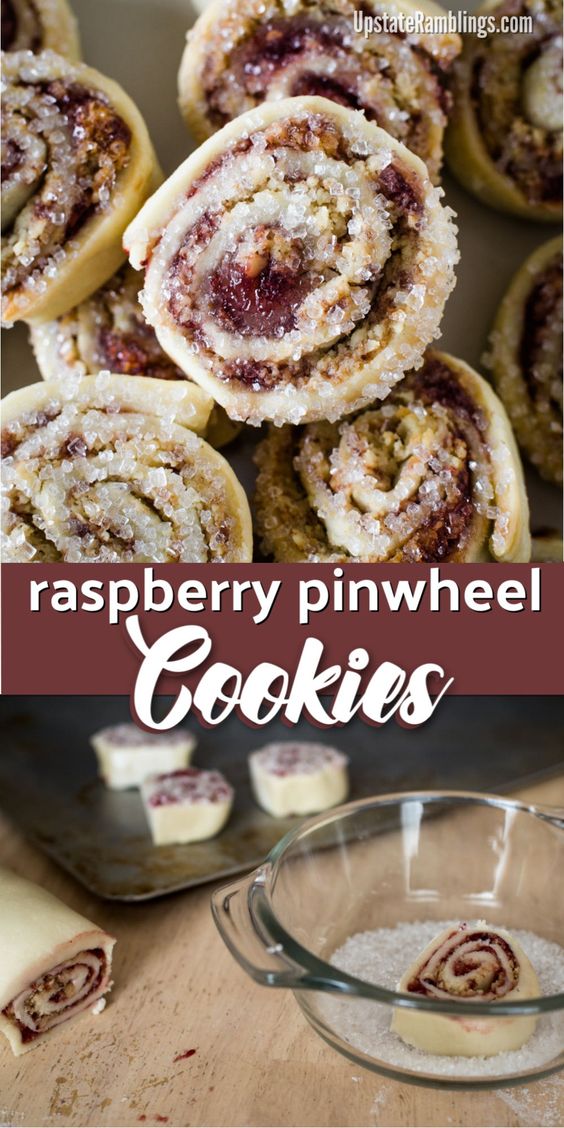 Delicious jam filled cookies are a Christmas tradition, and these Raspberry Pinwheel Cookies are a fun way to enjoy jam.
From: Upstate Ramblings
The Best Sugar Cookie Recipe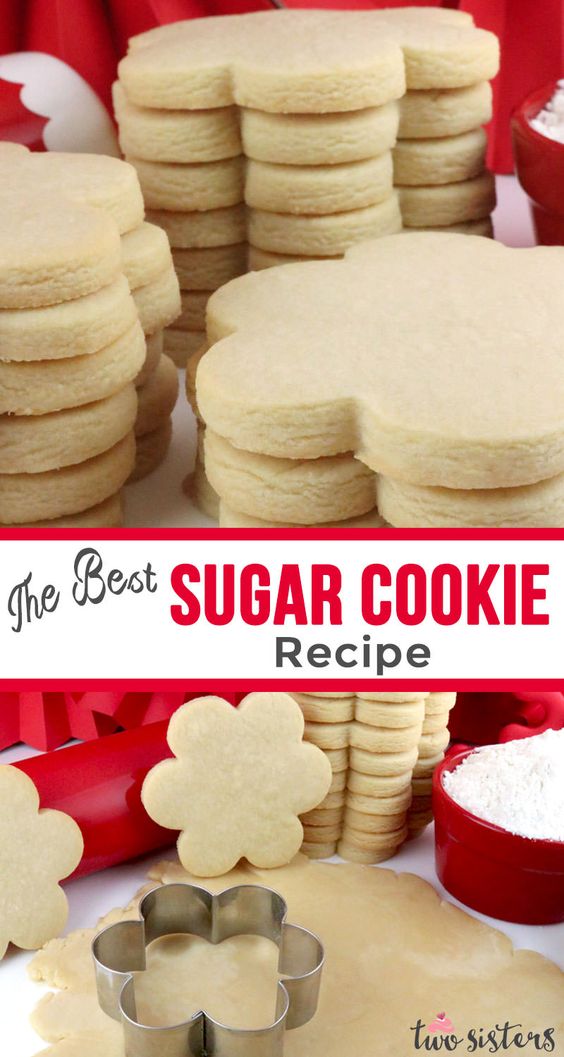 We have found The Best Sugar Cookie Recipe ever and we couldn't wait to share it so that everyone can have super yummy homemade sugar cookies.
From: Two Sisters Crafting
White Chocolate Peanut Holiday Haystack Cookies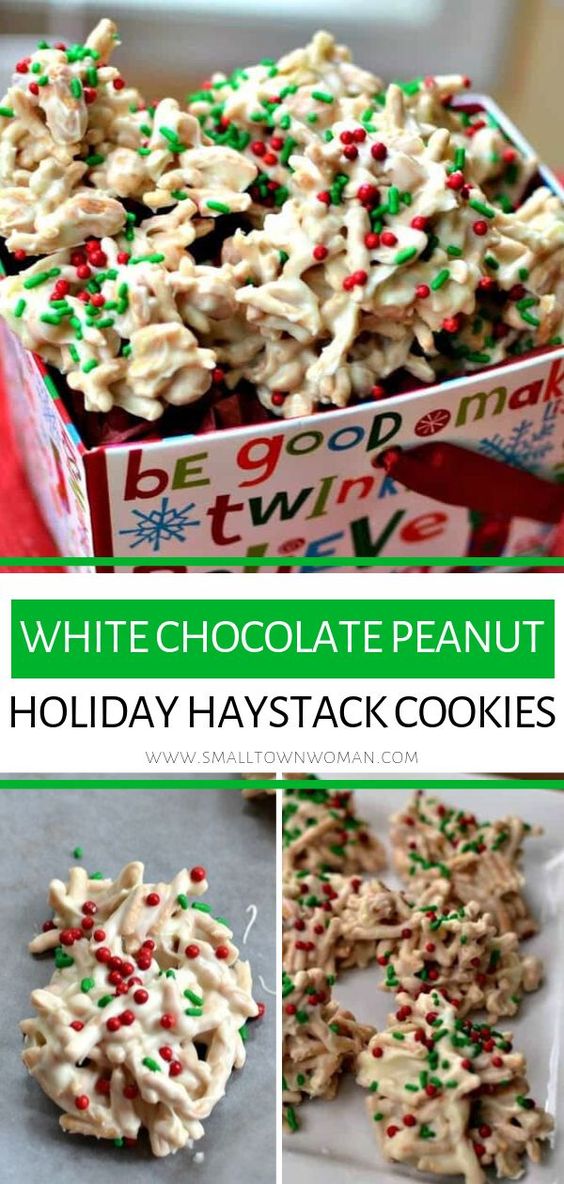 These white chocolate peanut holiday Haystack Cookies are so beautiful, easy, delicious and they freeze well. They can be prepared in less than ten minutes!
From: Small Town Woman
The Best Easy Chocolate Crinkles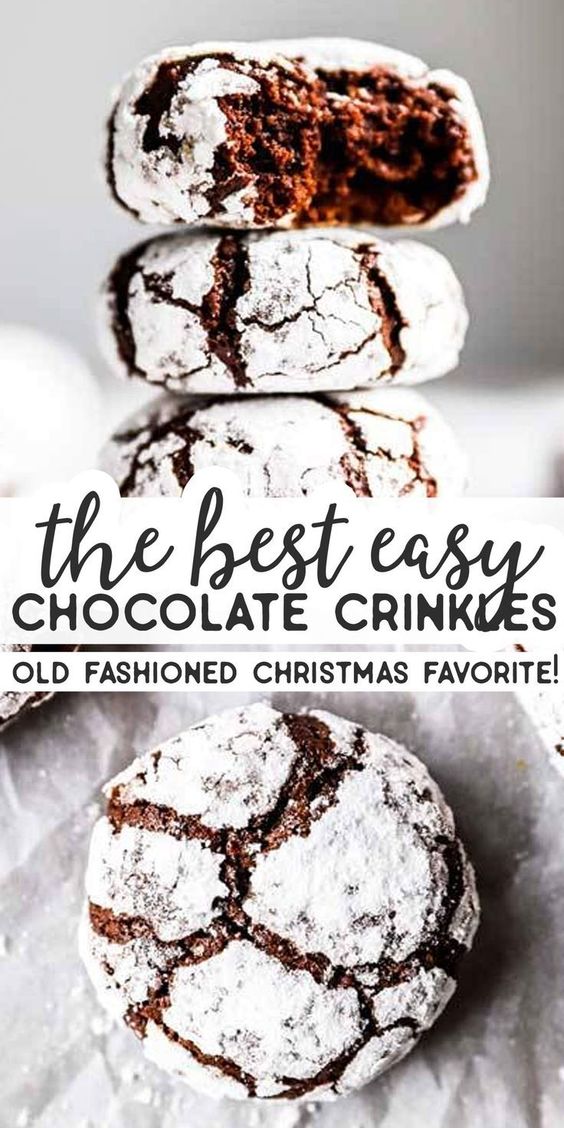 Chocolate Crinkles are one of my favorite christmas cookies (I mean, right next to Soft Molasses Cookies, Gingerbread Cookies, Peppermint Brownie Cookies… I'm a cookie monster 😁). An extra-soft, chewy, fudgy cookie that's dipped in powdered sugar before baking. The best thing about them? They are so easy to make pretty. All you have to do is make sure the powdered sugar coating is thick enough before baking, and they'll crinkle and become all beautiful during baking.
From: Savory Nothings
Cake Mix Cookies

These cake mix cookies are a 5 ingredient dessert that can be made in tons of different flavors and decorated for any occasion. An easy treat that takes just minutes to put together.
From: Dinner At The Zoo
Christmas Lights Cookies

Brace yourselves. I am NOT a cute cookie decorator. However, I pushed through and made these Christmas Lights Cookies to impress my kid.
I saw a fuzzy photo of some cupcakes on Pinterest where they turned mini M&Ms sideways to look like Christmas lights on a string. I thought that was so cute and clever, but also: so easy, yet impressive. Big emphasis on the EASY.
From: Dessert For Two
Soft and Chewy Ginger Snaps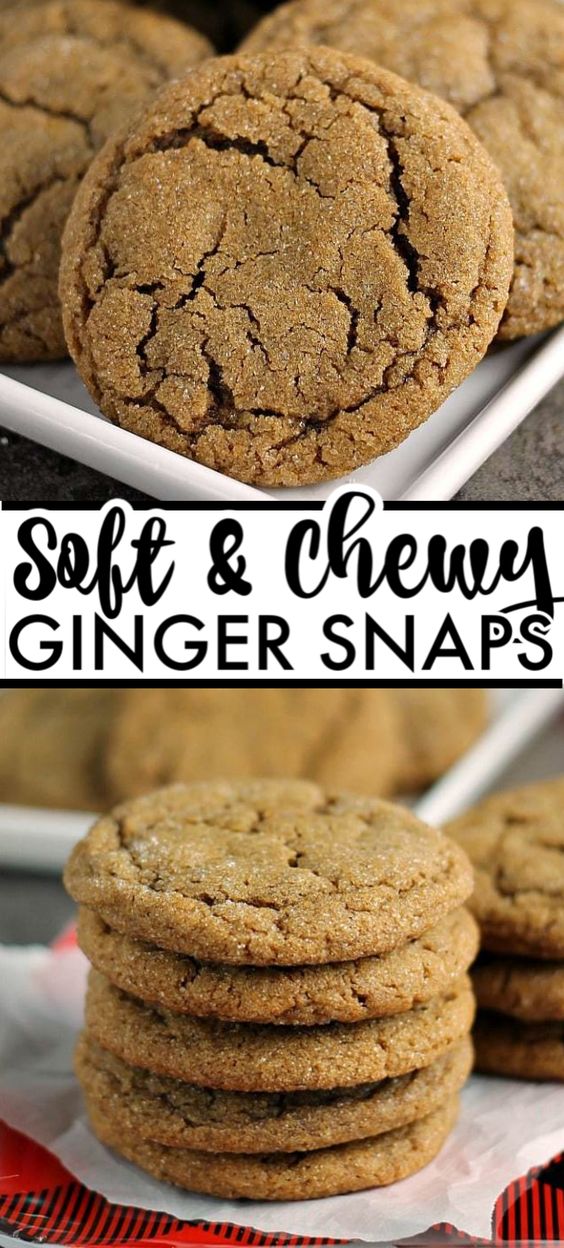 These Ginger Snap Cookies are soft and chewy with a crisp edge. An easy Christmas cookie recipe that are perfect for any holiday cookie spread!
From: Persnickety Plates
Kris Kringle Crinkles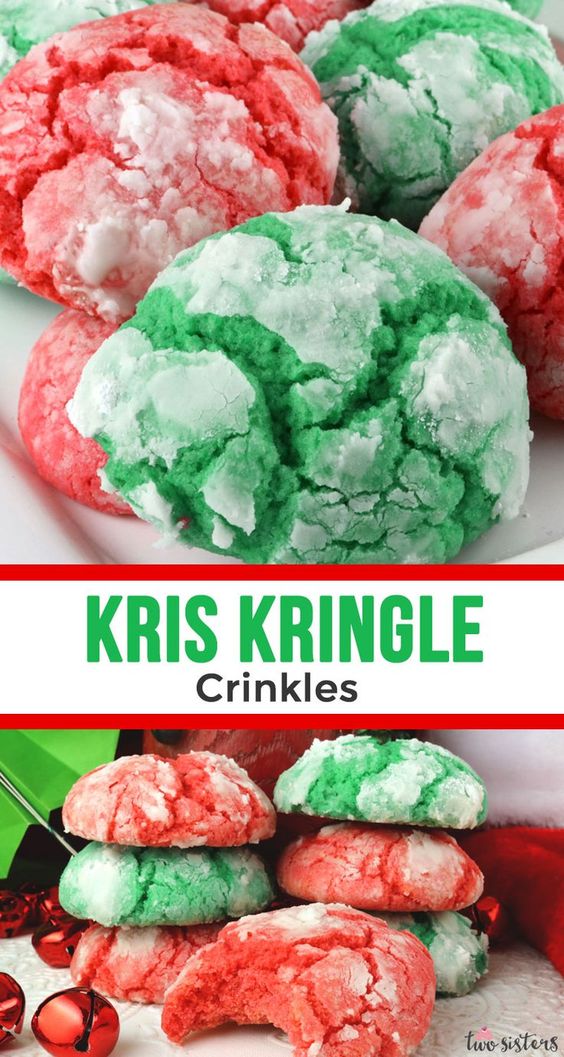 Kris Kringle Crinkles are light and fluffy on the inside and sweet and crunchy on the outside. A yummy homemade Crinkle cookie recipe that is not made from cake mix.
From: Two Sisters Crafting
Christmas Tree Sugar Cookies

These Christmas Tree Cookies are perfect for the holidays! They are so fun to make for a night of decorating cookies with your kids. They are perfect for putting on a plate or two and sharing some with your friends and neighbors. Or they are perfect for a holiday party!
From: Like Mother Like Daughter
Christmas Sugar Cookie Bites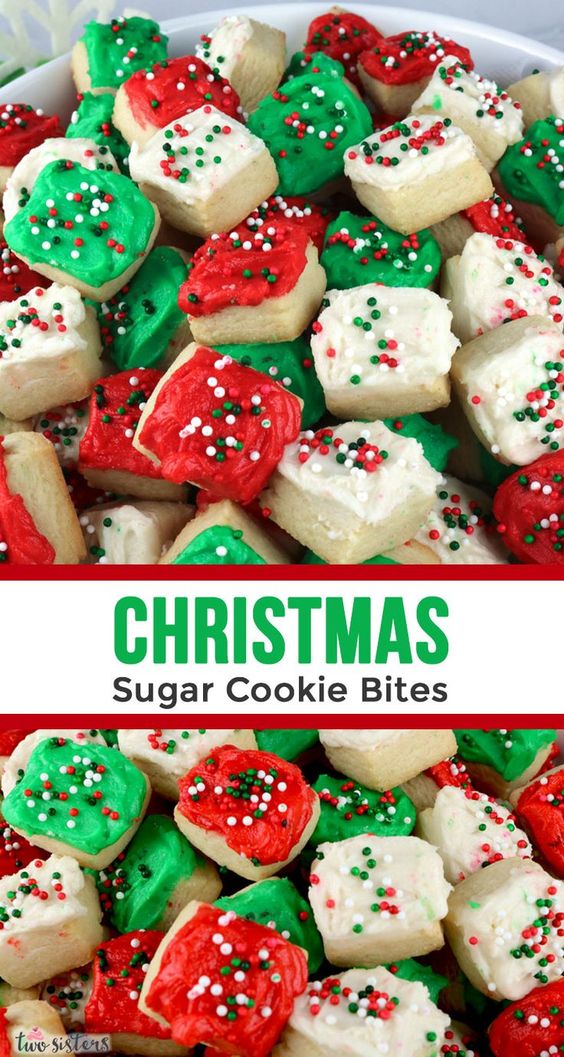 Our Christmas Sugar Cookie Bites are a bite-sized version of the classic Christmas sugar cookies with buttercream frosting. So yummy and so easy to make!
From: Two Sisters Crafting
Christmas Oreo Cookie Ornaments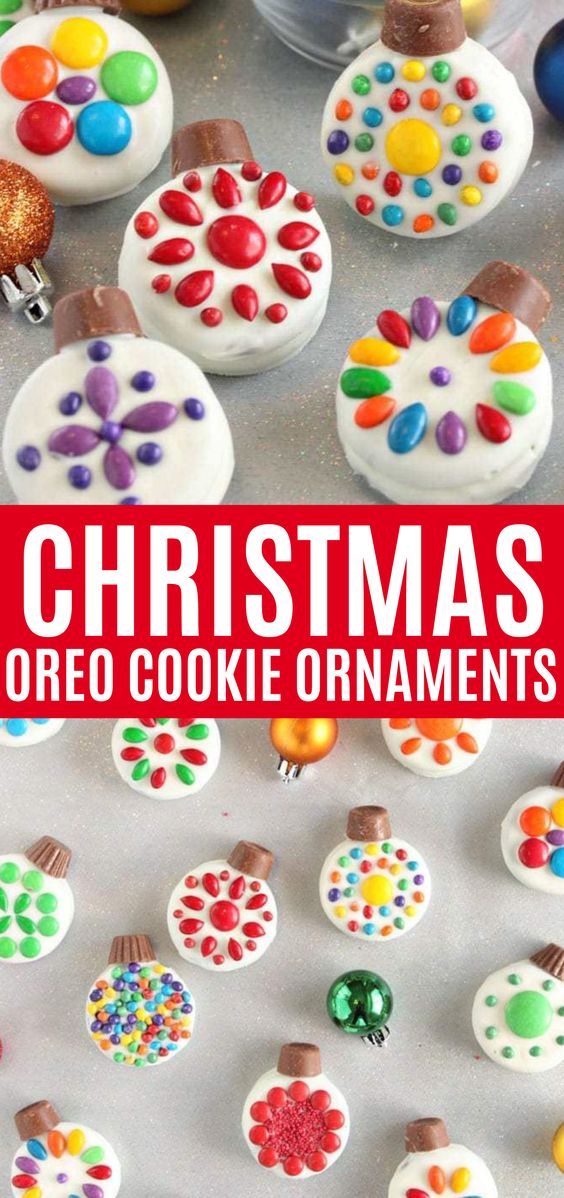 These cute Oreo Cookie Christmas Ornaments are a quick and easy holiday treat! They're so simple, even the kids can help make them. Serve them at a holiday party, or package a few and give them as edible gifts to friends, neighbors, or teachers.
From: Sugar Hero
4 Ingredient Peppermint Cookies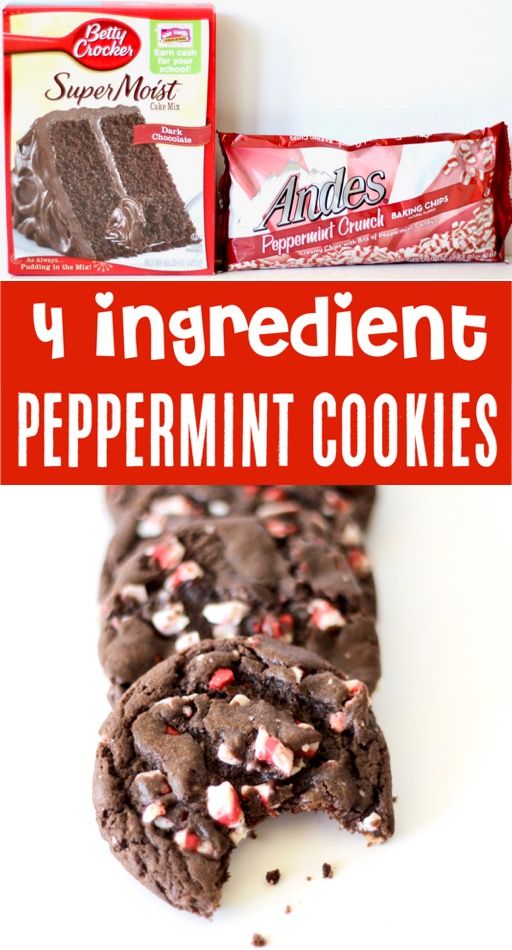 Whether you need the star of the Christmas party, are heading to a Cookie Exchange, or just craving the most delicious cookie EVER… you're going to LOVE these Peppermint Crunch Dark Chocolate Cake Mix Cookies!!
From: The Frugal Girls
Pin these Christmas Cookie ideas for later!
If you enjoyed this roundup of Christmas Cookies, please take a moment and pin them to your Christmas boards on Pinterest!
Also, please follow us on Pinterest for more great recipes and ideas!