For years we've had our family's Thanksgiving at my brother's house and one of the defining features of the celebration is the special Vodka Sours he makes. You can't go 5 minutes at the house without my brother Joe asking, "you want a vodka sour". I've always associated Vodka Sours with Thanksgiving for this reason and has inspired this post on Thanksgiving cocktail recipes.
22 Easy Thanksgiving Cocktail Recipes
If you want to view the full recipe for any of these Cocktail recipes, please click the link under the image. Hope you enjoy!
Don't forget to follow us on Pinterest for more seasonal recipes and ideas. Please help share these ideas by pinning them to your Thanksgiving boards.
Vodka Sour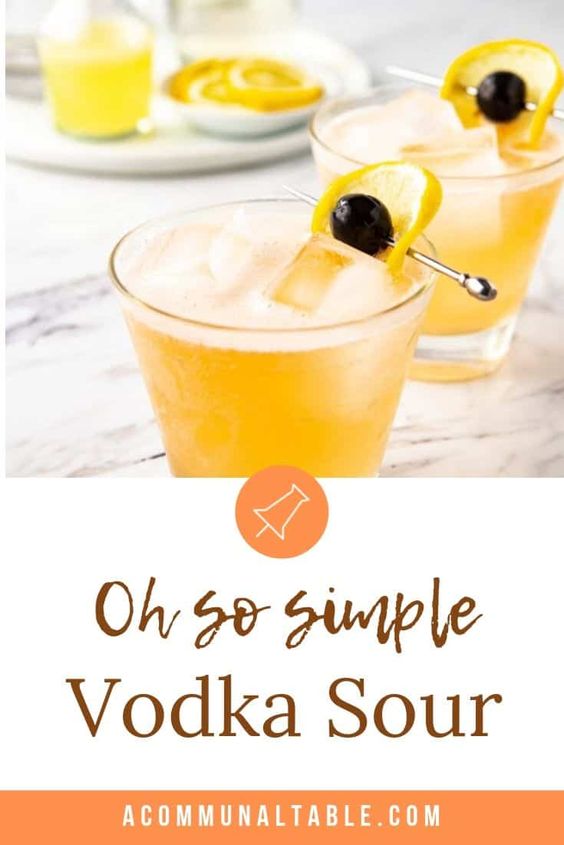 Vodka is incredibly versatile. With it's clean, neutral flavor, it's pretty much a blank canvas! From thirst-quenching drinks like a Moscow Mule to a more sophisticated drink like the Cosmopolitan, vodka is one of my "go-to" liquors when making cocktails!
From: A Communal Table
Apple Cider Sangria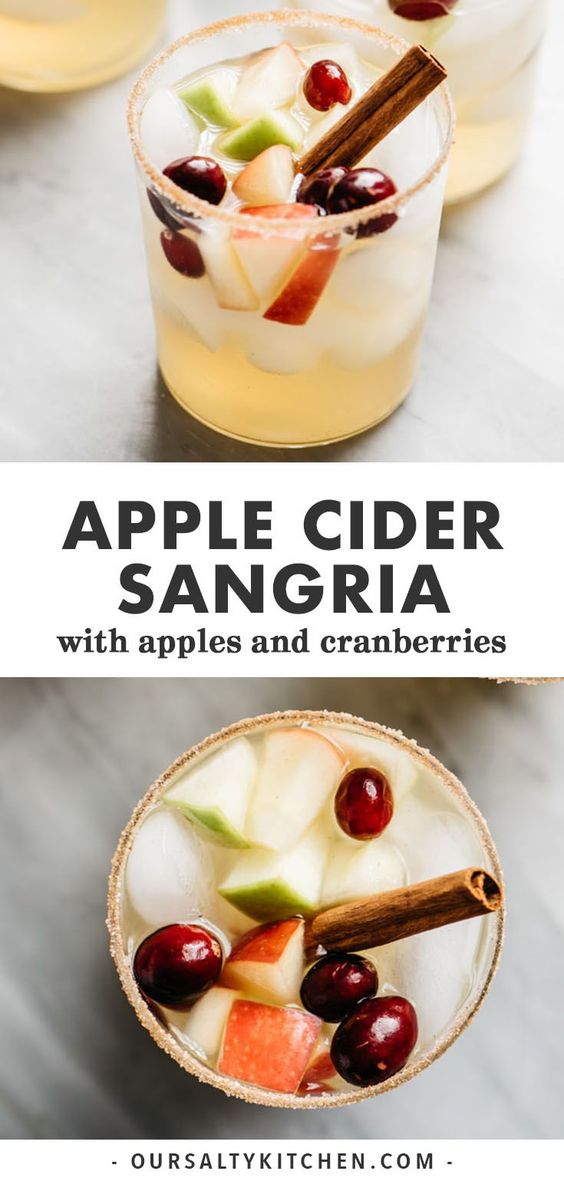 I'm not generally a fan of declaring anything "the best", but I'm going to make an exception for this Apple Cider Sangria.  Sweet, tart, and subtly spiced with cinnamon, it's an absolutely perfect fall sangria recipe. This cocktail easily scales up for a crowd, so make your Thanksgiving spread a little more festive and oh so delicious with this with this apple cider sangria recipe.
From: Our Salty Kitchen
Caramel Apple Cider Cocktail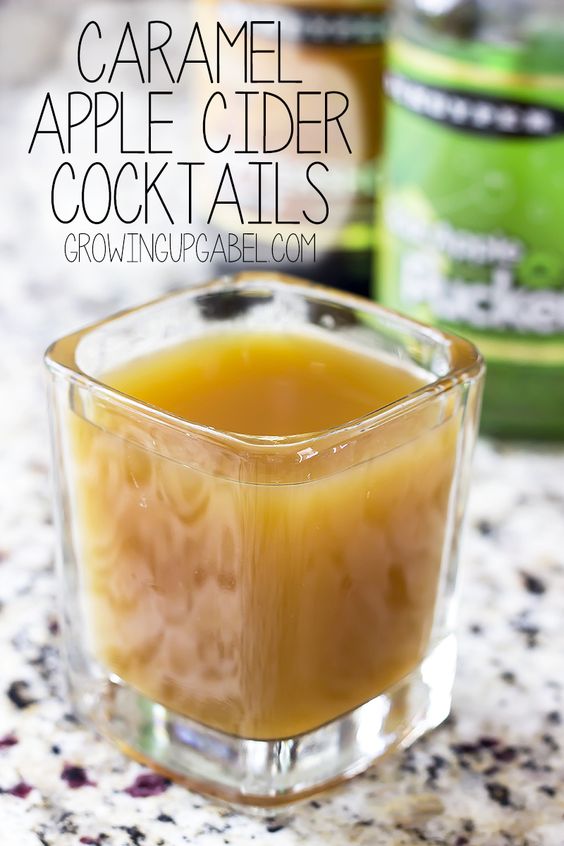 One thing I discovered (actually, someone probably told me about it) was that you could mix butterscotch schnapps with the green apple pucker and it would taste like a caramel apple. It does! But I wanted to do that in a cocktail, not just a shot. That problem was solved with apple cider (I wish all problems could be solved with apple cider).
From: Growing up Gabel
Cranberry Champagne Cocktail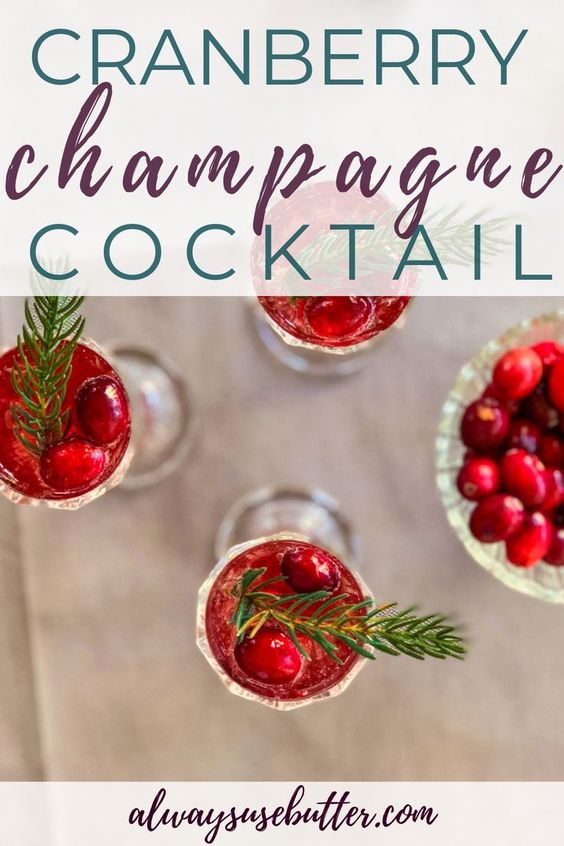 A Cranberry Champagne Cocktail is the perfect holiday cocktail – luxuriously sparkling, just the right amount of sweet and with a nice kick from the gin. Oh, and what about that beautiful color??
From: Always use Butter
Spiced Pear Sangria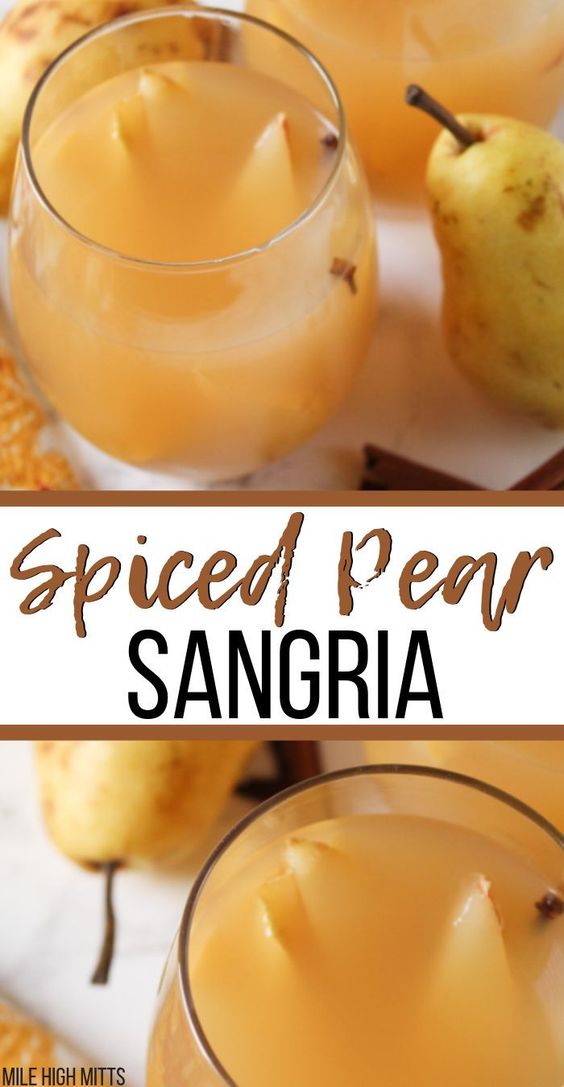 Celebrate the Holidays this year with a pitcher full of Spiced Pear Sangria at your Holiday gatherings. Filled with fresh sliced pears and pear juice, spices, white wine and cinnamon whiskey, this Spiced Pear Sangria is sweet, spiced, and sure to get the party started.
From: Mile High Mitts
Cranberry Apple Margarita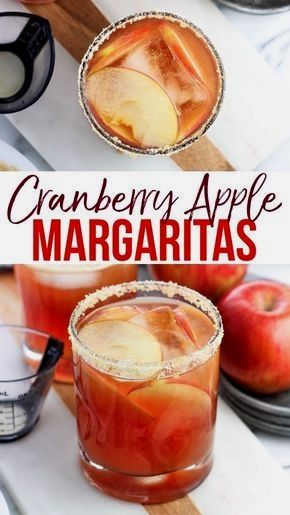 If there's one mixed drink that I'm nearly always a fan of, it's a margarita. Tart, citrus-y, and not too sweet. This holiday-ish version of a cranberry apple margarita incorporates the ubiquitous tequila, but is mixed with apple cider, cranberry juice, and a splash of orange juice for the citrus element.
From: My Sequined Life
Cranberry Orange Sangria

Hello!  Are you ready for Thanksgiving yet?  Don't even ask me if I am.  You still have time to get your Thanksgiving meal plan together, and I have the perfect last minute Thanksgiving cocktail for you.  Cranberry Orange Sangria!
From: Fox and Briar
Cranberry Pomegranate Margarita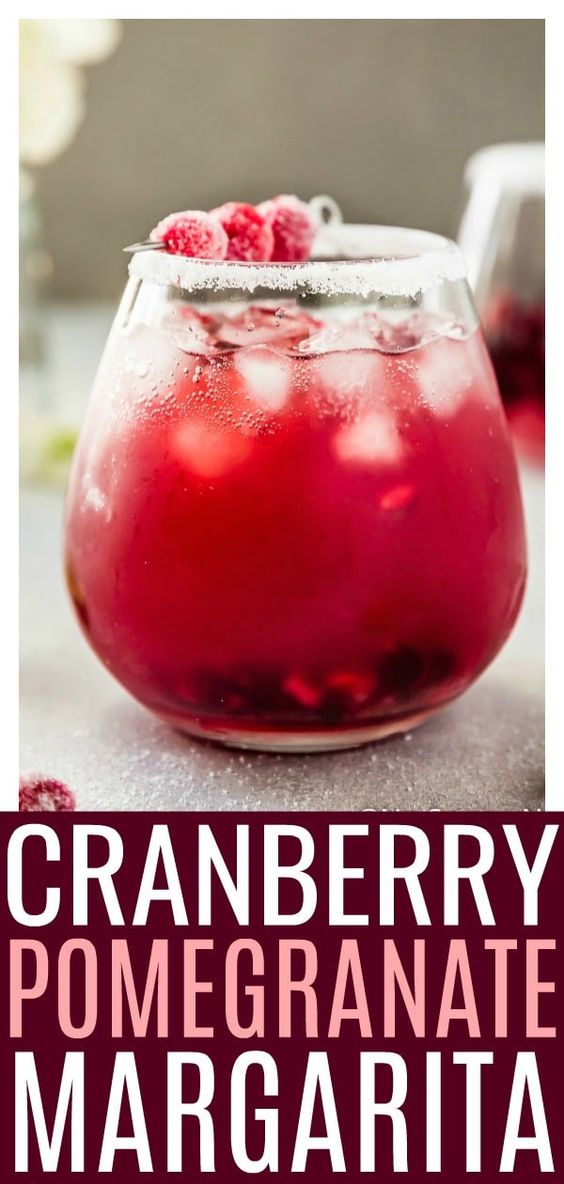 Tangy, tart and naturally sweet, this Cranberry Pomegranate Margarita is easy on the eyes and smooth to sip!  Easy to prepare and garnished with simple, DIY sugared cranberries, this cocktail is the perfect addition to any celebration, or a great way to toast '5 o'clock somewhere'!
From: No Spoon Necessary
Autumn Hard Apple Cider Sangria

So we tried something new this year to celebrate our cooler evenings, this Autumn Hard Apple Cider Sangria. I didn't know if this would be good or not. Hard apple cider mixed with wine didn't sound like it would go all that well together. Boy was I wrong. The flavors compliment each other and we didn't have any trouble finishing off this pitcher with a quickness.
From: Sparkles of Yum
Pear and Allspice Bourbon Smash

In need of a new, fall drink? Yes? Excellent! Because, I have a lovely pear bourbon cocktail here for you using ripe pears, bourbon, and maple syrup! And, oh yes, a bit of allspice to give it some kick. So, grab that overripe pear on your counter and the bourbon and get to smashing.
From: Just a Little Bit of Bacon
Apple Cider Sangria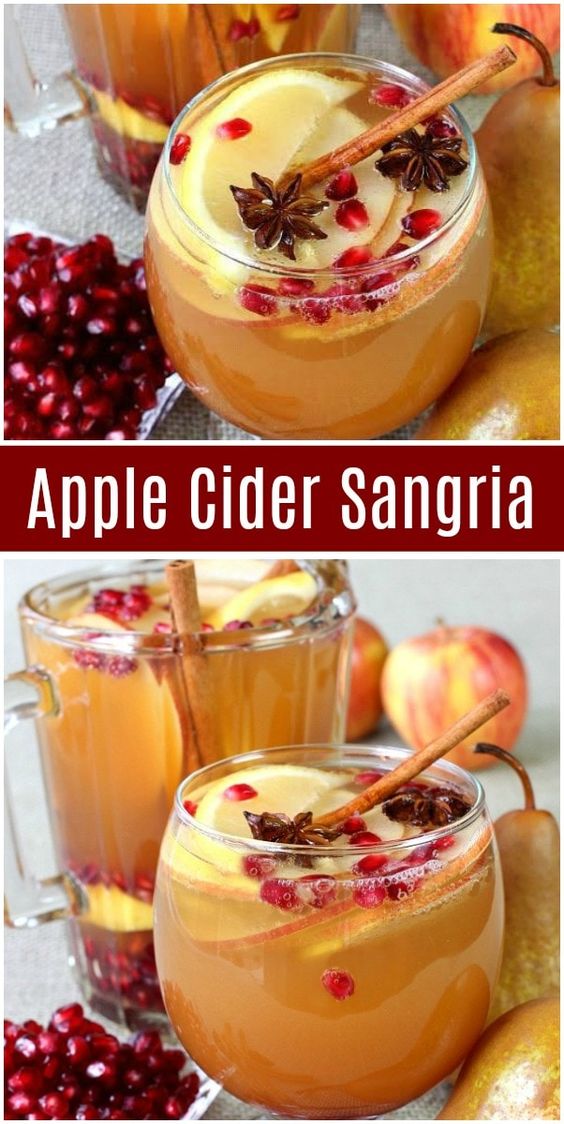 Sangria is one of my favorite cocktails to make (and to drink) because there are so many different ways to make it, using different fruits, juices, wines and liquors, the possibilities are endless. It's also one of my favorite cocktails to serve at a party, setting up a do-it-yourself sangria bar is a fun way to get your friends involved, and also give you a break from the bar!
From: Recipe Girl
Thanksgiving Margaritas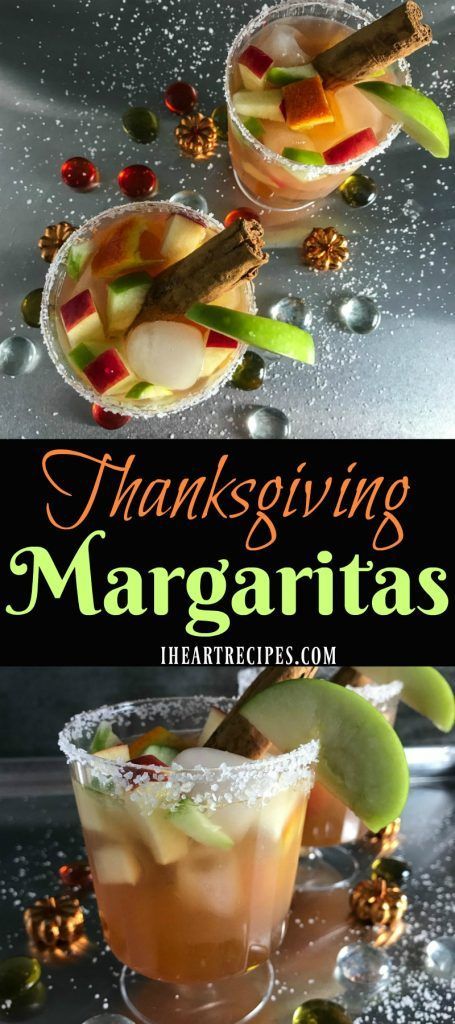 Thanksgiving is one of my favorite holidays. It's the perfect time to bring family together, and discuss everything that we are thankful for. I don't know about you, but I'm always thankful when I have a margarita in my hand. Especially during family events, because there's always that one ( or 5) family member that will have you wishing, that you had drink. C'mon – don't act like I'm the only one that feels this way around the holidays! We all have that annoying cousin, or uncle that makes you wish you had a margarita, or three, engaging into a conversation with them.
From: I Heart Recipes
Pumpkin Spice Margarita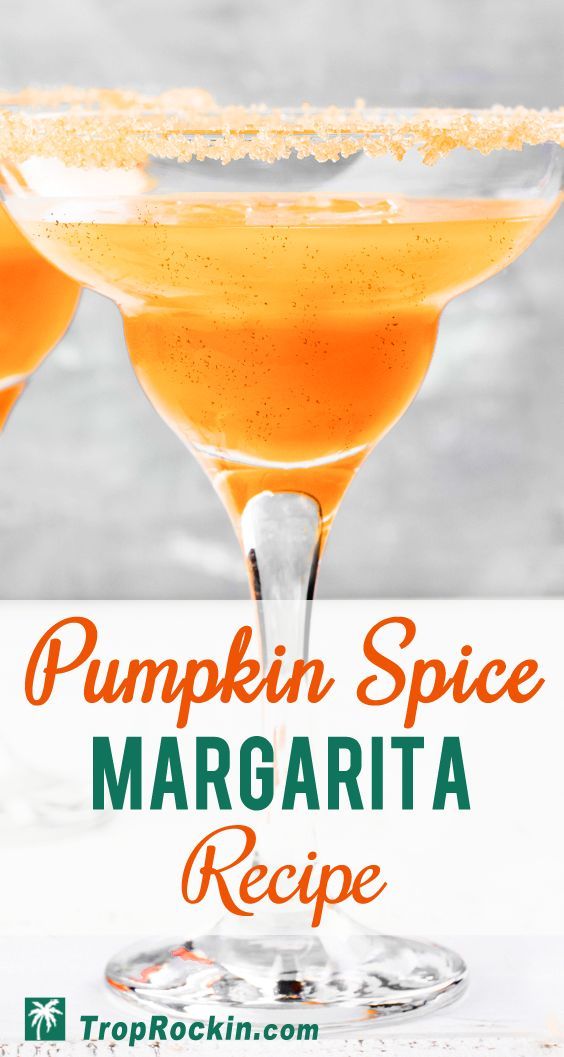 This Pumpkin Spice Margarita is a fabulous Thanksgiving cocktail for margarita fans.
Are you having friends and family over for the holidays? Serve up this holiday cocktail to wow your guests!
From: Trop Rockin
Thanksgiving Punch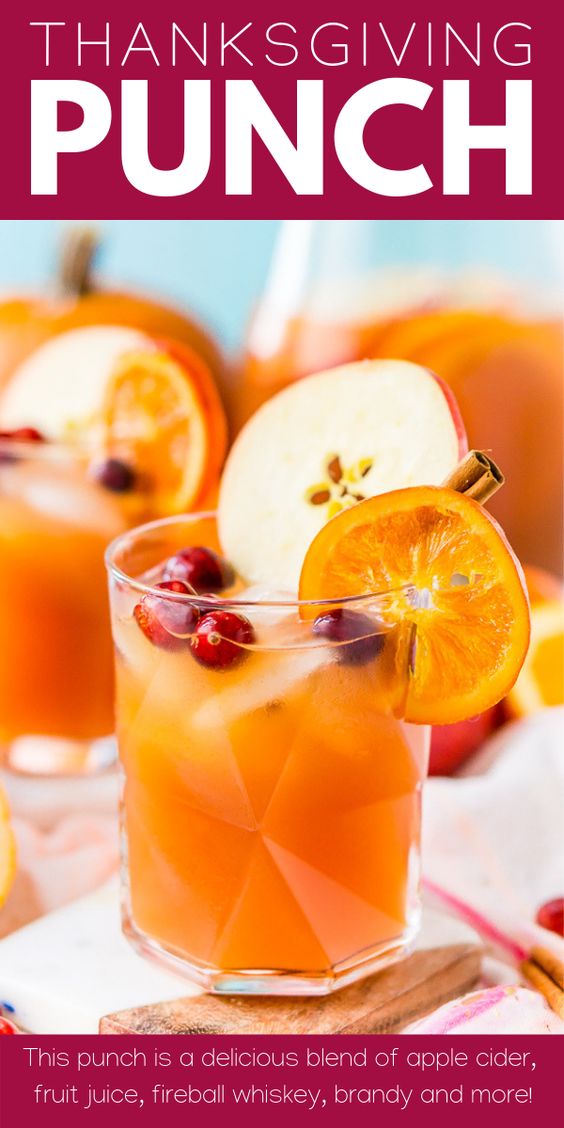 This Thanksgiving Punch made with apple cider, whiskey, fruit juice, brandy, and soda packs the delicious flavors of fall and winter in one delicious holiday drink recipe!
From: Sugar and Soul
Pumpkin Spice White Russian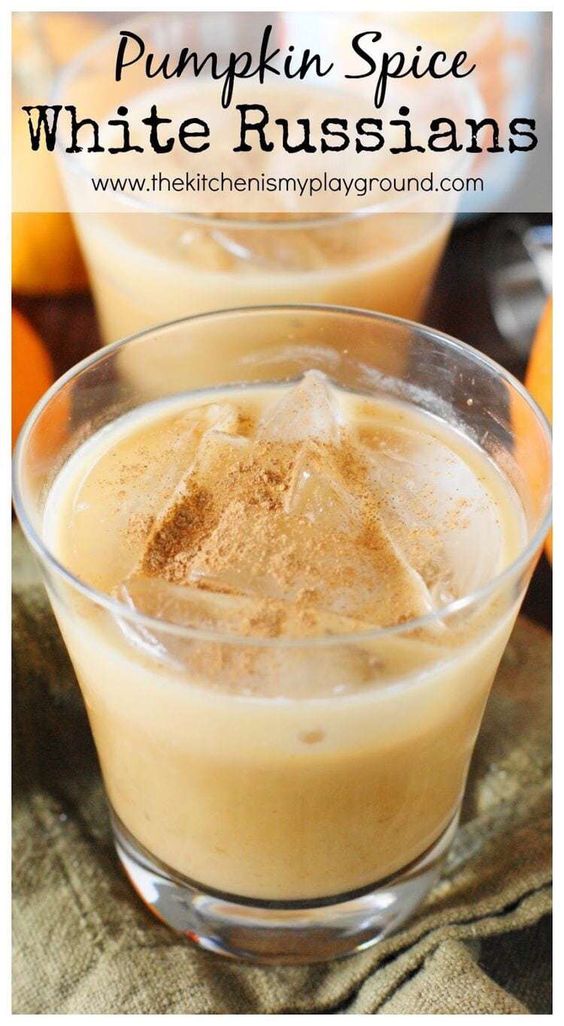 Add a fabulous seasonal twist to your cocktail line-up with this delicious Pumpkin Spice White Russian!  It's just perfect for fall sipping.
From: The Kitchen is my Playground
Pumpkin Pie Martini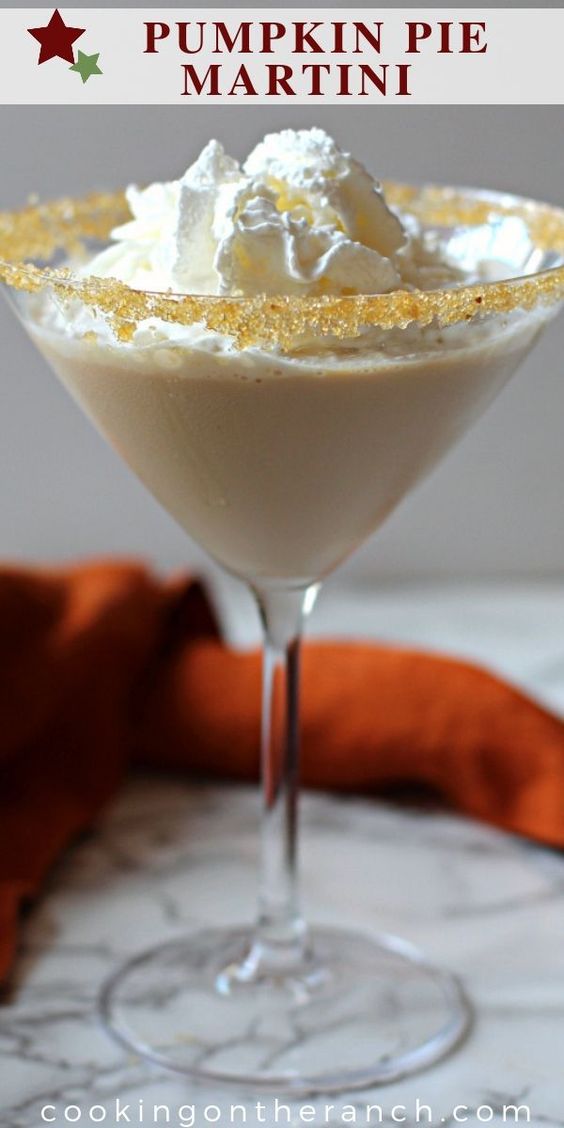 This Pumpkin Pie Martini is one of the flavored martinis that our bartender was shaking up. It was quite popular, everyone was raving, asking how to make it, and chattering about plans to serve it on Thanksgiving.
From: Highlands Ranch Foodie
Thanksgiving Punch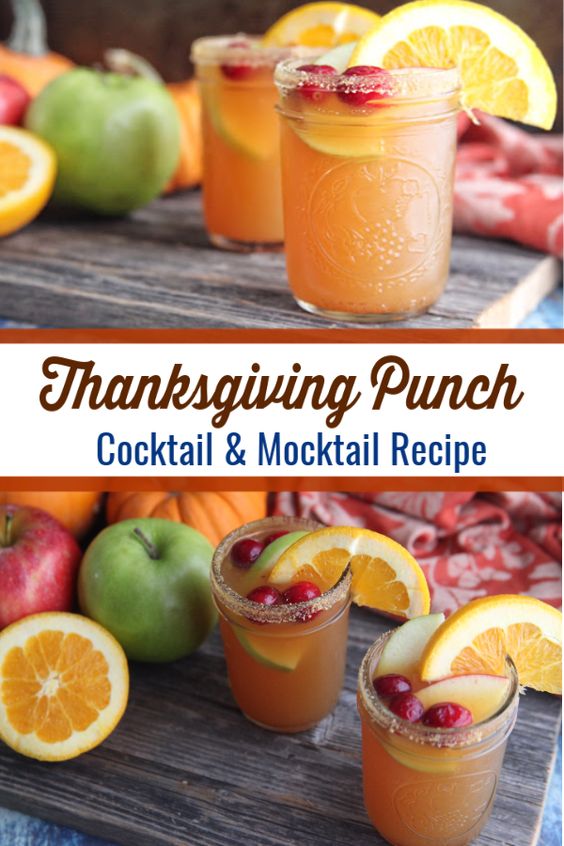 This thanksgiving punch recipe has all the flavors of fall. With a few simple easy ingredients, you can make a holiday thanksgiving cocktail or mocktail that will be a crowd pleaser for kids and adults.
From: Thyme and Joy
Spiced Pear Gin Cocktail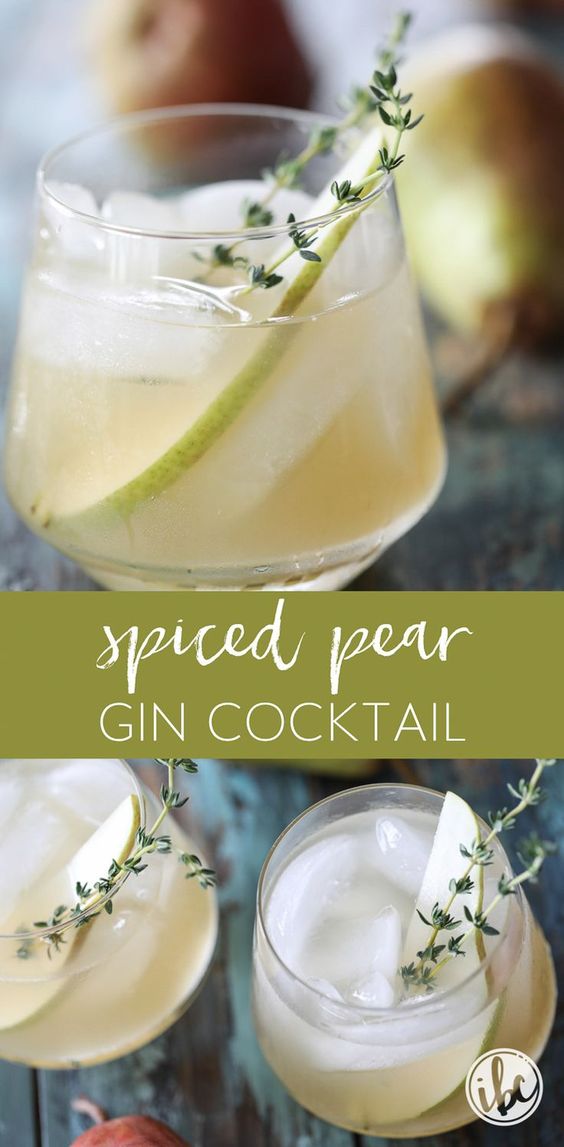 You're going to love this delicious pear-inspired cocktail.  This Spiced Pear Gin Cocktail is simple to make and perfect for fall entertaining.
Often, I end the week with a cocktail, but today I'm shaking things up. We're kicking off this Monday with Spiced Pear Gin Cocktail. This tasty fall libation makes a great start or end to the week.
From: Inspired by Charm
Harvest Punch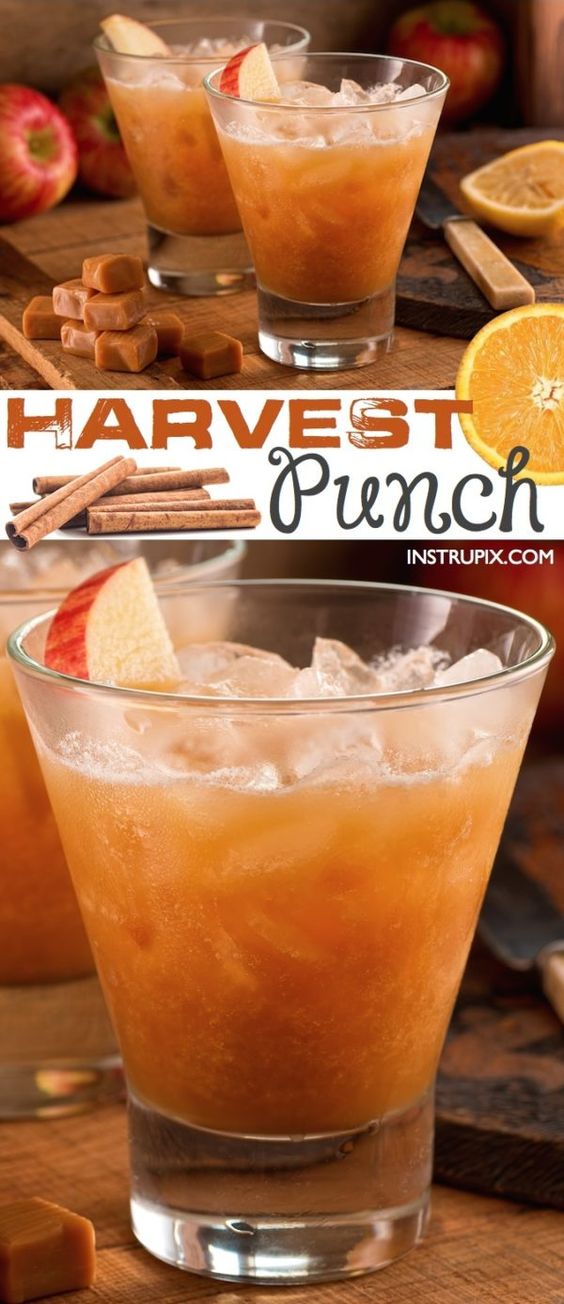 Fall weather alone is a good reason to celebrate the season, and I can't think of a better way than with a drink in your hand and your family and friends gathered around.
For parties or large gatherings, I find punch bowl recipes to be super easy and crowd pleasing, and this one is my favorite for Halloween or Thanksgiving! It will soon be yours, too.
From: Instrupix
Cranberry Apple Mule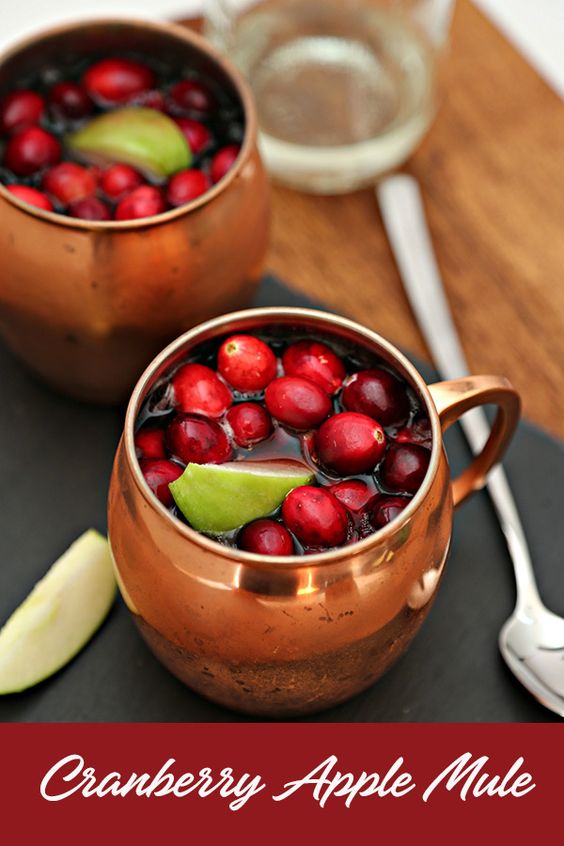 A festive a fun holiday twist on a classic Mule. This cocktail incorporates fresh cranberries and apples for a seasonal twist.
From: Dixie Crystals
Bourbon Pecan Pie Cocktail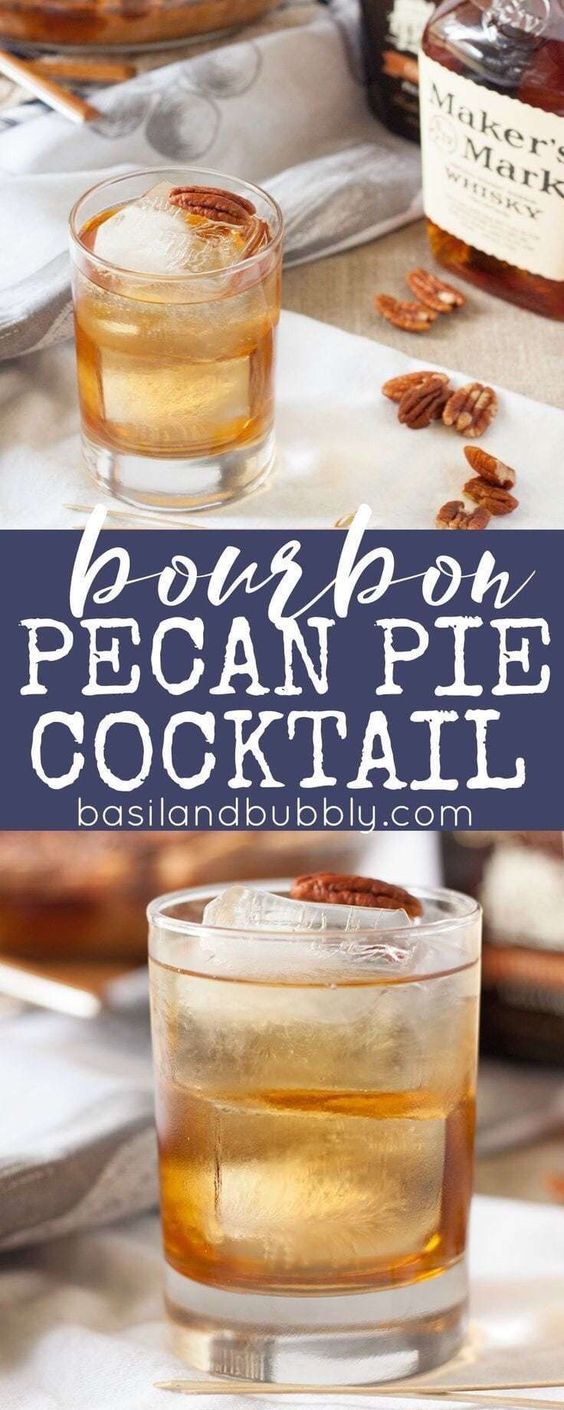 Right off the bat, I'm going to have to admit: I don't like pecan pie.  But ya know what I DO like? Bourbon.  And Vodka.  And cocktails.  So when it comes to pecan pie at Thanksgiving and Christmas, I like mine in a glass as a Bourbon Pecan Pie Cocktail.
From: Basil and Bubbly
Caramel Apple Cider Mimosas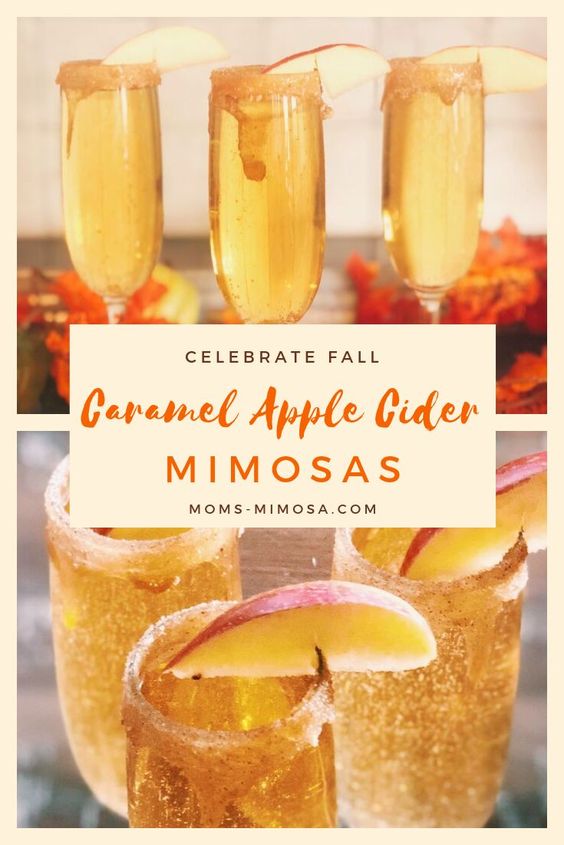 With fall officially making its appearance, it's time to embrace all the flavors it offers. And this recipe for Caramel Apple Cider Mimosas is the perfect way to start. The mimosa base is a festive combination of caramel vodka and apple cider. Your favorite sparkling wine tops it off.
From: Mom's Mimosa
Pin these Thanksgiving cocktail recipes for later!
If you enjoyed this roundup of Thanksgiving cocktail recipes, please take a moment to pin them to your Thanksgiving and Cocktail boards on Pinterest.
Also, please follow us on Pinterest for more great recipes and ideas!