With Valentines Day coming up I thought it would be a good idea to talk about delicious Cupcakes that you can make. Now when my kids were in school there would always be some kind of valentines day celebration where the kids would bring in candy or treats of some kind. One year they had a celebration where they were supposed to bring in some cupcakes and some of the cupcakes the kids brought in were so creative that I was astounded.
With that being said here's 21 Valentines Day cupcakes that your child can make and bring into class to really show off your skills. These recipes are easy to make and are extremely festive. The whole class will love it!
21 Valentines Day Cupcakes For Kids
If you would like to see the full recipe of any of the cupcakes, please click on the link below the images.
Also, don't forget to follow us on Pinterest for more great recipes and ideas, and if you could, please share these ideas on Pinterest by pinning them to your Valentines Day boards.
Nutella Stuffed Strawberry Chocolate Cupcakes

I love the look of chocolate and fluffy, pink anything. I'm not really a pink girl, I think I have one or two pink shirts in my closet and that's probably it. Now don't panic, I have nothing against pink, I'm just not drawn to it like I am blue or white for example. I should move to Santorini, Greece. That seems like a good choice.
Ahhh but chocolate and pink, there's something about that just makes me want to take a big ol' bite. And these Nutella Stuffed Strawberry Chocolate Cupcakes are the perfect example.
A moist chocolate cupcake, stuffed with totally lickable nutella and topped off with strawberry buttercream that is silky like those old school 90's silk pajamas. Nothing short of a dream.
From: Oh Sweet Basil
Valentines Emoji Cupcakes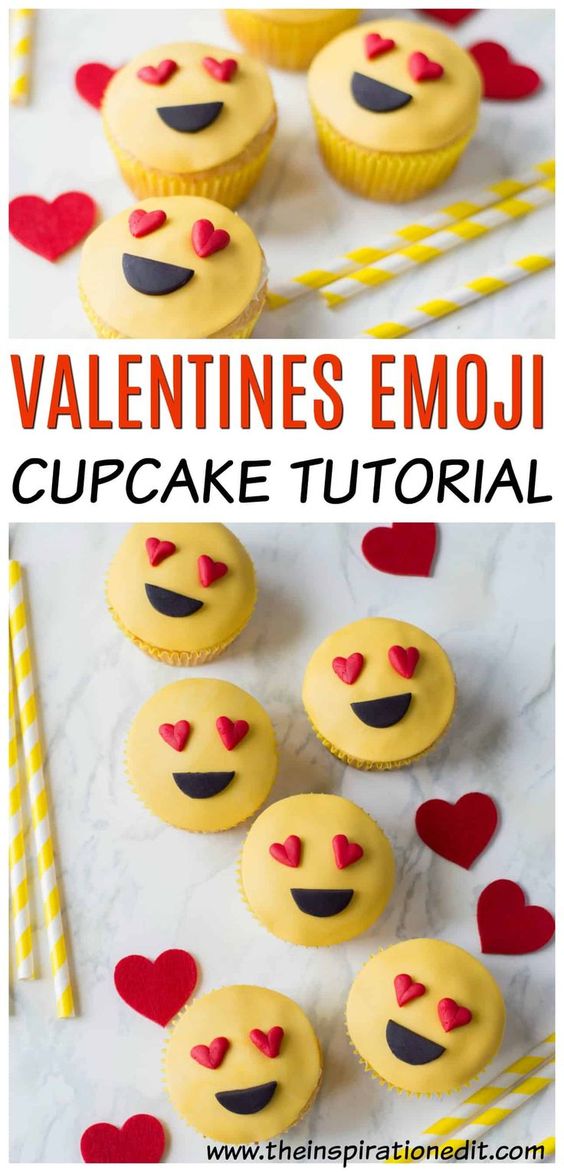 Valentine's Day is a day for sharing your love with others. It isn't just for couples, but for everyone! I like to share my love to the neighbors, teachers, and other members of my community with these cute Valentines Emoji Cupcakes.
Although I like to spread my love with these treats, they work great for classroom parties, work parties, or even social gatherings. Not to mention, kids love them!
From: The Inspiration Edit
The Best Red Velvet Cupcakes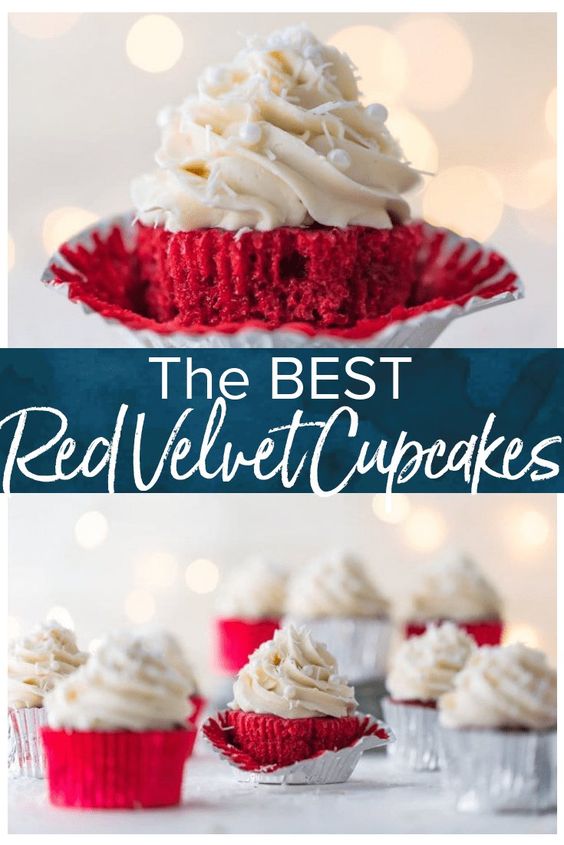 This is the BEST Red Velvet Cupcake Recipe you will ever try. You haven't lived unless you've tried these classic Red Velvet Cupcakes with the most amazing cupcake frosting! Classic, delicious, EASY and perfect. With the best Red Velvet Cupcakes in hand, you're ready for Christmas or Valentine's Day.
From: The Cookie Rookie
Poop Emoji Valentine Cupcakes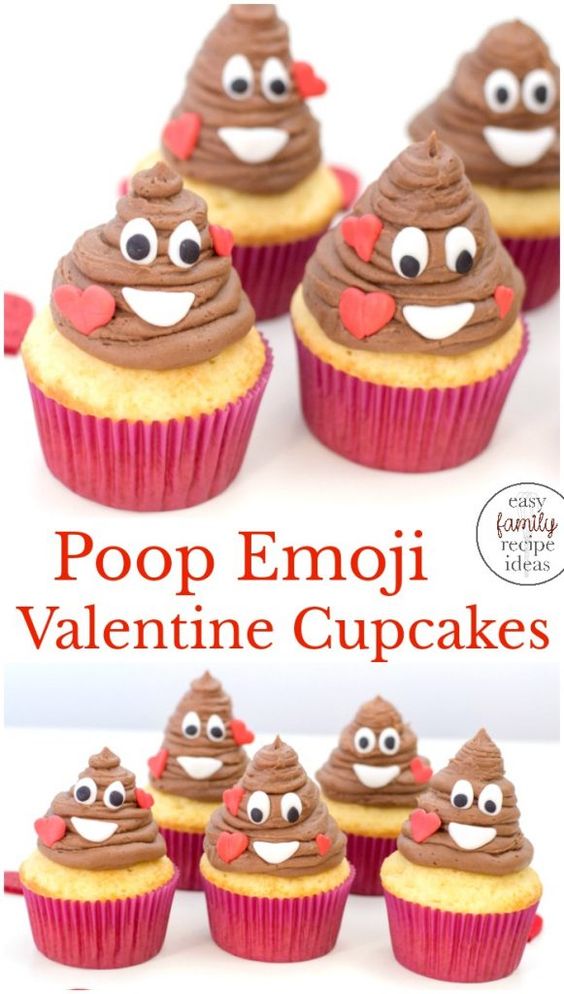 You don't have to be a professional cupcake decorator to make these super cute Poop Emoji Cupcakes for Valentine's Day. All it takes is a few ingredients and a little silliness. Honestly, I never thought I'd want to eat poop cupcakes, but these cute little Poop Emoji Valentine Cupcakes are next level. And the kids LOVE them.
From: Easy Family Recipe Ideas
Chocolate Covered Strawberry Cupcakes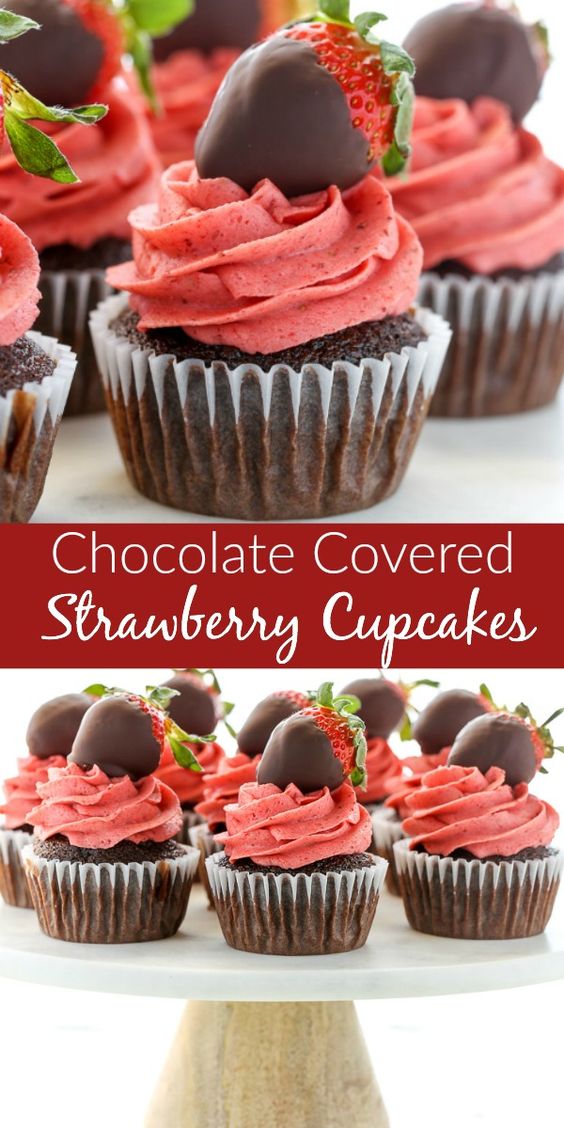 Valentine's Day is less than a month away and if you're looking for an impressive dessert, these cupcakes are exactly what you need.
I originally posted the recipe for these chocolate covered strawberry cupcakes back in 2016. But I've revamped the recipe with a lighter chocolate cupcake and an even better strawberry frosting. These cupcakes are chocolatey, the frosting is full of strawberry flavor and naturally colored thanks to a secret ingredient, and they're all topped with a chocolate covered strawberry.
If you've ever been intimidated when it comes to making beautiful cupcakes, don't worry, I'm sharing tons of information on how to make these look absolutely perfect!
From: Live Well Bake Often
How To Bake a Heart Inside a Cupcake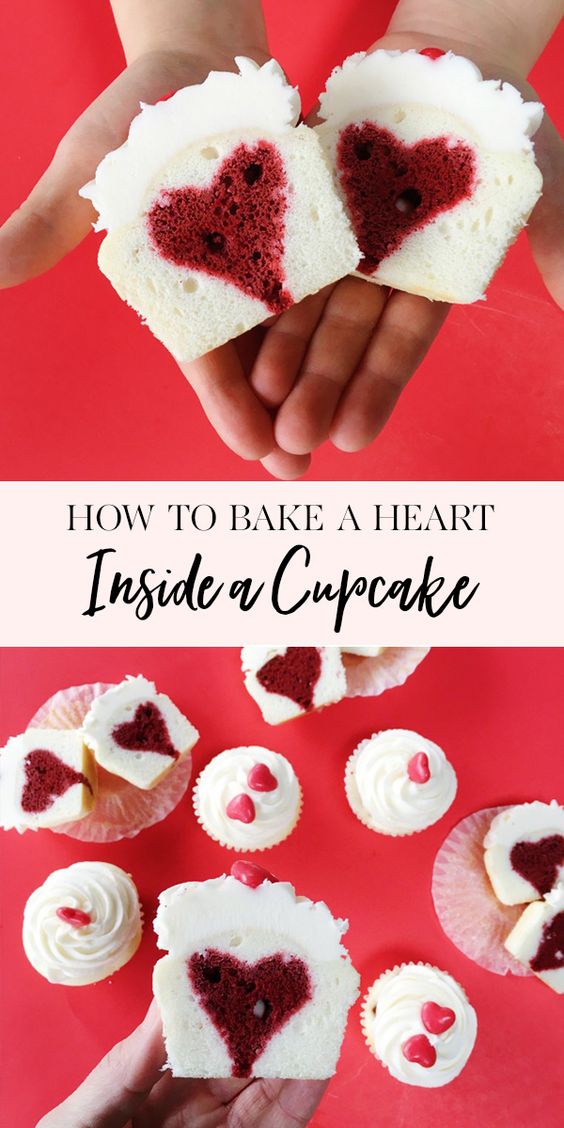 This is really simple to do and can be replicated with just about any cake flavors as long as they're contrasting colors. If you're an all white cake type, go for it, just be sure to color your 9×13 cake with food coloring so the cakes contrast and the heart shows up.
From: Jenny Cookies
Ladybug Valentine Cookies

Valentine's Day is a big deal around here, and we know it is for many of you, too! Anytime we get to celebrate love, we're all in!
Around this time of year teachers and students are buzzing about getting ready for their annual Valentine's Day school party.
I want to make sure your kiddo is the talk of the party with these fun Valentine's Day Ladybug Oreos. I highly doubt anyone else will have anything like them :-).
From: For Modern Kids
Chocolate Teddy Bear Cupcakes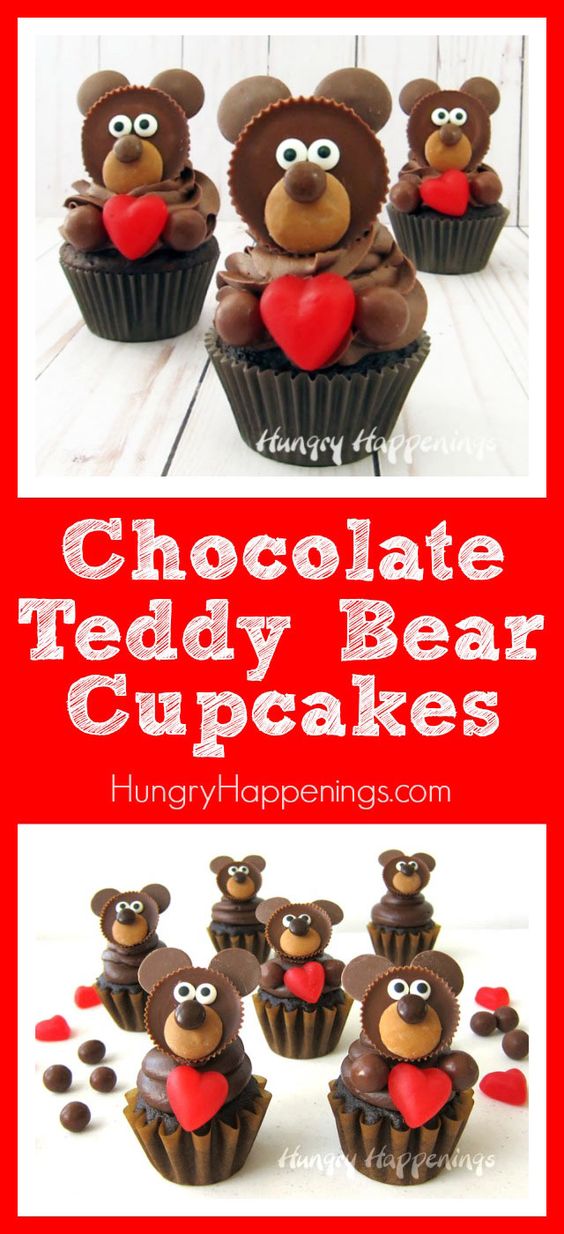 Teddy bears and Valentine's Day go together as well as chocolate and peanut butter do, so this sweet treat combo couldn't be more perfect for this winter holiday.
Adorably cute chocolate peanut butter cup bears adorn the tops of chocolate cupcakes. Each holds a bright red cherry candy heart.
If you have not yet made cupcakes topped with decorated peanut butter cups, now is the time to give them a try.
From: Hungry Happenings
Valentines Day Monster Cupcakes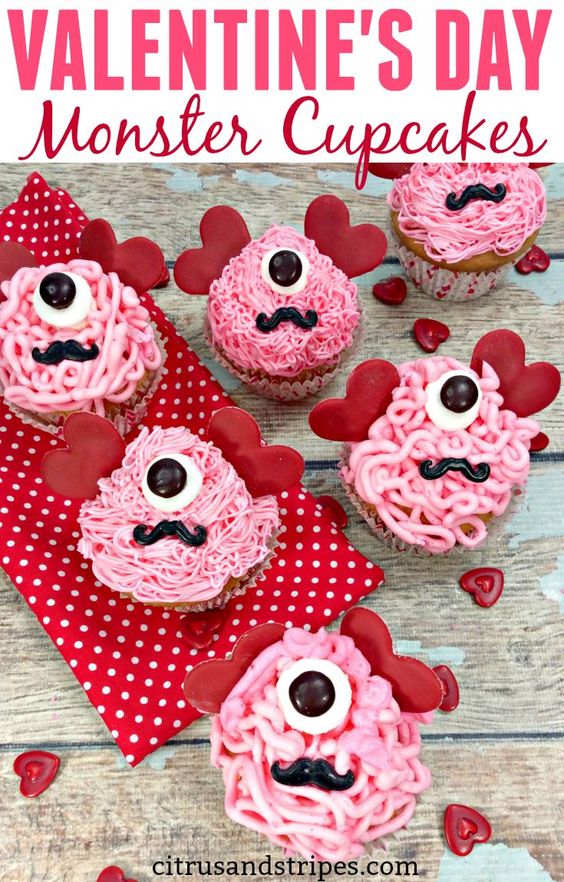 Valentine's day is one of my favorite holidays for fun recipes and crafts! I absolutely love all things magenta, coral, salmon, red, and, well…. every other shade of pink there is! These Valentine's Day Monster cupcakes are so incredibly fun to make plus, they are basically impossible to mess up!
Being able to get messy in the kitchen with kids is one of the best experiences you can have. Since these cupcakes are mostly just decorated by "piling on" icy in a way that is literally meant to look messy, it is PERFECT for the little ones!
From: Because Mom Says
Absolutely Perfect Red Velvet Cupcakes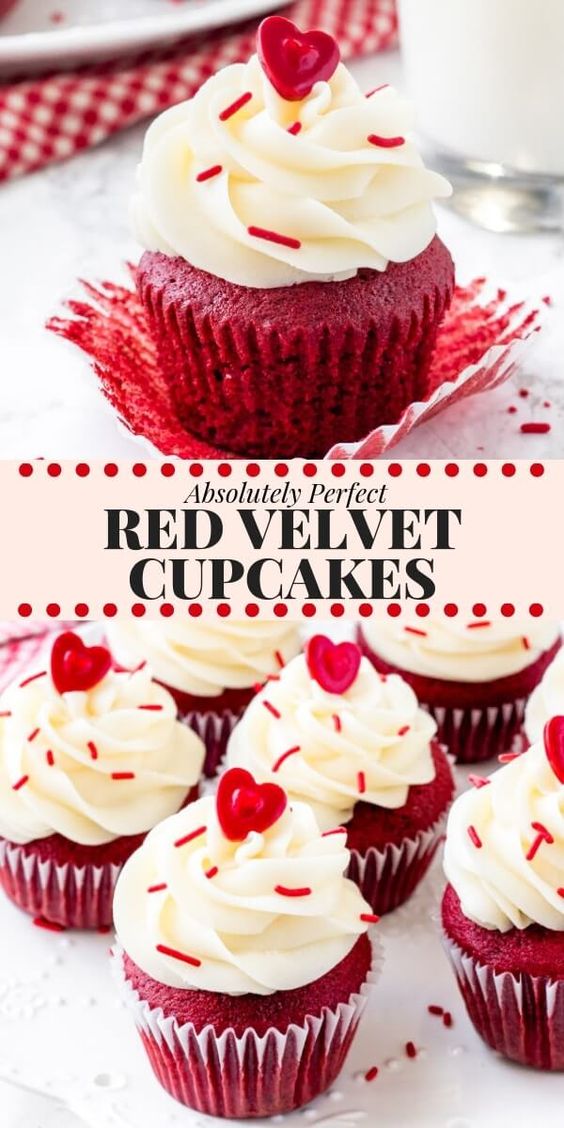 Finding the perfect red velvet cupcake recipe can be a challenge. Now – I love red velvet cupcakes with cream cheese frosting, but they need to be just right. They need to be moist and fluffy with a soft cupcake crumb. And they have to have a mild chocolate flavor, slight tanginess and a beautiful bright red color. I can honestly say that this is hands down, that these are my favorite red velvet cupcakes.
From: Just So Tasty
Pink Velvet Cupcakes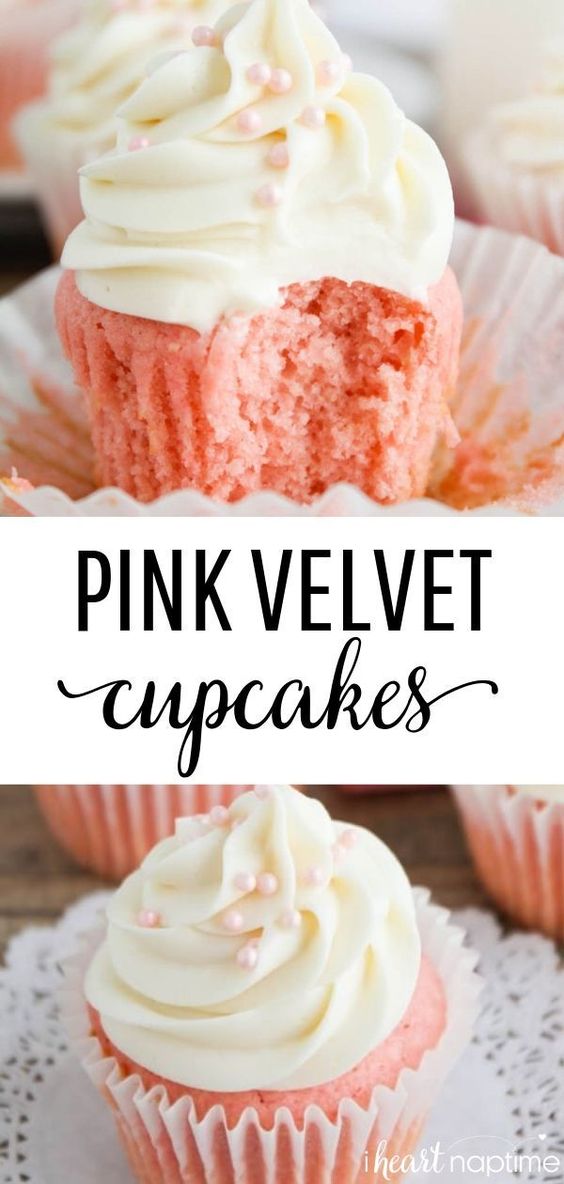 As much as I love to eat red velvet cupcakes, I've actually never made them myself. They always seemed a little intimidating to me, and the thought of adding a whole bottle of food coloring to my cupcake batter was a little overwhelming. When I came across this pink velvet cupcake recipe, I knew they needed to happen in my kitchen and soon!
They're easy to make, use only a few drops of pink food coloring, and are made with super simple ingredients that I always have on hand. They're adorable and delicious too!
From: I Heart Naptime
Valentines Day Cupcakes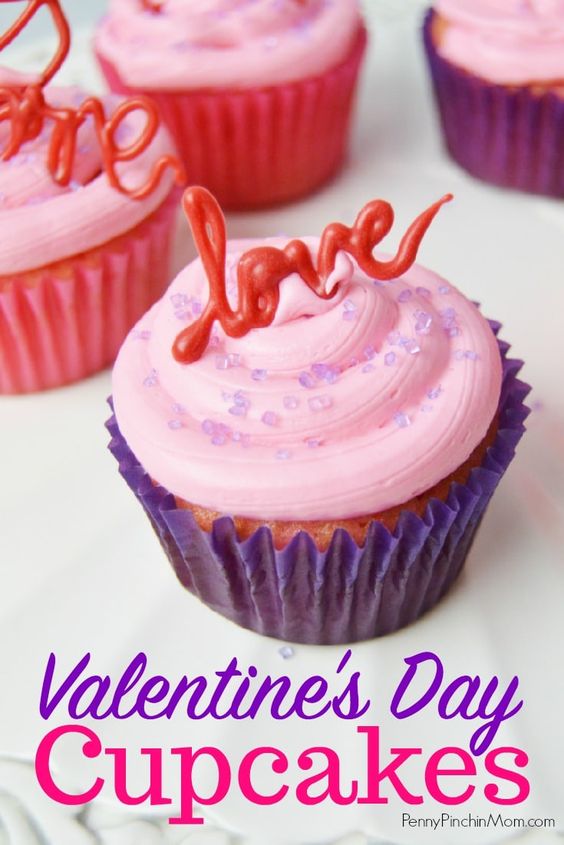 Valentine's Day is another holiday that can be fun when it comes to making treats.  A simple cupcake is an easy way to say I love you.  But, you transform an ordinary cupcake into a special Valentine's Day cupcake with a simple topper.
You won't believe how easy these cupcakes are to make.  If you can use an oven and microwave – then you can make these cupcakes yourself!
From: Penny Pinchin Mom
Love Monster Valentines Cupcakes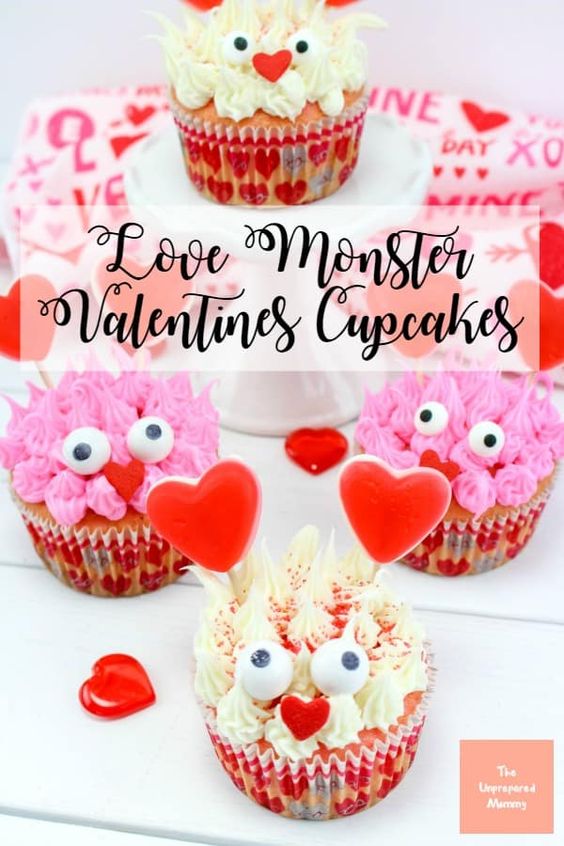 Who wouldn't love getting these Love Monster Valentines cupcakes for Valentine's Day?! They are super easy to make and fun to eat. Have fun with different sized edible eyes or make the "fur" extra long. These Valentines treats are sure to show your loved ones that you care. Do you have any special Valentine's Day cupcake ideas of your own?
From: The Unprepared Mommy
Red Velvet Cupcakes Recipe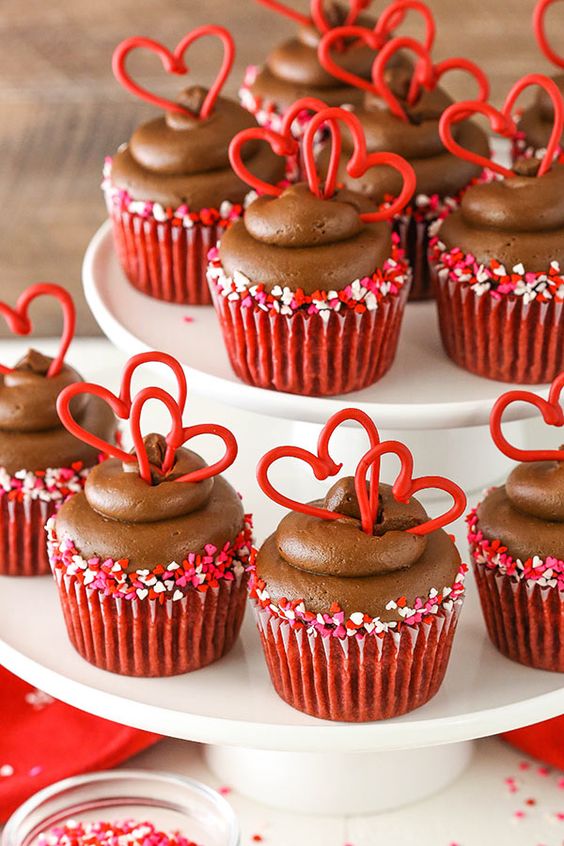 These Red Velvet Cupcakes are super moist and topped with a delicious chocolate cream cheese frosting! They'd be great for any time, but with some super cute heart decorations, these babies are all decked out for Valentine's Day!
From: Live Love and Sugar
Love Bug Valentines Day Cupcakes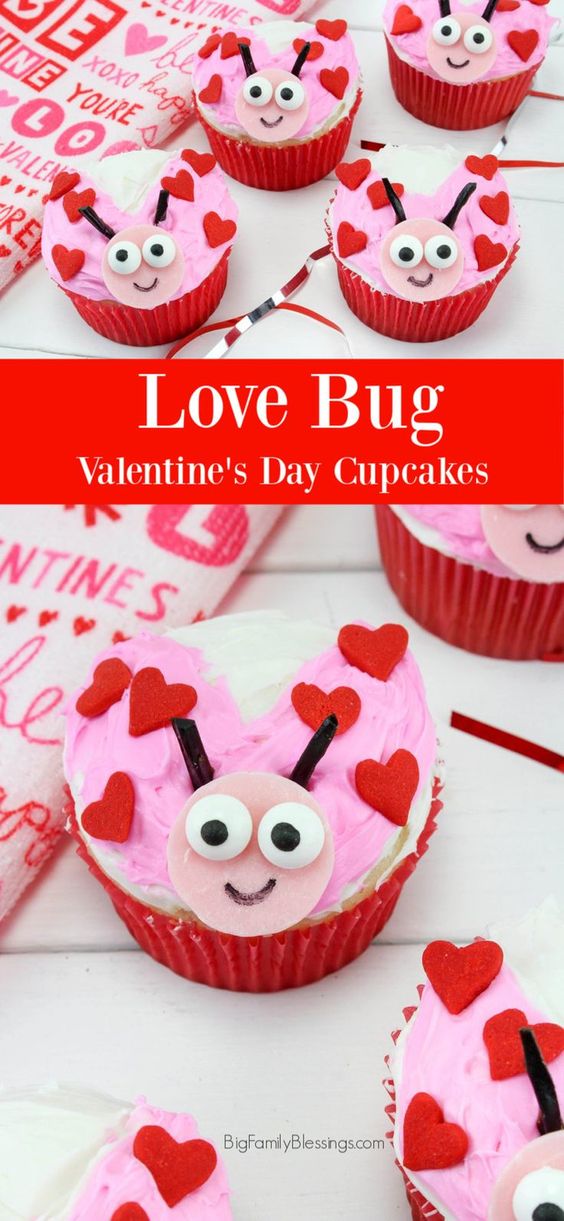 Using heart shaped sprinkles is the perfect way to make these adorable Lady Bug Cupcakes perfect for Valentine's day!
My favorite part of getting ready for our annual Valentine's Day Lunch, is that the children do the majority of the planning and prep by themselves. These Love Bug Cupcakes are so easy, even my youngest children will be able to make them with very little help.
From: Big Family Blessings
Valentines Day Heart Brownie Pops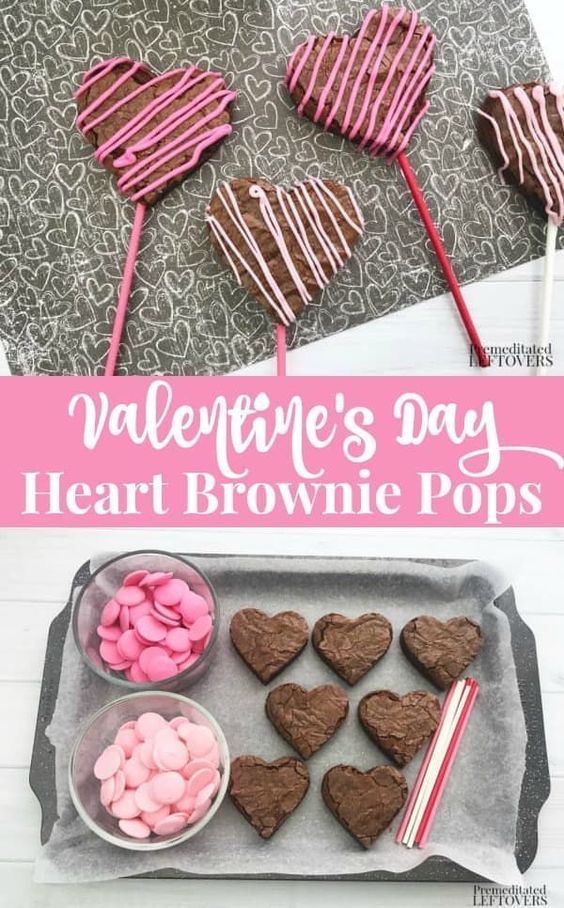 Who knew you could turn a box of brownie mix and some candy melts into such a cute treat?  The Valentine's Day Heart Brownie Pops Recipe makes a great dessert or anytime snack to show your love to your sweetie.  Need a treat for the Valentine's Day class party? They are cute, portable, and just the right size!
From: Premeditated Leftovers
Valentines Cupcakes Served in Candy Filled Plastic Cups

These Valentine Cupcakes served in Plastic Wine Glasses and filled with Candy are such a fun party idea for Valentine's Day!
From: Kitchen Fun with My Three Sons
Valentines Cupcakes

Beautiful, delicious and full of heart – these raspberry & chocolate Valentine's cupcakes are the perfect way to share your love. With moist raspberry cupcakes, a raspberry jam centre, and topped with a luxurious chocolate buttercream frosting. Plus, they're easy to make!
From: The Loopy Whisk
Strawberry Cupcakes with Cream Cheese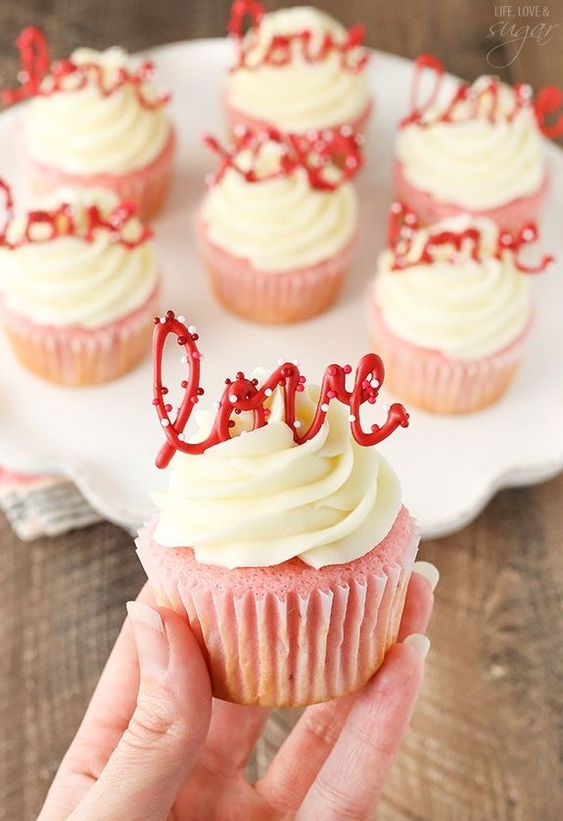 These Strawberry Cupcakes with Cream Cheese Frosting are perfect! So moist and fluffy! And they are an amazing copy of one my favorite cupcakes!
From: Life Love and Sugar
Pink Funfetti Cupcakes with Raspberry Buttercream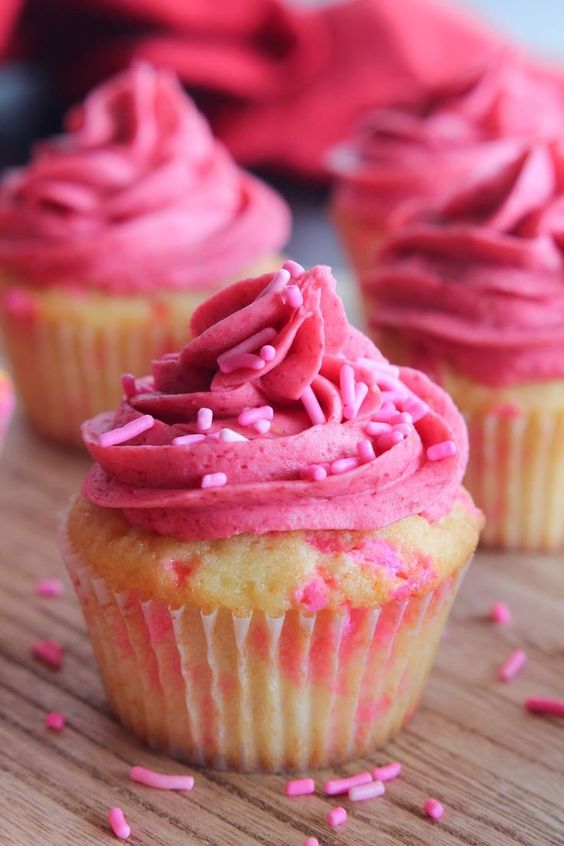 This frosting has a real raspberry flavor. Thanks to freeze-dried raspberries, you get the fresh berry flavor without adding extra moisture from fresh fruit. Plus, no food coloring is needed to achieve this beautiful raspberry color.
From: Eat Cake For Dinner
Pin these Valentines Day treats for later!
If you enjoyed this roundup of Valentines Day cupcake ideas, please take a moment to pin them to your Valentines Day boards on Pinterest!
Also, follow us on Pinterest for more great treats!