With Summer approaching, and warm weather on the horizon, what better time to start thinking about your Christmas in July party? Whenever we get together for this event I like to make some Christmas cookies to bring to the party. Here's 10 recipes I found of some brilliant Christmas themed cookies that will show your holiday cheer!
Enjoy!
-Fluffy
1. Christmas Red Velvet Sugar Cookies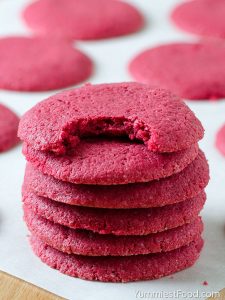 Holidays are coming and all of us are in that holiday mood so you want something nice, sweet and tasty for you and your family and something which is going to make these holiday day special. These Christmas Red Velvet Sugar Cookies are very easy to make and you need only basic ingredients for them.
From: Yummiest Food
2. Whipped Shortbread Cookies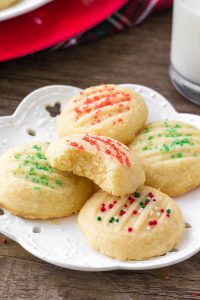 Shortbread is such a classic holiday recipe. Buttery, delicious, and not too sweet – it's the kind of classic that reminds you of your grandmother. What I especially love about whipped shortbread cookies is that they're extra soft and melt in your mouth. So I figured it was time to share my recipe for whipped shortbread.
From: Just So Tasty
3. Candy Cane Kiss Cookies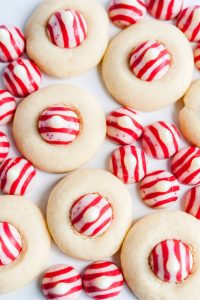 I stopped by my local grocery store a few days ago to buy a bag of miniature chocolate chips and stumbled on these Hershey's Candy Cane Kisses. Whenever I start seeing holiday items, I get overwhelmed with joy because the holiday season is my favorite time of the year.
From: Hot Beauty Health
4. M&M Christmas Cookie Bars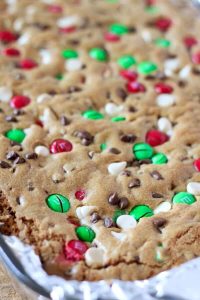 The texture of the M&M'S with the mini chocolate chips and white chocolate chips is so good. Perfect for a party or holiday gift giving. These make a big 9×13 pan of rich and delicious M&M cookie bars. Depending on how you cut them, they can make 18 bars all the way up to 36 bars.
From: No 2 Pencil
5. Christmas Gooey Butter Cookies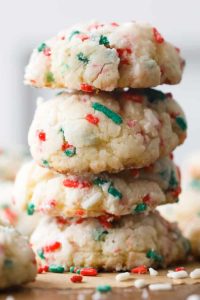 'Tis the season to be jolly, and to eat lots of holiday treats like these amazing Christmas Gooey Butter Cookies! If you're looking for the perfect melt-in-your-mouth Christmas cookies that are super easy to make, you've stumbled upon the perfect recipe.
From: Dear Crissy
6. Christmas Lasagna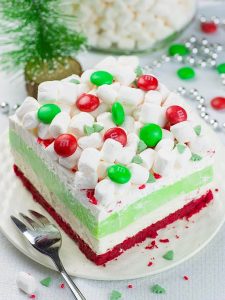 Christmas Lasagna is whimsical layered dessert with buttery red velvet shortbread cookie crust, peppermint cheesecake layer, white chocolate pudding, whipped cream and mini marshmallows on top. I'm sure it will be a hit at your Christmas gathering, like this Christmas Cheesecake, too! Merry Christmas everyone!!!
From: OMG Chocolate Deserts
7. Perfect Christmas Almond Spritz Cookies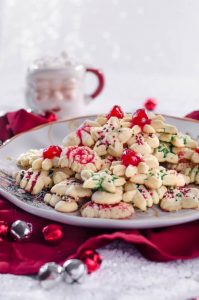 I came up with this recipe after tweaking my mom's recipe over…and over…and over again, and now she even prefers these! They are just a little bit soft, and with two kinds of extracts, they have a delicious flavor to them. They are no longer just for Christmas- these classic spritz cookies are made all year round!
From: Go go go gourmet
8. Christmas Sugar Cookie Bites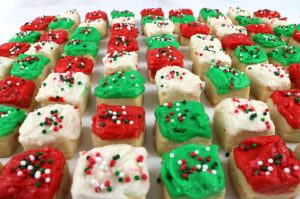 We love Frosted Sugar Cookies.  It is one of a handful of Holiday Treats that we definitely make every Christmas.  This year we tried something new with these Christmas Sugar Cookie Bites and Boy oh Boy were they a hit with the family! They are easy to bake and you don't need Christmas cookie cutters.  They are so easy to decorate that even the youngest family member can join in on the fun.  And mostly importantly, they are a super delicious bite-sized treat of yummy sugar cookie and creamy buttercream frosting.
From: Two Sisters Crafting
9. Christmas Lights Cookies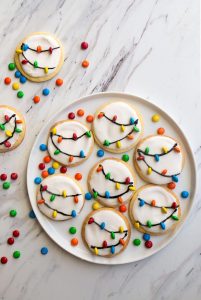 I saw a fuzzy photo of some cupcakes on Pinterest where they turned mini M&Ms sideways to look like Christmas lights on a string. I thought that was so cute and clever, but also: so easy, yet impressive. Big emphasis on the EASY.
From: Desert for Two
10. Santa Belt Brownies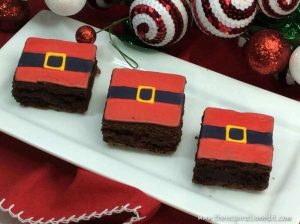 Today I have a great recipe to share on The Inspiration Edit. It is Santa Belt Brownies and I sure hope you like them. I am so looking forward to Christmas 2016 and can't wait to make some treats for my daughter's Christmas Party. It will be so fun.
From: The Inspiration Edit