This Halloween, take the opportunity to make some fun Cake Pops for your party. I've found 13 of the most creative, spooky, and fun cake pop ideas that would wow any party goer or trick or treater and make you the talk of the town.
These cake pops are simple to make and are the perfect treat to hand out. You can't go wrong with making these for guests!
13 Halloween Cake Pops Ideas
To view the full recipe of these Halloween Cake Pops, please click the link below the images.
Flying Bat Cake Pops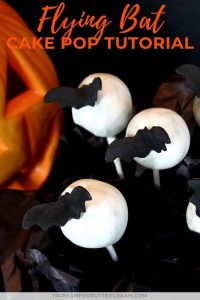 These Flying Bat Cake Pops will be a hit at your Halloween party. It doesn't get much cuter than cake pops that look like a moons with bats flying over.
From: I scream for butter cream
Jack Skellington Cake Pop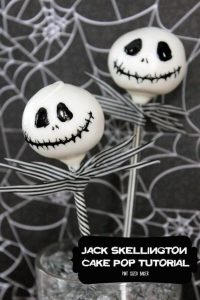 Your little ghouls and goblins are going to love this Nightmare before Christmas with this easy Jack Skellington Cake Pop Tutorial.
From: Pint Sized Baker
Googly Eyed Cake Pops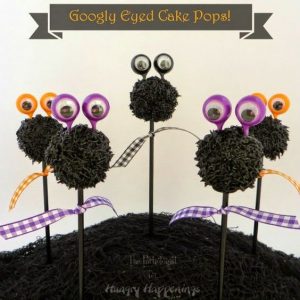 Put a fun twist on your normal desserts and make these Googly Eyed Cake Pops! They're the perfect dessert for your Halloween party and they'll have everyone dying to know how you made these deliciously goofy treats!
From: Hungry Happenings
Gluten Free Monster Cake Balls

These monster Halloween cake balls are the perfect Halloween sweet treat – easy to make, ridiculously delicious and super fun to decorate. They are gluten free, with a dairy free option, and are easily transformed into Halloween themed cake pops by simply throwing some cake pop sticks into the mix.
From: The Loopy Whisk
Halloween Mummy Cake Pops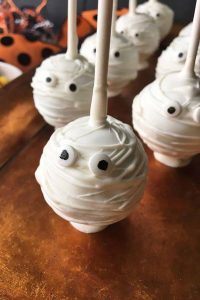 In addition to all the creamy chocolates, sugary candies, and the occasional caramel apple (you know, for when I want to eat healthy), there's one new dessert I will be enjoying this upcoming Halloween holiday: My sweetly scary mummified cake pops!
From: Foodal
Jack O Lantern Cake Pops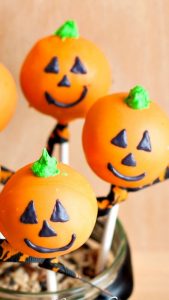 Delicious Halloween Cake Pops decorated like a Jack O Lanterns make a great treat for your Halloween Party. Yummy homemade treats for those special Trick-or-Treaters.
From: Art and the Kitchen
Mummy Cake Pops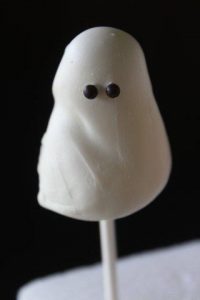 Pumpkins, mummies and ghosts, oh my! Halloween is on its way. Why not celebrate by learning how to make Halloween cake pops? Today, we are going to make these fun and spooky decorated treats that will bring joy to your guests on this scary night!
From: bluprint
Halloween Cake Pops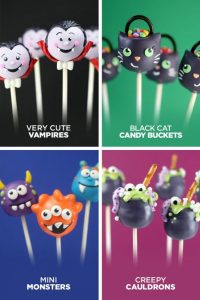 Inside you'll find some very cute vampires, cute black cat candy buckets, creepy cauldrons, mini monsters and more. But, they're not all spooky, some are simply fall-inspired like the awfully cute owls, caramel apples, sweet scarecrows, and candy corn cuties.
From: Bakerella
Ghost Cake Pops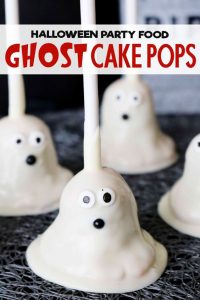 Making Halloween Cake Pops at home should be easy, fun, and without any hiccups along the way. These spooky cake pops are especially simple to make, keeping the whole process a breeze, just as it should be!
From: The Anthony Kitchen
Zombie Cake Pops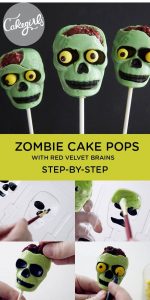 Transform a traditional cake pop into a zombie cake pop for your next Halloween party or creepy affair. These are pretty much like traditional cake pops except that you have an easy to use skull mold that does all the work for you.
From: The Cake Girls
Pumpkin Cake Pops

Save yourself a trip to the pumpkin patch! These adorable pumpkin cake pops look like they were just plucked from the vine.  Crumbled cake mixed with frosting, dipped, and served on a stick make the cutest and festive fall treats.
From: What Should I Make For
Cauldron Cake Pops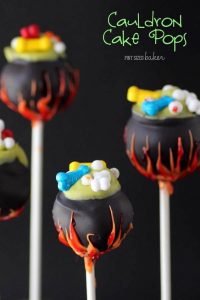 Halloween is upon us! Are you ready? Your little witches and ghouls are expecting some spooky treats at their Halloween Party. These Cauldron Cake Pops are going to wow all the goblins in attendance. I'll show you just how easy it is to make them for your party!
From: Pint Sized Baker
Creepy Spider Cake Pops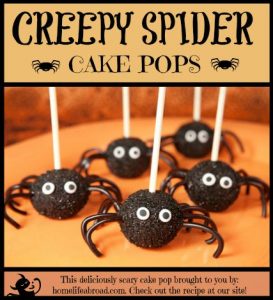 The best thing about Halloween is the delicious sweets that come with it! This is one of my personal favorites – the creepy, crawly, delicious spider cake pops. They are sure to be a hit in any Halloween party or among your kids and family. Cake pops are easy to make – don't be afraid to give them a go and see how the cake pop obsession will take over your life, too.
From: Home Life Abroad
If you enjoyed this curated post of Halloween cake pops ideas, please pin them to your Halloween and Fall desert boards. You can also follow Fluffy's Kitchen on Pinterest for more recipes and ideas!