Here's some of my favorite recipes to kick start your end of summer Labor Day parties. These food ideas will leave your guests in awe and will give your party that extra pop!
13 Labor Day Food Ideas
Enjoy these Labor Day food ideas. To view the full recipe of these Labor Day food ideas, please click the links under the images.
Red, White and Blue Cupcakes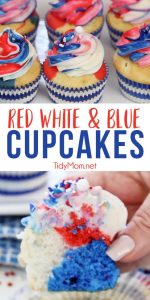 I've seen these cupcakes around the web for a while, like here and here and I've been looking forward to trying them myself! I will say that I was thrilled with the results! They turned out even cuter than I had hoped for.
From: tidy mom
Firecracker Marshmallows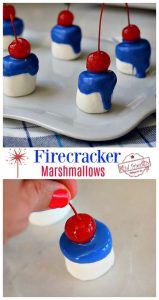 You all probably know that I love a fun and done, easy treat. These Firecracker Marshmallows are so easy, yummy and simply adorable on a platter. They are the perfect Easy Patriotic Treat for your summer parties. Come on in and I'll share my simple "how to" for these yummy sweet treats…
From: kid friendly things to do
Fireworks Cupcakes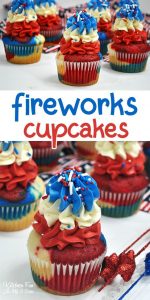 How fun are these Fireworks BOMB POP cupcakes? These are going to be the perfect addition to your 4th of July and Memorial Day!
From: kitchen fun with my 3 sons
Patriotic Cookie Cups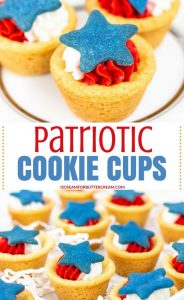 Bite sized, easy to put together, tasty AND patriotic…these patriotic cookie cups are the perfect way to celebrate Labor Day.
From: i scream for butter cream
Firecracker Popcorn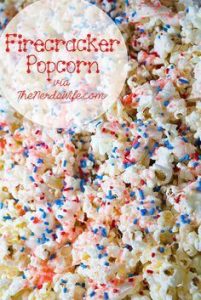 Serve at your patriotic festivities! The Pop Rocks add an interesting texture to the popcorn, and the sweetness of the candy melts is a nice contrast to the buttery flavor of the popcorn. Super fun!
From: the nerd's wife
Red, White, and Blue Jello Shots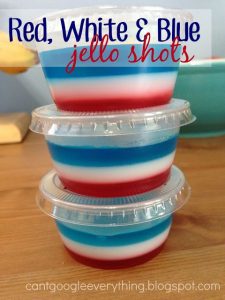 There are several pins on pinterest that show off red, white & blue jello shots, however very few of them include a recipe or how-to, so I thought it would be nice to share how I made my layered jello shots for my 4th of July party! They are fairly easy to make and were a big hit at the party!  Pin now and save for next year's 4th of July!
From: my mini adventurer
Celebration Pretzel Sticks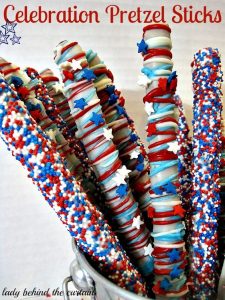 These red, white and blue Patriotic Celebration Pretzels are possibly the easiest dessert you can make.  Fit for ANY celebration!  The perfect combination of sweet and salty! Place on your next dessert table or give as a delicious party favor.  All you need are pretzel rods, candy melts and sprinkles (colors to fit your celebration).  Fill small buckets and line them down the center of your table to make a fun and eatable centerpiece!
From: lady behind the curtain
Patriotic Potato Chip Candy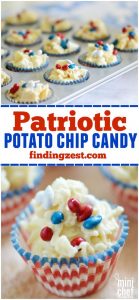 While this recipe does not require any baking, I like to use a mini cupcake pan to help the liners hold their shape and for easy storing while the chocolate sets. Setting up the cupcake liners is an easy way to get a child of any age involved. (I do separate the liners for him first.)
From: finding zest
Patriotic Cones

The season is fast approaching for barbecues, fireworks (sometimes between family members), and fun! Whether you're celebrating Memorial Day or getting an early jump on the 4th of July these simple, fun and easy to make, Patriotic Cones are sure to be a hit.  Make them ahead of time to serve cold treats in, or bring the fixins and let the kids have a great time decorating their own red, white, and blue cone!
From: that bald chick
Summer Fruit Salsa

We've got big plans for the upcoming holiday. I've been planning my menu all week and I can't wait to throw some meat on the grill and get this party started! My guy will be manning the grill and cooking up some brats, hamburgers, hot dogs, and chicken, and I'm in charge of …well everything else.
From: home made interest
BBQ Cupcakes with Grilled Hot Dogs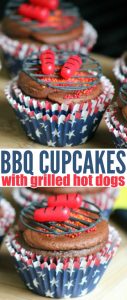 These adorable BBQ Cupcakes with Grilled Hot Dogs really are the perfect cupcakes for memorial day, father's day, 4th of July, labour day and just about any other summer celebration you can think of!
From: life love liz
Firecracker Cupcakes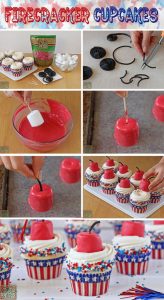 I love putting these on top of cupcakes decorated with a few sprinkles, but I think they would also work on small cakes, or even as a border around a larger cake. Here's what you need to get started!
From: oh nuts
Red White and Blue Cookie Dough Dip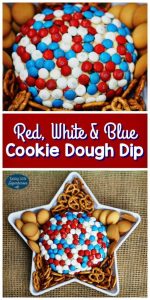 Use your M&M's® Red, White, & Blue Milk Chocolate to make this scrumptious Red, White, & Blue Cookie Dough Dip.  It's the perfect way to celebrate any patriotic holiday and support our troops.
From: raising little superheroes
Pin these Labor Day food ideas for later!
If you enjoyed this Labor Day food roundup, please consider pinning it to your Labor Day board on Pinterest. You can also follow Fluffy's Kitchen on Pinterest for more great recipes and ideas!