We're hitting the middle of the summer now and with that brings a ton of heat. What better way to cool off on a Summer evening than with a nice fruity cocktail! Bring over all your friends for a night on the back deck and treat them to this impressive list of Fun Summer Cocktails
Enjoy!
Whiskey Lemonade made with Honey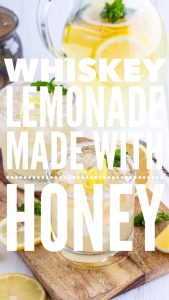 Whiskey lemonade is just the ticket for a warm summer evening sitting out on the deck with a couple friends just enjoying the heat and the company.  This cocktail is SO refreshing and it's obviously homemade lemonade as soon as you taste it, so your guests will appreciate the effort you went to.
From: Cooks with Cocktails
Citrus Bourbon Iced Tea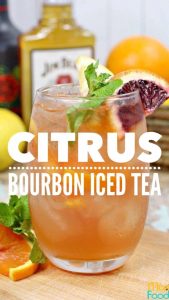 This Citrus Bourbon Iced Tea is just the refreshing summer drink with a kick you have been looking for! This blood orange, lemon and lime bourbon sweet tea is great by the pitcher. Serve it at your next cookout.
Freshly brewed tea with lemon and blood orange wedges is spiked with bourbon and blood orange liqueur. Garnished with fresh mint leaves and more citrus.
From: Mom Foodie
Pineapple Whiskey Sour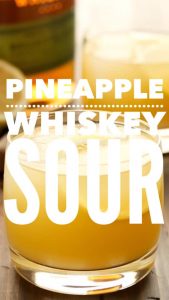 A simple three ingredient, refreshing pineapple whiskey sour. Light, flavorful, and an absolute must make.
From: Baked by Rachel
Lemon Lime Vodka Party Punch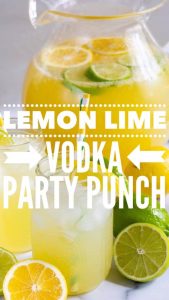 Every time I host any sort of gathering, whether it's 5 people or 50, I serve punch. I'm always trying to come up with new fun punch recipes but all of them always have one thing in common: vodka. I just love vodka party punch! Unlike tequila, vodka punch doesn't come back and bite me in the behind (ha) plus it's easy to mix and match flavors.
From: Crazy for Crust
Rosemary Blueberry Vodka Spritzers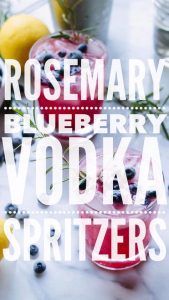 I love the earthiness from rosemary, but I was also thinking that lavender would be lovely, thyme could be nice, and even the mellow, sweet fragrance of chamomile would work well in here. I love having options, and I highly encourage you to experiment with whatever herbs you happen to have on hand. This cocktail can work with either fresh or frozen blueberries. If using frozen, you'll need to let them slack out a bit before muddling, otherwise they'll be really tough to break apart. You could also try making it with strawberries or blackberries, or heck, I'm sure just about any fruit would taste real nice muddled up with some booze.
From: Coley Cooks
Mango Tequila Sunrise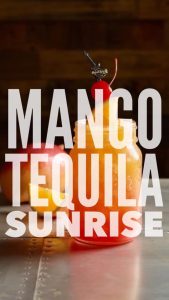 Hard Rock Cafe Dallas is shaking up the fall season with new, Bold Sips. These drinks are perfect for fall because they take traditional cocktails and spice them up with with unique flavors with just the right amount of spice.
From: Liquor.com
Mexican Strawberry Tequila Mojito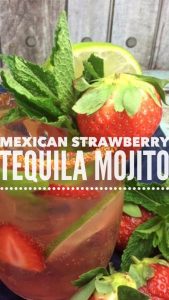 I don't know about you guys, but there are very few things I can think of that taste better than a Mexican Strawberry Tequila Mojito. It's so yummy and refreshing at the same time; it totally hits the spot. Whether you're hosting a fun Mexican fiesta with your friends and family or gearing up for Cinco de Mayo, I've got the hookups to get you ready to go for an amazing celebration.
From: Oh My Creative
Cool Gin and Cucumber Cocktail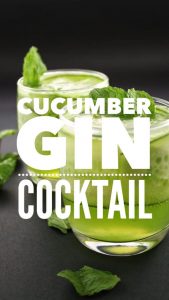 In honor of St. Patrick's day, I've decided to unveil this super cool and super yummy cucumber gin cocktail. What I love most about this drink (and what makes it different from most recipes you'll find on the internet) is that it is made with fresh cucumber juice. Don't get me wrong, I love a stiff drink, but there is something super refreshing about cucumber juice that takes this favorite to another level.
From: Life She Lives
Pineapple Moscow Mule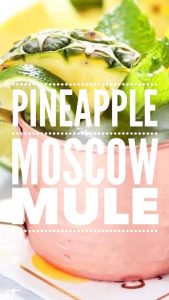 It's mixed drink time once more! It's been a while since I've imparted a mixed drink formula to you and it's about time I've changed that and this Pineapple Moscow Mule formula is the ideal method to bounce back in with a beverage. Good health!
From: Mommy's Kitchen
Beach House Cosmos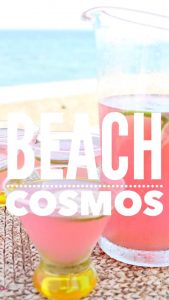 I may be posting a few cocktail recipes this summer, but really and truly I'm not at all a drinky-drink kind of girl.  It's usually wine or bust for me.  But I've been expanding my horizons and trying new things.  All of the cocktails I've been posting I've absolutely loved.  And this one I'm sharing with you today was the best one ever!
From: Recipe Girl
Vodka Watermelon Cocktail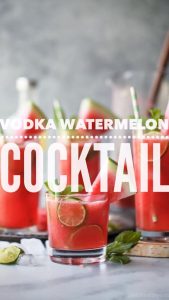 Ok, moving on to today's recipe – this Vodka Watermelon Cocktail. Only 4 ingredients and you'll be sipping away on this light refreshing cocktail! It's made with fresh chilled watermelon, coconut sugar, fresh lime juice and Vodka! It's low in sugar and only 136 calories a serving!
This drink is basically like watermelon agua fresca meets cocktail! It's delicious!
Definitely a must make this summer.
Cheers my friends! Hope this fun easy cocktail quenches your thirst.
From: Joyful Healthy Eats
Sparkling Peach Sangria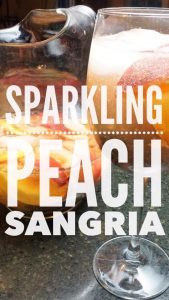 Sparkling Peach Sangria is a refreshing cocktail recipe perfect for hot summer months. A white wine sangria featuring fresh fruit, lemonade, sparkling wine and mint leaves for the perfect girls night in drink!
From: Savory Experiments
Strawberry Mint Gin and Tonic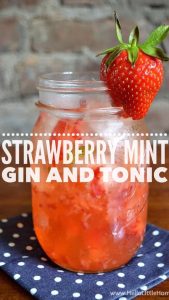 I've constantly adored a decent gin and tonic. It's a basic mixed drink to make, in addition to there's simply something so summery and invigorating about it! Since I cherish G and T's so much, I've added a little wind to my go-to drink to make this Strawberry Mint Gin and Tonic. It's my new summer fave!
This Strawberry Mint Gin and Tonic couldn't be less demanding to make. Get a muddler and use it to daintily squash together a few strawberries, some mint, and a little sugar to improve up the berries. Blend in some gin and lime juice, at that point finish off your beverage with tonic water.
From: Mommy's Kitchen
Tequila Sunrise Margarita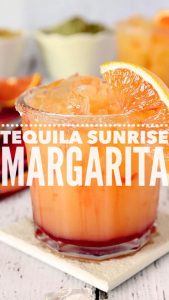 One thing I know about a Tequila Sunrise, they are supposed to show a layering that mimics the colors of a real sunrise. The recipe I was given had all the ingredients shaken together and while a sort of pretty pinkish orange color; it just did not work for me. Round One was out of contention.
From: Creative Culinary 
Pineapple Jalapeno Smash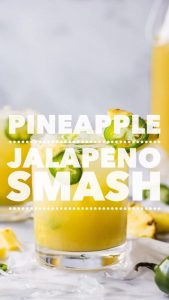 I always forget how much I love pineapple. I know, that sounds bizarre, but really. Ask me my favorite fruit, and obviously I say strawberries (I mean, you have been around here, right? Obsessed.). But then I get to thinking and I'm like omg I love watermelon too. And reallllllyyy good cantaloupe. And then I remember the amazing joy that is a fresh, sweet pineapple.
From: Fork in the Kitchen