It's getting close to that spooky time of year again and I wanted to share some of the best Halloween Cocktails to offer to your guests at your party to make it festive!
Bring all of your friends over for a spooktacular party and give them a real chill with these cocktails.
I guarantee they'll remember it!
Spicy Rum Apple Cider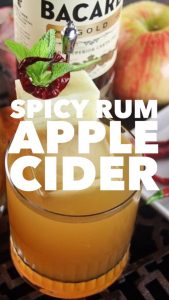 So, come on in and mingle with the other guests and grab yourself a cocktail. We've made a delicious little number called the Spicy Rum Apple Cider. It features Bacardi Gold rum and has a bit of a spicy kick. But you'll also taste a hint of cranberry, apple cider and the spicy kick of Thai Peppers. Raise your glass and let Bacardi rum transform the night and the occasion. Cheers!
From: This Worthey Life
Soul Taker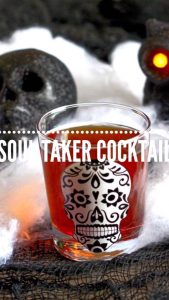 It's not the most exciting or dramatic looking drink you've ever seen, it is? It's just kind of brown. A lovely brown, mind you, but it lacks the drama of, say, a stunning bright blue cocktail.
That's why I prefer to dress it up like it's Halloween or Day of the Dead. When a drink isn't gorgeous on its own, you can always give it a special glass.
From: Mix that Drink
Green Witches Brew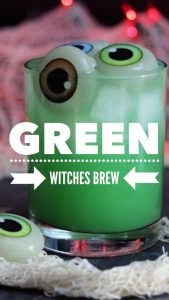 If you are hosting a Halloween party this is a great drink to make in a batch and serve a crowd.  Start with a beverage dispenser and add vodka, pineapple juice and white soda to fill the container. I don't use white soda when making a single serving but it will help you fill a large container and cut the sweetness a bit when serving a crowd.  Then add blue curacao a little at a time until you achieve the perfect color of green.  Leave a bucket of ice and eyeball ice cubes nearby and let guests serve themselves.
From: Creative Ramblings
Witches Blood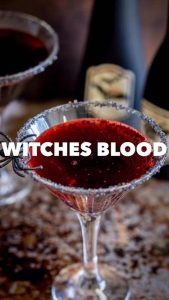 This Witches Blood Halloween Cocktail is perfect for whipping up in a big batch for a crowd. An easy to make cocktail that mixes vodka, whiskey and lemon together to create a twist on a whisky sour recipe, but with the added sweetness of cherry.
From: Sprinkles and Sprouts
Hocus Pocus Halloween Punch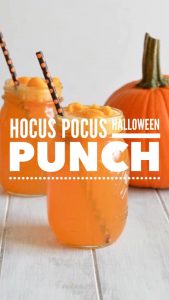 Halloween isn't just for kids. Adults and kids can still enjoy dressing up in fun costumes and eat creepy treats.  Don't forget about a special drink for your next Halloween Party. This Hocus Pocus Halloween Punch is kid-friendly and yummy too!
From: Nourished Simply
Black Magic Mules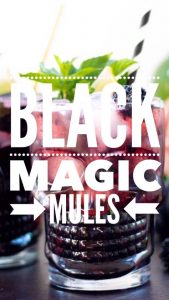 To make the cocktail in theme with Halloween, I was initially going to dye the vodka I used for these mules black… then I was like that's just a recipe for having a party full of people with creepy accidental black teeth. Could you IMAGINE? The blackberries do a great job of adding the creepy black + purple color and it also gives the mules a refreshing twist, so you have a fun and tasty drink. A win-win.
From: Bits and Bites
Witch's Potion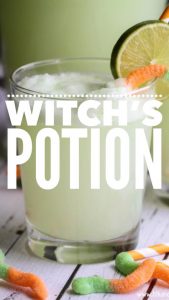 I warned you last week that we'll be sharing more Halloween treats, and today is one for Witch's Potion. It's kinda like the Witch's Brew we did last year, but it's kinda different. We liked it so much we wanted to make another version. My whole family really liked this recipe because it has lime and pineapple and we love those flavors!! Oh yeah – and because we love gummy worms…. AND it's my favorite type of gummy worm which is green and orange!!
From: Lil Luna
Hocus Pocus Halloween Cocktail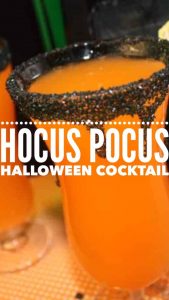 If  you have a little one who is relying on you to make their Halloween costume dreams come true, enjoy every second! The mutant ninja and ballerina phase is short lived!
Regardless of where you are in the realm of Halloween activities, enjoy this cocktail with me, won't you?
From: The Foodie Affair
Halloween Orange Sherbet Punch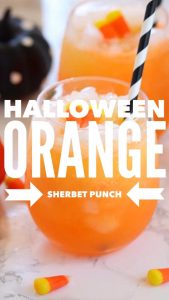 There is not much to say about this recipe. Just combine all the ingredients in a bowl and stir until well mixed. Just make sure to use crushed ice for this punch. Frozen punch tastes so much better, and you can taste the citrus flavor in every sip.
A handful of ingredients can feed a large crowd, and this fizzy drink surely packs a PUNCH of flavor.
This Halloween whip up this fruity punch, pour and drink together. A perfect drink to celebrate THE spooky night!!
From: Ruchis Kitchen
Black Magic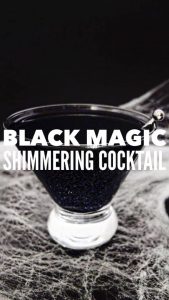 When I was a kid, Halloween was my favorite time of year. There was something magical about that spooky night that put electricity into the air for me.  Plus, candy, duh.
For me, Halloween wasn't about the scary things, it was about all the fun that came with the holiday. I loved making caramel apples, sherbet punches, and there were always crafts galore! Of course, as I've grown up, I've carried that same love of Halloween into adulthood. Except I get to have way more fun with it now.
Maybe it's from growing up with movies like Hocus Pocus, Harry Potter, and Practical Magic, but I am fascinated by witches. Not that I necessarily believe in them but the concept just entertains me. Since we learned that in the Harry Potter world, I'm a grade A potions master. It was time to take a stir into a little darker witch magic and trust me, you can't get much darker than this.
From: Elle Talk
Blood Clot Shot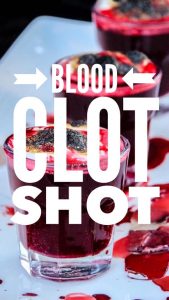 Anyway, you're not here to relive my youth with me, are you? Na, I didn't think so. You're here for the gross but still wickedly cool Blood-Clot Shots recipe, aren't you? Thought so. Okay then, I'll give you what you came for. Let's get to do it! Below I'll show you just how you too can make your own, slightly disturbing (but super 'licious Blood-Clot Shots. Here we go.
From: This Worthy Life
Pumpkin Pie Shots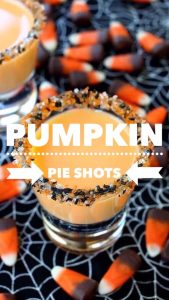 Where my pumpkin pals at? I know you, and your obsession with anything and everything pumpkin! And since we are almost officially in September, I can introduce you to my favorite new pumpkin creation: Pumpkin Pie Pudding Shots!
From: Mantitlement
Witches Brew Halloween Cocktail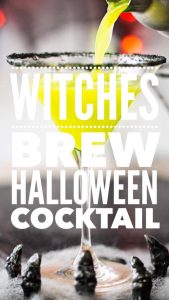 If you're having a Halloween party and looking for a signature drink… look no further than this witches brew cocktail!  Your guests will LOVE the glowing greenish color, and gladly sip this sweet cocktail all night long!
From: The Chunky Chef
Purple Witches Brew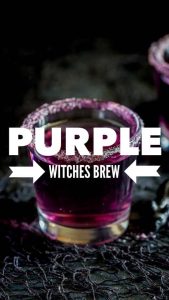 This 'Witches Brew'- halloween cocktail is so stunning. Based on a Purple Hooter, the vivid colour is dramatically beautiful, but with a dark eerie feel perfect for an easy halloween party cocktail/shot. It is a simple vodka based cocktail, that is delicious and just a little spooky but still with a sense of fun. Keep it short as a shot or alcohol shooter or add soda for a long drink.
From: Sprinkles and Sprouts
Poisoned Apple Cider Cocktail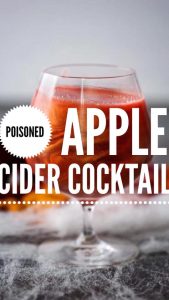 Get into the Fall and spooky Halloween spirit with this poisoned apple cider cocktail… made easy with just a handful of ingredients!  The optional luster dust gives the cocktail it's mystical red and golden swirls, which make for one eerily beautiful drink!
I know, I know, Halloween is NOT that close.  BUT, this drink is so perfect for any time of year!  Granted, the mysterious swirls are just destined for a Halloween party, but I like to serve these from September to December!
From: The Chunky Chef
Vampire Cocktail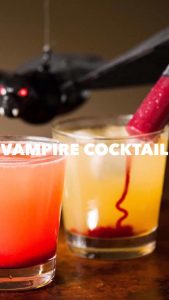 Vampire Cocktail – how fun! I have to admit, I really enjoy making this cocktail.  First of all, I love every ingredient in this drink.  The base of the cocktail is an easy to make combination of vodka and amaretto shaken with ice combined with orange juice and club soda. That alone is delicious, but when you inject the gory blood, errrr I mean sweetened raspberry puree, the drink not only tastes delicious but you realize this Vampire Cocktail is the must-serve drink for any Halloween party. To make something look gory and disgusting, yet taste awesome, just tickles me pink.
From: Self Proclaimed Foodie
Cranberry Orange Eyeball Punch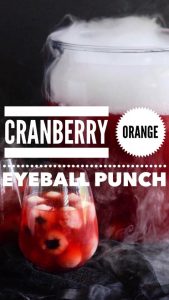 Eep! How awesome is this Sparkling Cranberry Orange Eyeball Punch?? Or, if you are feeling extra gory, Bloody Eyeball Punch!!
You would not believe how easy this punch is to make. I know the eyeballs probably look hard, but they couldn't be any easier! The eyeballs are made of lychees with blueberries stuffed inside. Genius, right??
From: The Novice Chef
Like these cocktail recipes? Pin them to your Fall and Halloween boards! Thanks!