With the summer hitting it's stride, I wanted to share some healthy summer food ideas I found. Here's 17 summer meals that are delicious, and nutritious. These meals are perfect for feeding your guests at your summer get togethers and will have them feeling full and healthy.
Enjoy!
1. Caprese Pasta with Italian Sausage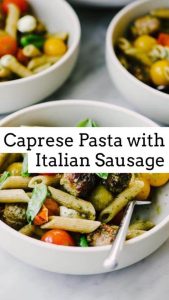 This caprese pasta with whole wheat penne and Italian sausage is a protein packed, lighter take on the classic. It's packed with a full pound of fresh tomatoes, and just enough pasta to satisfy a craving but still be considered low carb. You'll love this bright, intensely flavored summer pasta recipe!
From: Our Salty Kitchen
2. Gluten Free Chickpea, Tomato and Basil Salad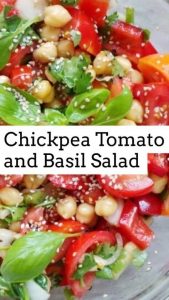 As you can imagine this salad is not just great for your taste buds, it's also super healthy because it's bursting with carotenoids (thank you red pepper, tomatoes, and carrot!), vitamin C (all veggies), E (sesame oil, sesame seeds), detoxifying phytochemicals from onions, and thanks to sesame seeds – lots of calcium.
From: Beauty Bites
3. Healthy Summer Squash Casserole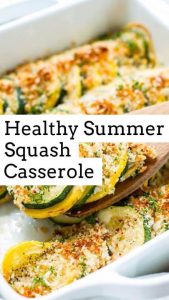 A healthy squash casserole recipe that is made with yellow squash, zucchini, a crunchy breadcrumb and Parmesan topping and then baked in the oven to crispy perfection!  This easy summer squash and zucchini casserole is a wonderful side dish casserole recipe to serve up for summer picnics or at your Thanksgiving table!
From: Evolving Table
4. Cheesy BBQ Chicken Zucchini Nachos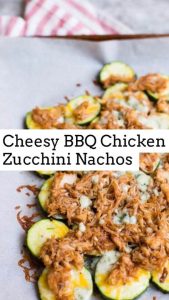 If you're worried about the kids not really loving these nachos, you can first try cooking a portion of the zucchini with just a little bit of cheese on them, and serve the bbq chicken separately for the kids. Or, these can be an adults only nacho party and you can make the kids their own version with regular tortilla chips!
From: Oh Sweet Basil
5. Teriyaki Chicken and Pineapple Kebabs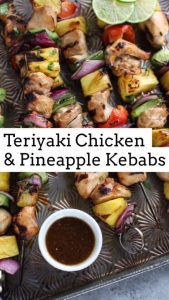 Speaking of fab grilled meals, I just had to share these Teriyaki Chicken and Pineapple Kebabs with you this week because they're a meal I make pretty often in the summer. They're easy enough for a weeknight dinner and can be prepped ahead by chopping all the veggies and pineapple and mixing up the marinade. They're also one of my go-to recipes for entertaining because they're simple and they look great piled on a platter on the picnic table and served with fresh salads and veggie sides.
From: The Real Food Dietitians
6. BLT Summer Rolls with Avocado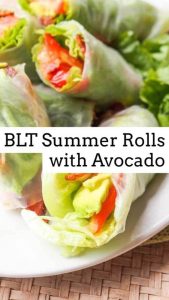 The classic BLT reconstructed and offered in new form — BLT Lettuce Wraps with Avocado wrapped up in rice paper wrappers for easy eating. Low Carb – NO bread needed! – these are made with only six ingredients and 30 minutes and make for the perfect appetizer, lunch or light dinner. No bread to distract you from the full flavors of the real stars in the standard sandwich. Low carb, paleo, dairy free and gluten free.
From: Avocado Pesto
7. Fruit Salsa with Baked Cinnamon Sugar Pita Chips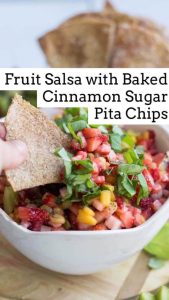 Sweet and healthy at the same time, this fruit salsa is made with fresh fruit and scooped up with a crunchy homemade pita chip. Grab yourself some strawberries, mango, kiwi and and a big bowl and get ready to make this easy dessert!
From: What Molly Made
8. Hawaiian BBQ Chicken Wraps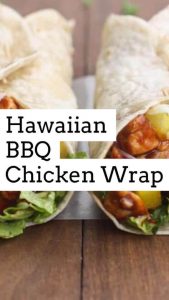 Let me tell you, these Hawaiian BBQ Chicken Wraps are just as delicious as they look. You can make your bbq sauce from scratch, or use your favorite bottled kind. I prefer Sweet Baby Rays Original BBQ Sauce. You can have these wraps made from fridge to table in 20 minutes or less. Perfect for an easy weeknight meal or even for lunch.
From: Tastes Better From Scratch
9. Strawberry Spinach Salad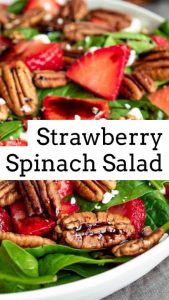 Simple salads like this Strawberry Spinach Salad make a great addition to summer dinners, Easter, Mother's Day, or any summer party. All you need to do is buy the best ingredients you can find, toss them together, and drizzle the whole thing with an easy balsamic reduction, or your favorite salad dressing.
From: Home Made Interest
10. Spinach, Avocado & Berry Salad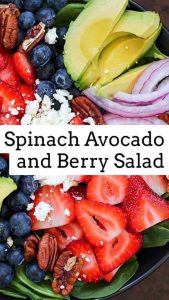 Not only is this Spinach Salad Recipe beautiful and colorful, but it's also delicious! A bed of spinach is topped with berries, California Avocado, red onion, feta cheese, walnuts and then topped with an incredible homemade honey-garlic vinaigrette!
From: Yummy Healthy Easy
11. Grilled Sweet Potatoes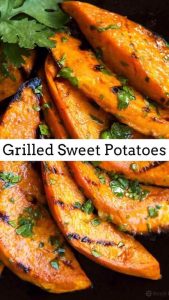 Have you ever tried grilling sweet potatoes? It's quick and easy. You just peel the sweet potatoes, slice them into 1/4-inch slices, paint them with olive oil, sprinkle on some salt, and place on a hot grill.
To serve, you want to slather them with some sort of vinaigrette—olive oil to keep them from tasting too dry, and an acid like lime juice or lemon juice to balance the sweetness of the sweet potatoes.
We played around a bit with this recipe, after thinking we had "discovered" the wonderful combination of lime, cilantro, and sweet potatoes, only to find out many others have made a similar discovery. It's a great combination!
From: Simply Recipes
12. Vegan Summer Rolls with Peanut Sauce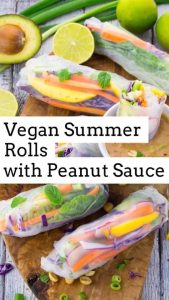 These rice paper rolls with mango and mint are the perfect light dinner for hot summer days. They're healthy, fresh, low in calories, and super delicious! I love serving them with an easy peanut dipping sauce.
From: Vegan Heaven
13. Mediterranean Salmon and Artichoke Skewers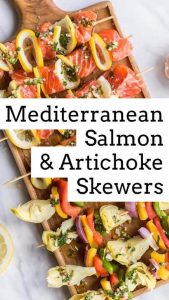 If you're looking for a fun and healthy BBQ recipe this summer, these Mediterranean Salmon and Artichoke Skewers are just the thing! Salmon is skewered with thinly sliced lemons, and served with skewers of artichokes, peppers, and onions. A simply parsley marinade adds flavor and keeps everything moist on the grill.
From: Sunkissed Kitchen
14. Watermelon Pizza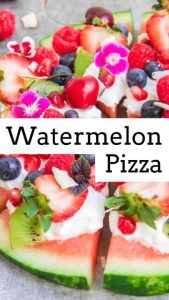 There's nothing like a good slice of refreshing, thirst-quenching watermelon on a hot day. While a regular slice of watermelon is perfectly good, it's also fun to spice it up sometimes.
This watermelon pizza recipe is fun, easy to make, and will be a hit amongst everyone! (I mean, who wouldn't want a slice of watermelon pizza?!)
It also has the added benefit of being much lower-calorie and "bikini friendly" than a regular slice of pizza.
From: Choosing Chia
15. Grilled Summer Vegetable Pasta Salad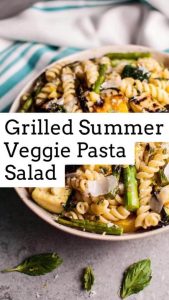 This grilled vegetable pasta salad is healthy and full of flavor! Zucchini, asparagus, corn, and yellow bell peppers are grilled to perfection and tossed with a fresh, lemony dressing. Easy to make and feeds a crowd!
From: Salt and Lavender
16. Grilled Summer Vegetable Quesadillas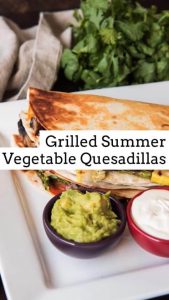 These Grilled Summer Vegetable Quesadillas are an easy, healthy, and delicious vegetarian lunch or dinner and a great way to use up Summer's fresh produce! Loaded with grilled fresh peppers, onions, and mushrooms, then filled with a blend of melted mozzarella and pepperjack cheese, these Grilled Summer Vegetable Quesadillas are a surefire solution to your meatless Monday dinnertime fix!
From: House of Nash Eats
17. Grilled Pineapple Chicken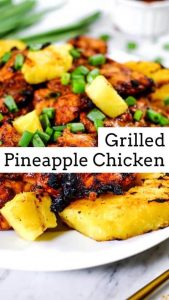 The flavor of the chicken marinade for this recipes is like a cleaned up Hawaiian BBQ sauce. It's a little smoky, a little sweet and will have you licking the extras off your fingers! We use all real food ingredients unlike many store-bought sauces and marinades and dates are our primary sweetener, keeping this one Whole30 compliant if that's your thing!
From: Real Simple Good