Looking for some fancy eye grabbing treats for your Halloween party this year? Try these Halloween cupcake ideas! They are guaranteed to make you the talk of the town!
These cupcakes are really easy to make and look sensational!
20 Halloween Cupcakes For Kids
To view the full recipe of these Halloween Cupcakes, please click the links below the images.
Cauldron Cupcakes

Hosting a Halloween party this year or need a cute and easy treat idea? These Cauldron Cupcakes are perfect for parties and easy to make with kids.
From: A pumpkin and a princess
Mummy Cupcakes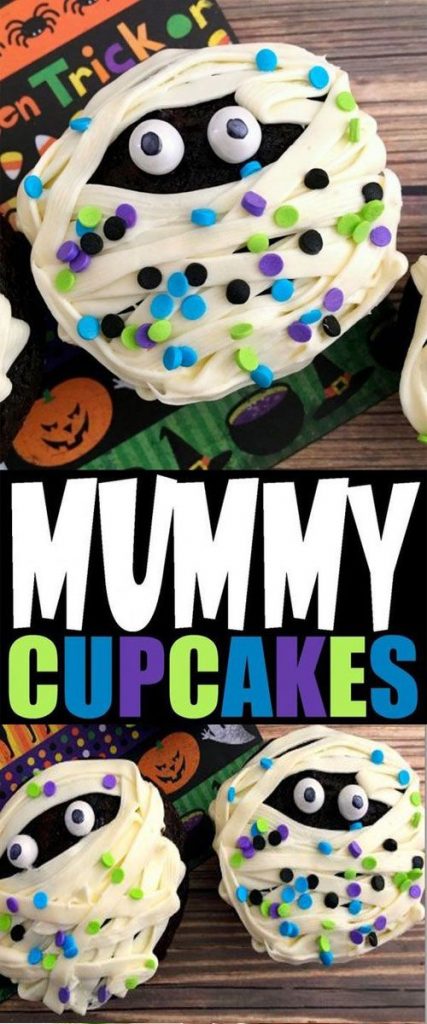 If you are looking for creepy Halloween mummy cupcakes, these mummy cupcakes are really easy to decorate and will be a hit at any Halloween party. These spooky, sweet Mummy Halloween Cupcakes are the perfect addition to any Halloween celebration.
From: Well Chopped
Halloween Spider Cupcakes

Halloween Cupcakes with a spider design are an easy, spooky cake decoration idea that your kids will love to help you make for Halloween! All you need is baked chocolate cupcakes, black and white frosting and some fun toy spider rings.
From: Tastes Better from Scratch
Monster Eye Cupcakes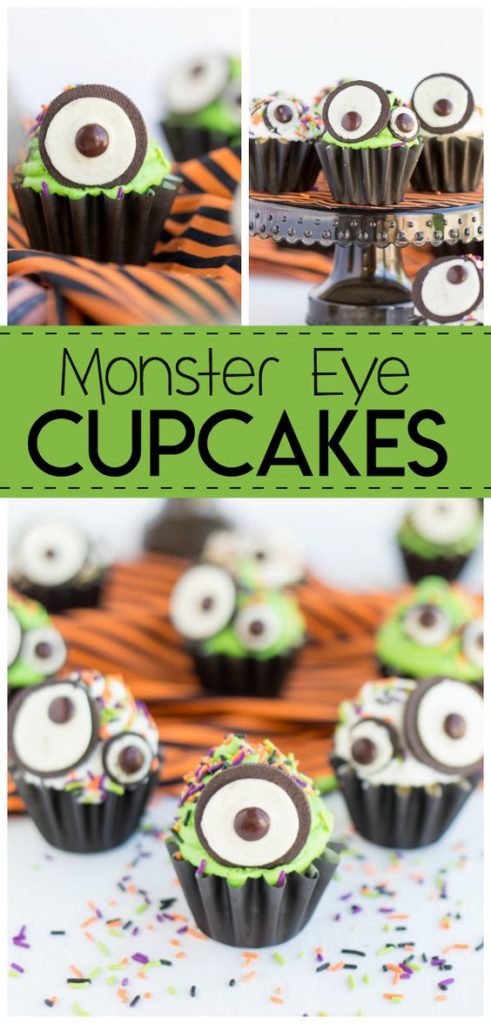 We aren't big into Halloween, as far as ghosts, goblins, vampires and other creepy things go, but we do love our fair shared of cute ghosts, monsters, and friendly Jack-O-Lanterns.  These Monster Eye Cupcakes are another fun treat to serve at parties or classroom settings, if allowed.  It's a simple food craft that even the kids can have fun making.
From: Made to be a Momma
Cat and Moon Cupcakes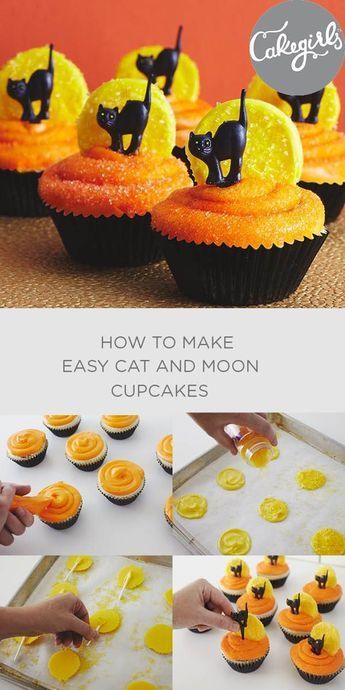 So cute and easy to make, you'll definitely want to cross the paths of these little black cat cupcakes. The moons are sparkly discs of melted candy coating and the kitty cats are easy to use cake novelties, which make these treats both quick and fun to make with kids. So, just follow the steps below to create these show stopping spooky Halloween goodies.
From: The Cake Girls
Marshmallow Ghost Cupcakes

A spooky yet delicious recipe for Halloween Marshmallow Ghost Cupcakes that will please kids and adults on this Halloween!
From: Tasty Apron
Halloween Cupcakes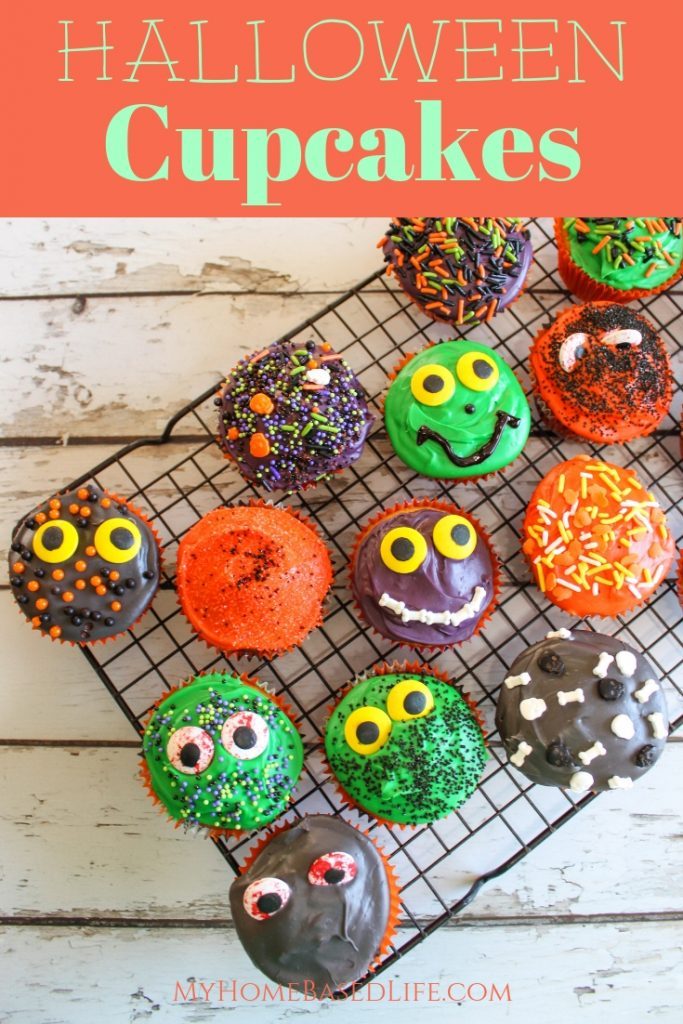 Its Halloween time and I am so excited because that means our family holiday traditions are getting closer. We added these Halloween Cupcakes this year and they are a huge hit so far
From: My Home Based Life
Brownie Cupcakes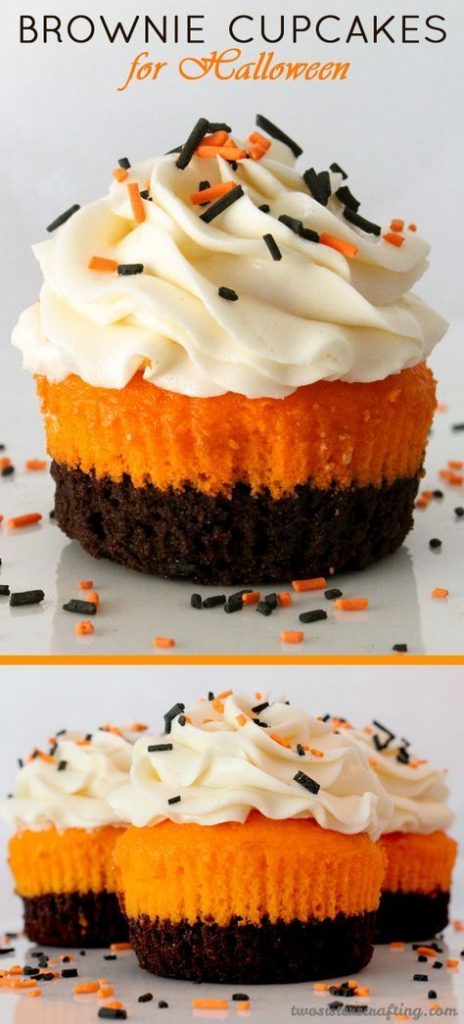 Brownie Cupcakes are super yummy and so easy to make. A unique twist on a classic – brownies plus cake plus frosting in one unique and delicious Cupcake.
From: Two Sisters Crafting
Slimy Cupcakes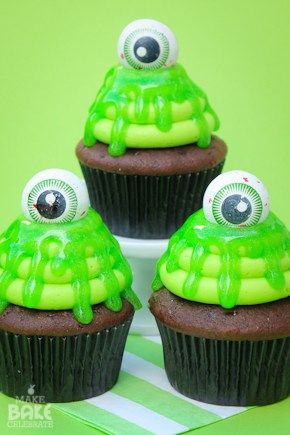 Ever since I've wanted to try some more "slimy" treats so the very second I thought I could get away with it…I whipped up some of these slimy little guys.
From: Make Bake Celebrate
Halloween Swirled Cupcakes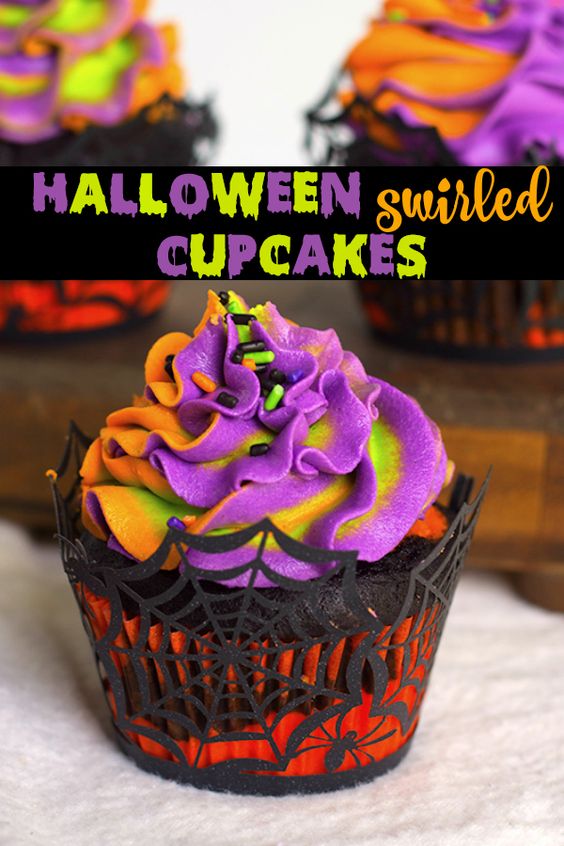 love everything about these Halloween swirled cupcakes. I'm a sucker for pretty swirled cupcakes. Throw some gorgeous glittery spiderweb cupcake wrappers  on top of swirled frosting and I'm all over that. You definitely have to be very careful with these colors though.
From: Cookie Dough and Oven Mitt
Witch Hat Cupcakes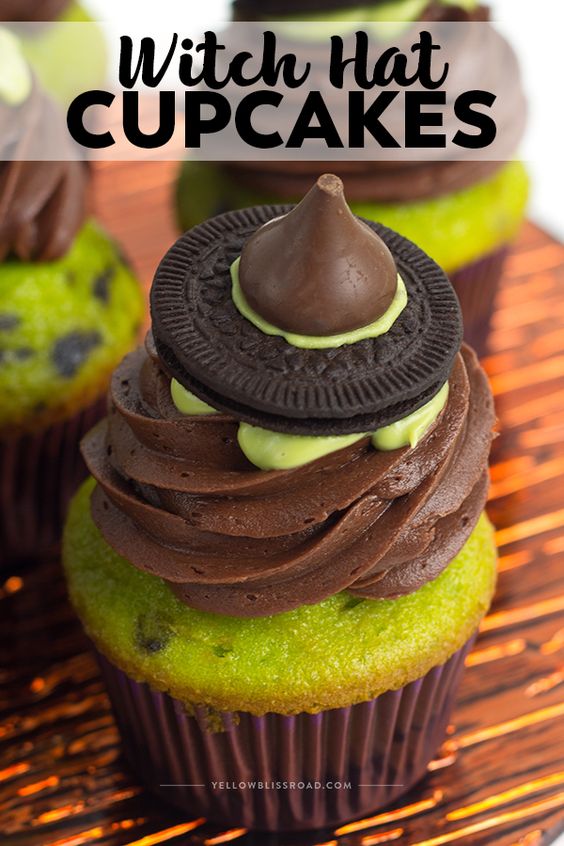 Need a cute Halloween treat for the kids? These witch hat cupcakes are topped with an edible DIY Witch Hat and are simple to make – they'll be a huge hit for any Halloween party celebration!
From: Yellow Bliss Road
Halloween Cupcakes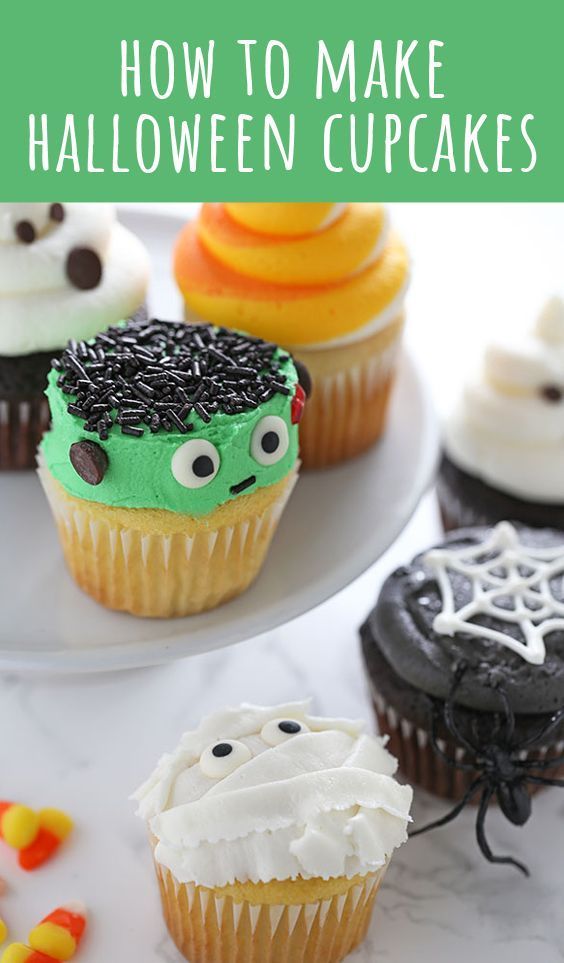 Lately I've been getting more and more requests for fun yet doable decorating ideas for cupcakes, cakes, and cookies. I get it, decorating can be intimidating between the level of skill or equipment involved.
From: Handle the Heat
Ghost and Candy Corn Mini Cupcakes

Who doesn't love a two-bite cupcake? These tiny treats are adorable and easy to make using the Wilton Royal Icing Ghost and Candy Corn decorations and the Wilton Mega Mini Muffin Pan. Great for Halloween party ideas, school functions or any time you need mini cupcakes that makes a huge impact for fun!
From: Wilton
Frankenstein Emoji Cupcakes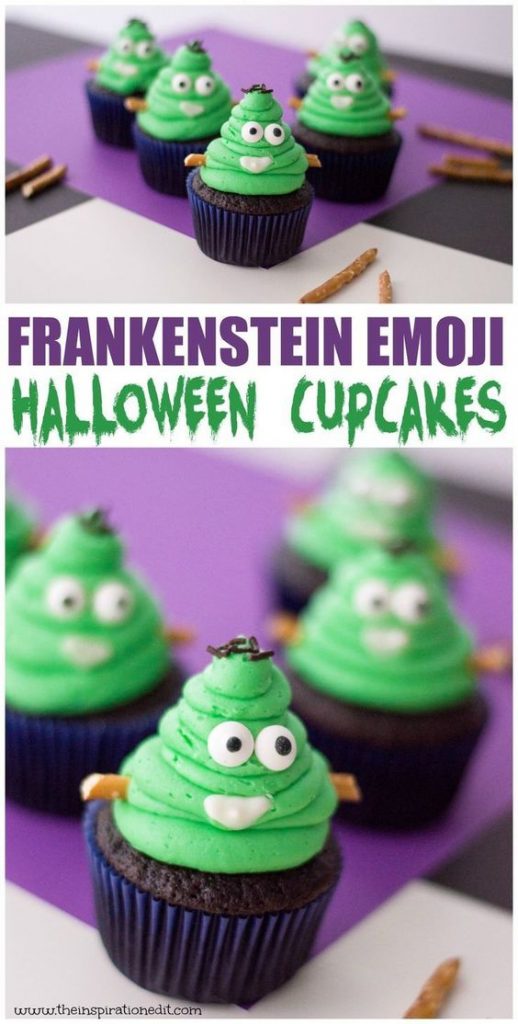 Frankenstein cupcake ideas can be super fun and these emoji poop Frankenstein cupcakes are no exception. I love the green color and think they are fantastic!
From: The Inspiration Edit
Jack O Lantern Cupcakes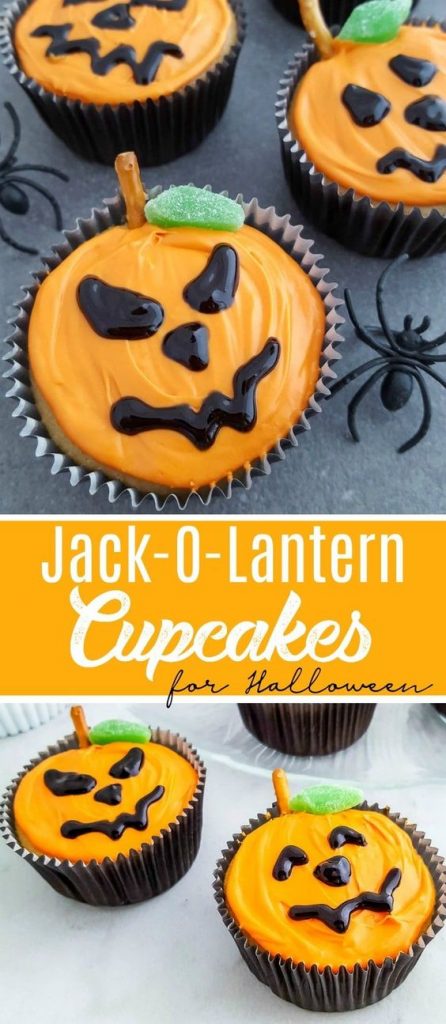 Make these adorable Jack-O-Lantern Cupcakes for Halloween! They're perfect for class parties or an at-home treat for your kids to decorate.
From: Mommy Musings
Peek A Boo Cupcakes

This Halloween, all eyes will be on the cupcakes that look back at you! Serve them to all the trick-or-treating mini monsters and ghouls, plus the costumed adults who show up at your door. But make a double batch, as these are so frighteningly fun everyone will want one.
From: Wilton
Black Chocolate Frosting Halloween Cupcakes

As soon as I started brainstorming Halloween recipes for the blog this year, my mind immediately jumped to black frosting. Ironic really, considering that the most popular post on What Charlotte Baked is How to Make Super White Buttercream. Give the people what they want and all that. But I was determined to get my butters cream as black as a witch's cat.
From: What Charlotte Baked
Floating Ghost Cupcakes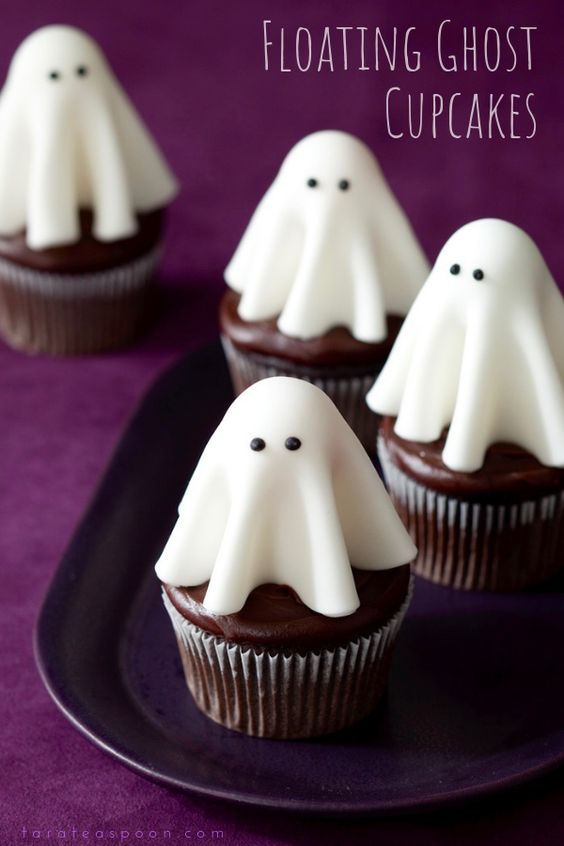 Floating ghost cupcakes will make all the ghouls come out to the Halloween party. These cute fondant treats are easy to make, even the little witches and storm troopers can help.
From: Tara Teaspoon
Monster Cupcakes

Whether you buy cupcakes already made and decorate them, use a mix to create the cupcakes, or bake them from scratch, these cupcakes are going to be a huge hit at your Halloween party. And they are honestly the best cupcakes for letting kids get creative. Want one eyeball? How about two? A big mouth? A tiny one? Sharp teeth? Nubs?
From: Easy Peazy Mealz
Candy Corn Swirl Cupcakes

What says Halloween more than Candy Corn? Nothing, right?  But weirdly, some people don't like the taste of Candy Corn.  Well, we have a dessert for those people .. our Candy Corn Swirl Cupcakes!  A yummy chocolate cupcake topped with Yellow, Orange and White swirls of our super delicious Best Buttercream Frosting. So pretty and boy does it taste great!
From: Two Sisters Crafting
Pin these Halloween Cupcake Ideas for later!
If you enjoyed this roundup of Halloween Cupcake Ideas, please don't forget to pin it to your Halloween and Fall boards. You can also follow Fluffy's Kitchen on Pinterest for more great ideas and recipes!