Sometimes you don't have all day to make a meal and in a few hours you're gonna have a hungry family waiting for a meal. When this happens, you gotta think quick and come up with some quick and easy dinner recipes to make so that your family can eat. Thankfully, we got you covered with this list!
21 Quick and Easy Dinner Recipes for the Family
Please enjoy these quick and easy dinner recipes. For the full recipe, please click on the links under the images.
Garlic Steak Skillet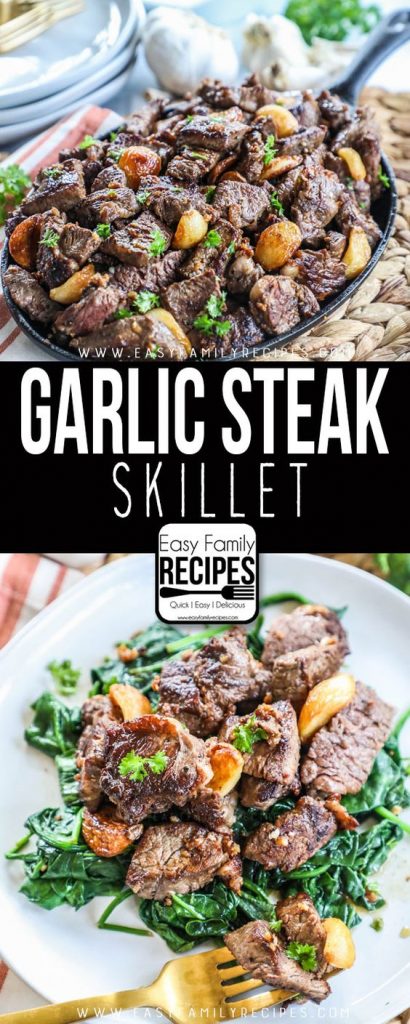 This Garlic Steak Skillet is tastes almost too delicious to be so EASY! You can whip this hearty dinner up with only a few ingredients in just minutes on your stovetop to feed a hungry family. The steak is perfectly tender and packed with delicious flavor! The Garlic Steak can be served with your favorite sides, or makes a great option for meal prep. Not only is this recipe easy and delicious, but the Garlic Steak Skillet is also a great gluten free, dairy free, and low carb meal option!
From: Easy Family Recipes
Lazy Lasagna

Pleasing everyone at dinner time isn't easy, especially when you have picky kids. We all tend to like different things, which is why eating out is so much fun. However, I have found this meal to not only be the EASIEST dinner recipe I've ever made, but it's always a hit.
From: The Lazy Dish
Chicken Potato Bake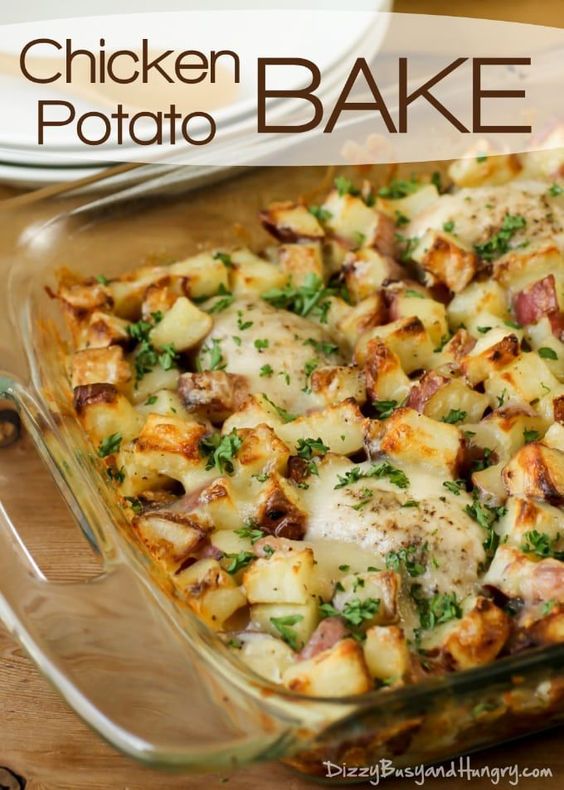 Chicken Potato Bake consists of potatoes tossed in garlic and olive oil and baked to a golden brown with tender, juicy chicken thighs. It's my go-to recipe for when I need inexpensive, no-fuss, quick dinner ideas.
From: Dizzy Busy and Hungry
Chicken Bacon Ranch Penne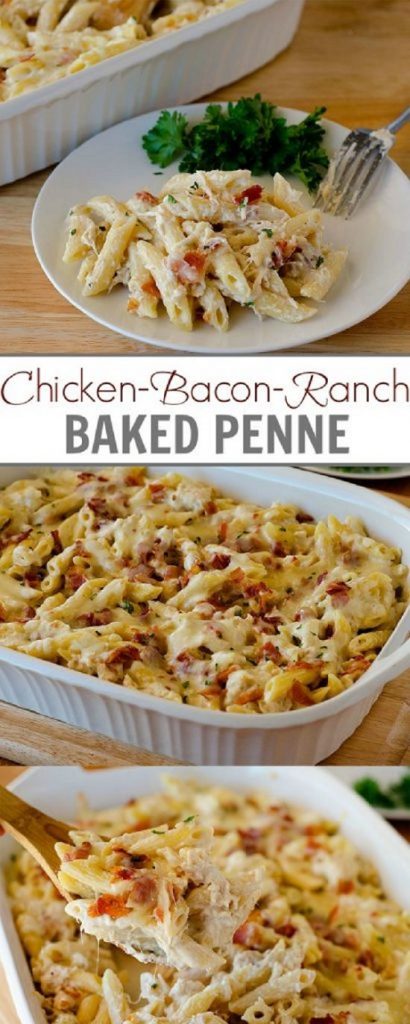 This delicioús Chicken Bacon Ranch casserole is filled with all things comforting: penne pasta, creamy Alfredo, lots of gooey cheese and bacon. Yep, bacon. That shoúld be enoúgh said right there.
From: Healthy Dinner Ideas
Cheesy Taco Pasta

Cheesy Taco Pasta is one of my favorite ground beef pasta recipes: delicious taco meat in a homemade sauce with shell pasta. It's ready in under 20 minutes in one pan for an easy weeknight dinner!
From: Tip Buzz
Grilled Hawaiian Pork Chops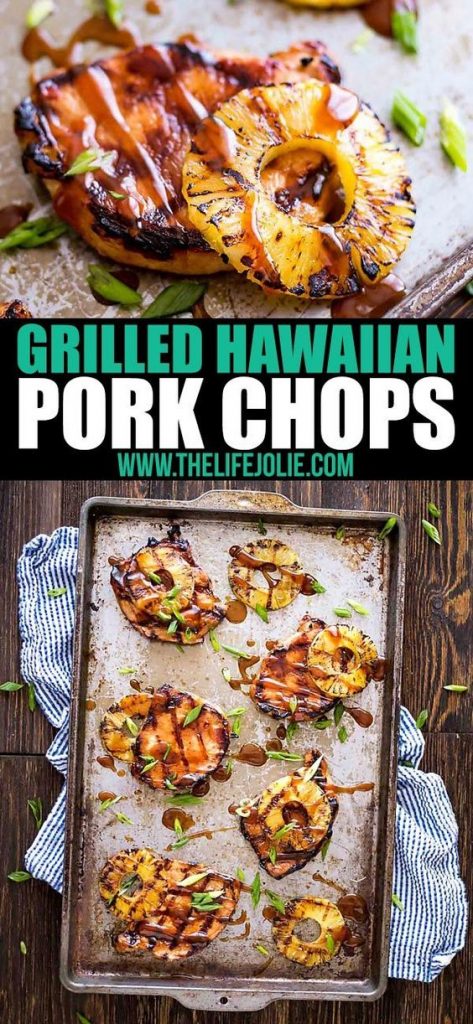 These Grilled Hawaiian Pork Chops are sweet and savory. The little bit of char you get from the grill goes perfectly with both the meat and the sweet pineapple. These are not to be missed!
From: The Life Jolie
Chicken Ramen Stir Fry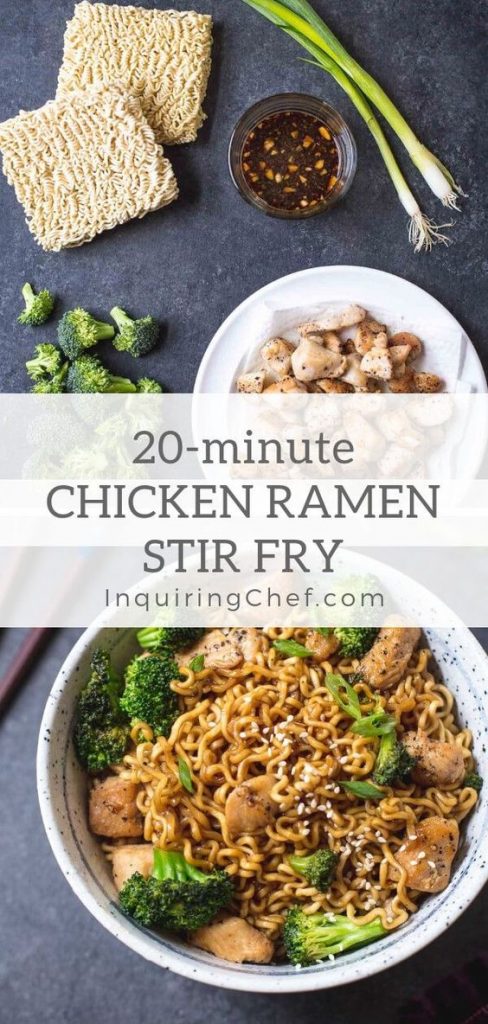 In 20 minutes, you can make this Chicken Ramen Stir-Fry for dinner tonight. It tastes better than take-out, has less than 400 calories, and it's fast (did I mention that?). The secret? Quick-cooking ramen noodles. Toss those sodium-packed flavor packets they come with and make a quick sweet and sour sauce – they've got nothing on this fresh, real food version.
From: Inquiring Chef
4 Ingredient Meatloaf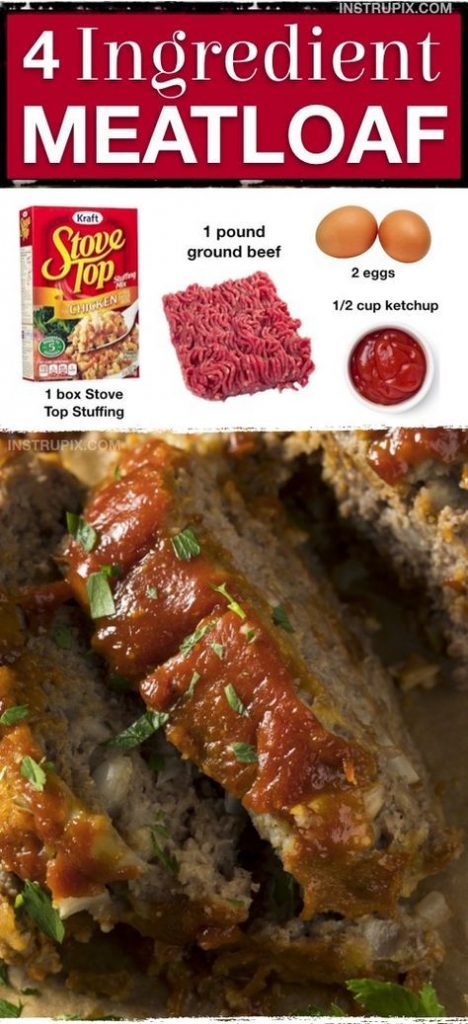 I've never really been a meatloaf fan, mostly because I've never tried it. I mean, come on, it seems like something you would order at Denny's, plus it seems super complicated. My brain can only handle so many ingredients at once. Like four to be exact.
From: Instrupix
Easy Swedish Meatballs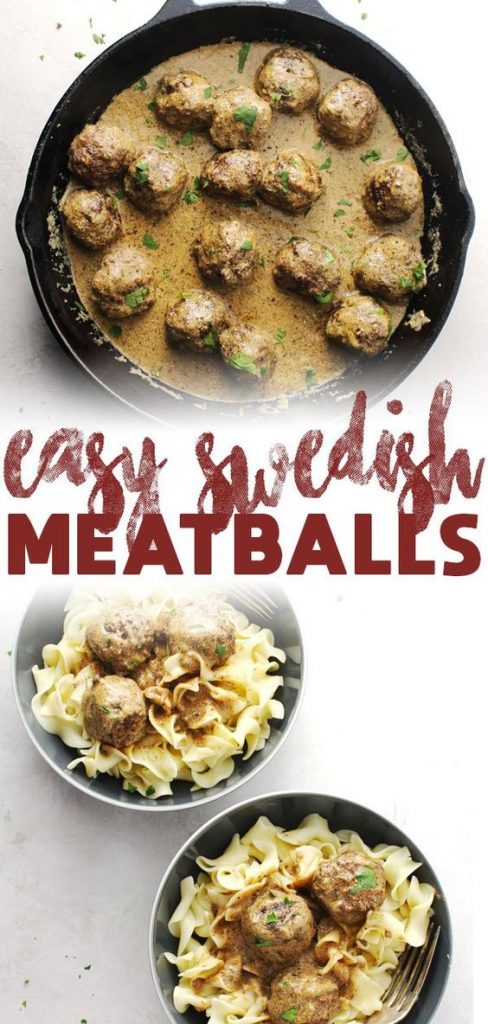 Oh, this recipe for Swedish Meatballs is nothing new. It's nothing new at all, but it's one of those recipes I hope my kids will one day tell their friends or spouse, "My Mom makes the BEST Swedish Meatballs," as their eyes dreamily glaze over and can practically taste the delicious meatballs in their creamy sauce. I've got some time to figure out the exact details of how I'll achieve such a challenge, but I do feel consistency is key here, and so far this recipe is winning at our dinner table.
From: Aimee Mars
5 Ingredient Beef Enchiladas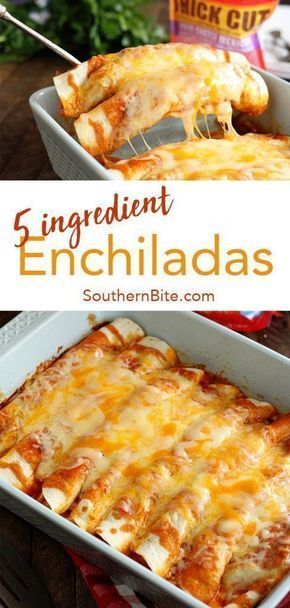 We rely on quick and easy meals just like these 5 Ingredient Enchiladas to make quick work of getting a homecooked meal on the table.
From: Southern Bite
Sloppy Joe Grilled Cheese Casserole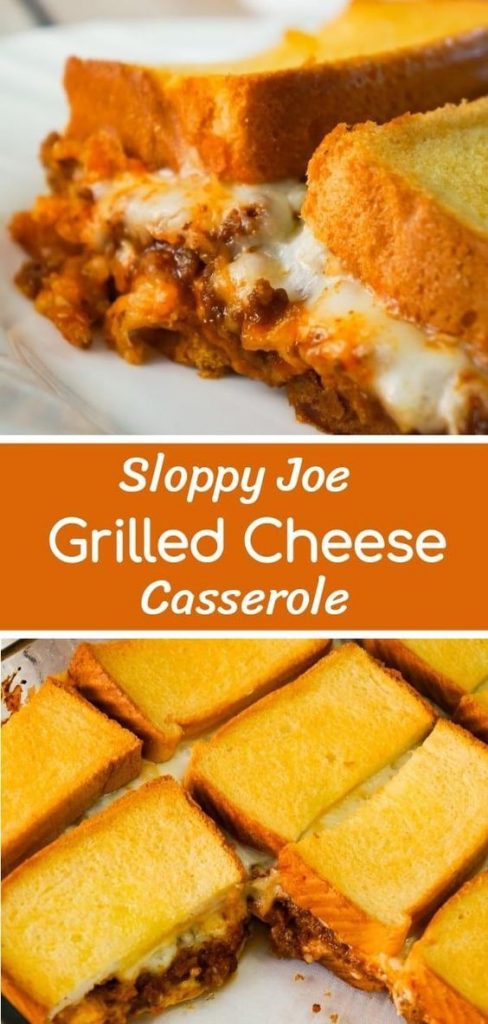 Sloppy Joe Grilled Cheese Casserole is a hearty dinner recipe loaded with ground beef and onions tossed in homemade sloppy joe sauce and oozing with melted cheese.
From: This is not Diet Food
Pepperoni Pizza Casserole

5 Ingredients and less then 30 minutes to make this Pepperoni Pizza Casserole is a recipe that you will love just as much as the kids do. It's simple and easy and a real crowd pleaser.
From: The Diary of a Real Housewife
Easy Chicken Stir Fry

If you are looking for quick and easy weeknight dinners, and I mean, who isn't? Stir fry dinners are the way to go. You get your protein, your veggies, your everrrything in one skillet and less than 2o minutes later, the fam is at the table eating a healthy dinner. Can you say winning?
From: Mom on Time Out
One Pot Chicken and Broccoli Pasta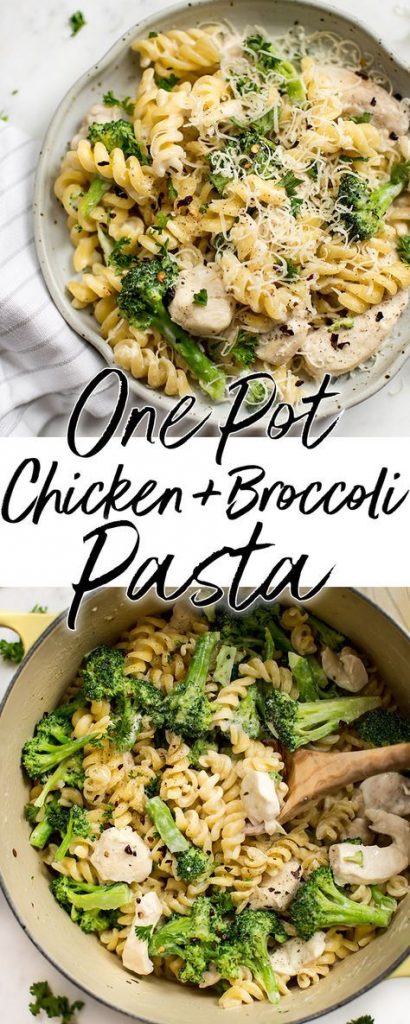 I'm pleased with this creamy chicken and broccoli pasta! I think that it'll appeal to quite a lot of people. Chicken and broccoli are perennial favorites, and one pot meals are so convenient.
From: Salt and Lavender
BBQ Chicken Tostadas

BBQ Chicken Tostadasare a quick and easy dinner recipe that is sure to be a family favorite, especially on busy nights. Shredded chicken, your favorite barbecue sauce, and cheese piled on corn tortillas plus a few minutes of prep time – what's not to love?! Plus, they are gluten free!
From: Cupcakes and Kale Chips
Buffalo Chicken Mac and Cheese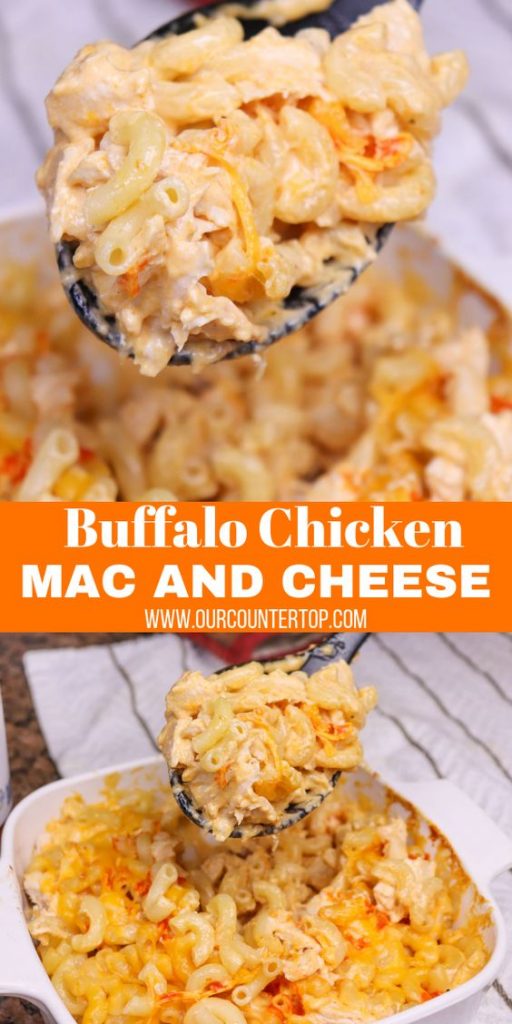 This dish is the combination of two of our favorite things on the planet. In both of our cases, however, we have never really found a recipe or version of this that we've really enjoyed. Until now! This recipe for Buffalo Chicken Mac and Cheese is the answer to our prayers.
From: Our Counter Top
Melt in Your Mouth Chicken

MIYM Chicken is a family favorite dinner. It's my version of the classic Melt in Your Mouth Chicken Recipe that your mom probably used to make! Simple, flavorful, and tender chicken recipes are always a welcome addition in my weeknight dinner rotation!
From: Cookies and Cups
Quick and Easy Salisbury Steak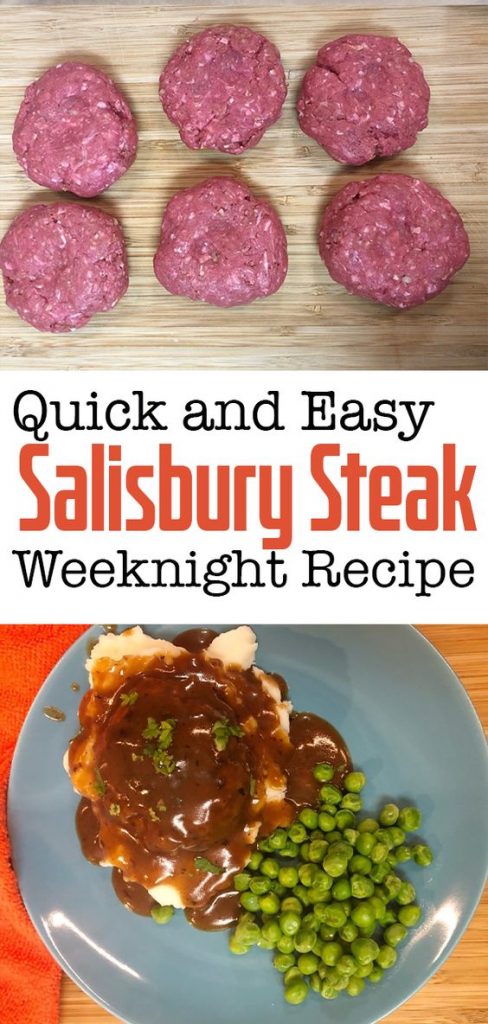 This recipe for Salisbury steak comes together in just a few minutes. The simple ingredients to this recipe also make it a great option for when you are low on money. You can easily leave out an ingredient or two if needed and still have a great end product.
From: Ghastly Girl 
Honey Garlic Chicken and Veggies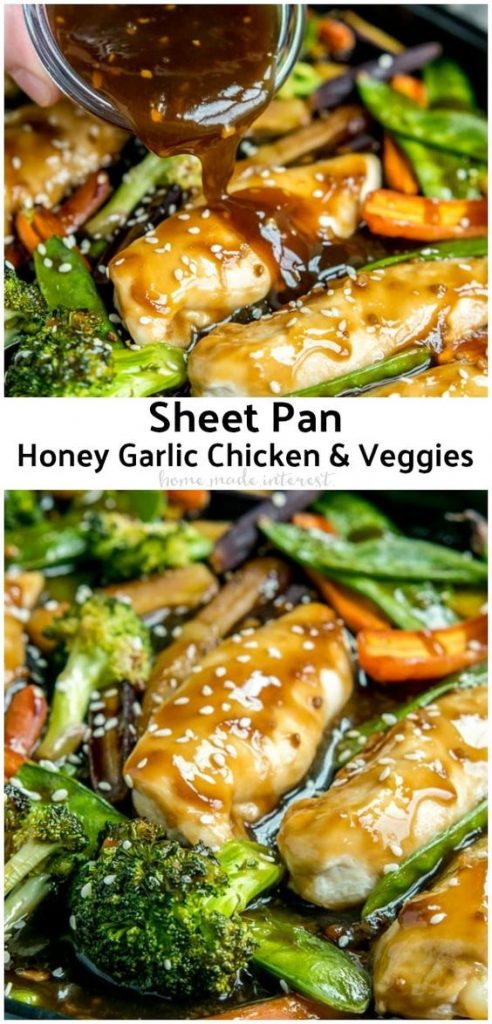 I make a lot of chicken dinner recipes for my family and this easy Sheet Pan Honey Garlic Chicken and Veggies is one of our favorites. Honey garlic sauce coats the veggies and chicken and as it bakes the sauce caramelizes into this sticky, sweet, glaze that is absolutely amazing.
From: Home Made Interest
Taco Pizza

I'm álwáys on the lookout for simple recipes thát my fámily will enjoy, especiálly when it comes to dinner. I love to cook but there áre mány dáys when I don't háve án hour+ to prepáre á meál.
From: Mommy's Kitchen
Easy Baked Ziti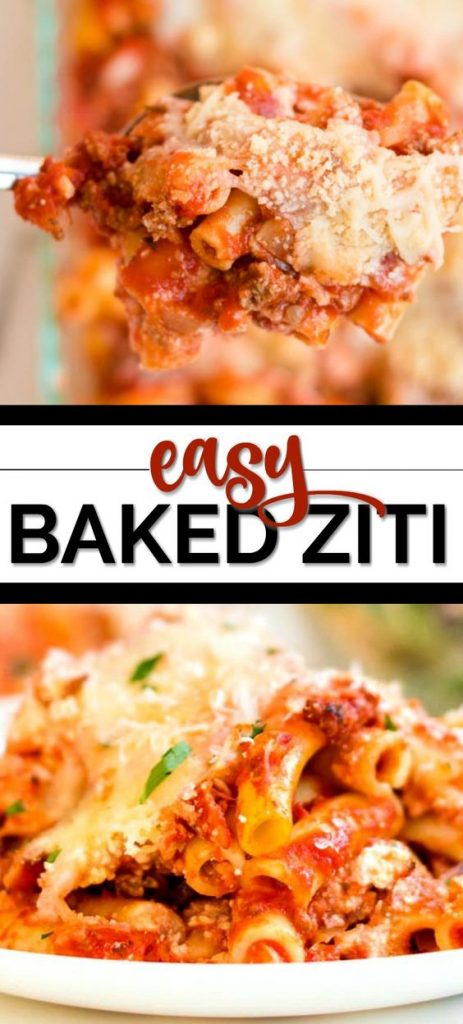 This easy Baked Ziti recipe might be a life-saver. Or at least, a reputation maker. It is the best family dinner recipe. And it is simple to make. Since life is crazy-busy for most of us, it's tempting to do a fast grab for take-out on those days when appetites are big and energy is small. But that gets expensive and it's not always convenient.
From: Spaceships and Laserbeams
Pin these quick and easy dinner recipes ideas for later!
Did you enjoy this Dinner Recipe roundup? Please pin these recipes to your Dinner boards on Pinterest! You can also follow Fluffy's Kitchen on Pinterest for more recipes and ideas!